Posted by Daniela Elza on May 08 2017
Fraser Valley writers, poets and creatives, are you looking for a workshop on process and publication?
I will be doing an eight hour workshop with University of the Fraser Valley Hope Center. The two part workshop will move us from the point of generating creative text to submissions for publications and to how to deal with rejections. It will take place over two Saturdays.
June 17 & 24th, noon-4:30pm
If you know of writers who will benefit form this please send them the info and invite them.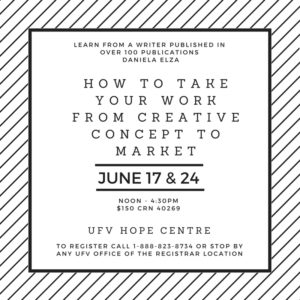 June 17 & 24th, 2017, noon to 4:30pm
University of the Fraser Valley Hope Center
We will generate text through writing activities. We will think about what writing means, the stages of the process, how a piece finds its form, and the benefits of a writing practice. We will build community through sharing. We will address some basic techniques of editing your own and other's work, we will write a cover letter for submission of your work, and consider and discuss questions around publication as well as how to deal with and have fun with rejections.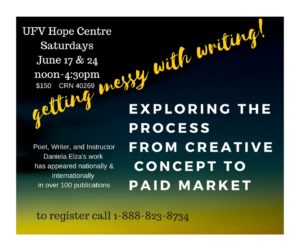 The fee is $150 in total for both weekends.
To register please call 1-888-823-8734.
The course number: CRN 40269
If you are an unemployed writer, contact michelle.vandepol@ufv.ca for a funding application.
If you have further questions, let me know.