Posted by Daniela Elza on May 13 2013 | Comment now »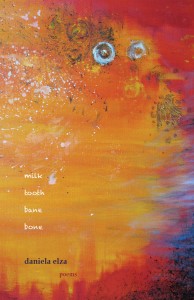 Tomorrow is the day. The big day. The Vancouver launch of milk tooth bane bone. It is also election day. Vote for whatever party you will vote for and then come vote for poetry and celebrate with us. I already voted so I do not forget. Here are all the details and the poster/evite: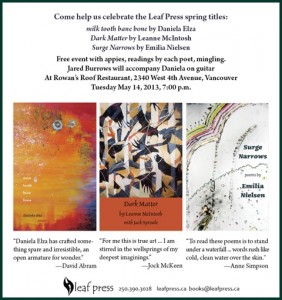 Rob Taylor has been running a poem from each of the poets in the last three days. You can read my poem here. Read Emilia Nielsen's poem here. To read a poem by Leanne McIntosh's click here.
For those of you who cannot attend but still want a copy of the book, you can buy the book from the website and the awesome part is: the publisher pays for the shipping. Click here to go to the milk tooth bane bone page on Leaf Press' website. Scroll down to where the purchase information is.
I know you might not believe this but tomorrow's launch and May 23rd reading at Twisted Poets Literary Salon with Aislinn Hunter are the only two Vancouver readings I have scheduled pretty much till the end of the year. And that is it. Most of my other readings will be outside of Vancouver or out of country. Yes, I will be giving you a break Vancouver.
Hope to see you there. I am rooting for the poetry party to win.
Posted by Daniela Elza on May 11 2013 | Comment now »
The Vancouver Sun just put out a review of Force Field, a collection of poems from 77 British Columbia women, both long-established published poets and newcomers who have yet to put out their first volume. The book is edited by Susan Musgrave and just published by Mother Tongue Publishing.
It is so good to see a review of an anthology which mentions more names than the well, established, safe ones.:-) Even my name comes up in a few poetic lines.
Daniela Elza's words are also like stones across a stream. In the white space, will you pause or take a leap? Or how about picking up each stone and turning it over carefully so as to see what's underneath?
Thank you, Mary Ann Moore.
Here is the crew who read at the Vancouver Launch on April 13 last month.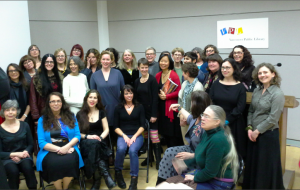 There was another beautiful launch in the Shadbolt Centre in Burnaby.
And on May 19th we will gather in an art gallery this time for another launch of the book at 2pm in
Deep Cove, Seymour Art Gallery, 4360 Gallant Ave, North Vancouver.
The line up of readers: Fran Bourassa, Shauna Paull, Miranda Pearson, Daniela Elza, Yvonne Blomer, Susan McCaslin, Susan Cormier, Aislin Hunter, Heather Haley, Cathy Stonehouse.
Here is the poster/evite:


Maybe you will make a day of it and come. Deep Cove is beautiful and feels like a getaway. Though our city is so beautiful you do not have to go far to feel like a getaway. In any case will be great to see you there.
Posted by Daniela Elza on May 10 2013 | Comment now »
Remember that piece of mature forest that was endangered of being sold so the municipality of Langely can raise money for a recreation centre? In November and December Susan McCaslin (and WOLF-Watchers of Langley Forest, and others) started making a lot of noise to convice the Langely Council to not sell it for development?
Well 60% of it is off the market. The other 40% are still pending saving. And there is hope.
Tomorrow, May 11, is one of the events that is a continuation of raising awareness and money and more noise regarding this issue. A lovely occasion at which we will gather to read amidst the paintings that were painted to 12 of the poems. Below is the painting Susan Falk did inspired by a poem I wrote for Susan McCaslin (this is not a rehearsal III: in the nightmares of nomenclature). Susan's enthusiasm inspires me.
Click here for the different poets and the paintings inspired by their poems.
If you can come, do come and support this event. There will be readings, wine and cheese, mix and mingle, and a silent auction at which the paintings will be sold. Part of the proceeds will go to WOLF.
And here is the artist herself in the forest.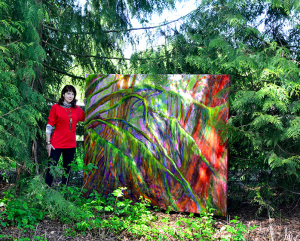 Here is a write up in the Langley Times. Click here to read it.
Here is all you need to get there including the lineup of poets.
WRITTEN IN THE FOREST
Poetry reading by Han Shan Poets opening Susan Falk's Art Exhibition (May 8-26).
Sat. May 11, 12-3 pm.
Poetry Readings between 1 and 2 pm,
at The Fort Gallery, 9048 Glover Road, Fort Langley.
Poets: E.D. Blodgett, Daniela Elza, Pam Galloway, Heidi Greco, Fiona Tinwei Lam, Chris Levenson, Susan McCaslin, Ray McGinnis, Elsie K. Neufeld, Catherine Owen, Jamie Reid, Celeste Snowber. 
Wine and cheese; silent auction of 12 new paintings by Susan Falk based on 12 poems by the Han Shan Poets.
Contact: 604-888-7411
Website: fortgallery@hotmail.com
Posted by Daniela Elza on Apr 28 2013 | Comment now »
A pleasant surprise yesterday to find out The Capilano Review will publish one of my new poems in their upcoming May issue. The poem (one of three in a series) is titled:
moving the linguistic furniture around (in the house of enigmatic density

It took six months to hear back, but it was worth the wait. TCR published some of my work back in 2006, one of the first three journals to accept my work here in Canada and to pay me for it. The others were Room of Ones Own and Quills Canadian Poetry.
Thank you Capilano Review editors.
Posted by Daniela Elza on Apr 23 2013 | Comment now »
Again this week almost every night is booked. Third week in a row. Every month is poetry month for me so when April comes it ends up being a bit of a whirlwind. I will be in the poetry whirlwind for another week.
Tonight I will have the pleasure of introducing Michelle Barker who is coming in from Penticton to launch her young adult novel The Beggar King. Here are the details for that:
Penticton poet and novelist Michelle Barker for the Vancouver launches her debut YA fantasy novel "The Beggar King" (Thistledown Press, 2013), on April 23rd, 6:30pm  at The Establishment (3162 West Broadway). Book signing and light refreshments to follow. All are welcome.
And tomorrow night will be one of those special nights where poetry and music come together. I will be jamming with musicians Clyde Reed (bass), Emma Postl (voice), Duncan Maunders (alto sax), Stephen Robb (clarinet), Rory Hislop (trumpet) and Jared Burrows (guitar). This has always been a very rewarding experience for me. The energy, the exchange. I do not know if I have worked with more than three people at a time and this will be six musicians. Jared will also be accompanying me on guitar at the launch on May 14th.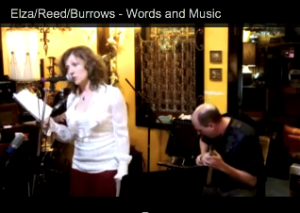 Here is Jared's post about the event with a little clip of previous work: an excerpt of the Words and Music event we did last year. Jared and Clyde accompanying the poem serving time in the burbs.(I used to know how to embed videos but word press why can't i do it any more?)
Also you can get to it here on YouTube:
Elza/Reed/Burrows at Words and Music
Here are the details for this music and words adventure on Wednesday:
April 24th, 2013, 8pm.
Vancouver Improvisers Orchestra performs new works with poet Daniela Elza. @Presentation House Studio, 333 Chesterfield Avenue (3rd St. one block west of Lonsdale) North Vancouver.(The studio is in the old church at west end of parking lot.)
Admission $10 at the door. Free tea and cookies.
For more upcoming readings and events check out the list here.
Maybe I will see some of you here, and there.
Posted by Daniela Elza on Apr 19 2013 | Comment now »
Last Saturday we launched Force Field anthology here in Vancouver.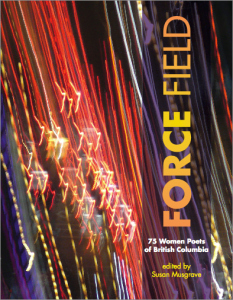 This is an anthology of BC women writers, 77 of them to be precise. The book was conceived by Mona Fertig and published by Mother Tongue Publishing. The editor is Susan Musgrave. Each poet has four printed pages with a page with bio and photo. I have four poems in it, one of which is a series of haikus form the time when I was travelling in Bulgaria and half of my trip I could not write anything else but haikus. (Yes, it was puzzling to me too.)
Here are over thirty women who read on the day of the launch in Vancouver.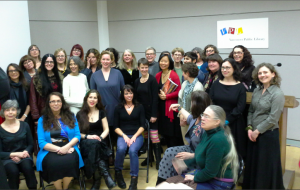 (photo courtesy of Paul Nelson)
Paul Nelson also did a bit of a write up of the event which you can read here. He also has the audio of all the poets reading. See at the bottom of the post.
One of things he talks about is the importance of crossing borders and cross pollination between Seattle and Vancouver poets. (Paul Nelson himself had to cross the border to come to the launch of Force Field.) This is double credit for Paul. I was looking around to see how many men came to support the reading that day.
This crossing of borders excites me to the point that I agreed to be one of the regional editors of the Alive at the Centre anthology, which we launched last Friday at the Rhizome cafe in Vancouver. So yes, Cascadia, lets do that. Lets cross borders back and forth and let them become, if not political, at least the poetic permeable membranes they should be.
I also got intrigued with the Organic Poetry page on Paul Nelson's site. Will look more carefully to see if what I mean by organic in poetry is the same as what is meant by organic.:-)
And tomorrow we launch Poems from Planet Earth (Leaf Press, 2013).
So that is Saturday, April 20th, 2-4pm, at Historic Joy Kogawa House, 1450 West 64th Avenue. Contributors will read from the book. Books for sale and signing by the authors. Light refreshments will be served. Mix and mingle and view the Cherry Blossoms: A Textile Translation fibre arts exhibit on display at this time. Suggested donation: $5.
Also if you still want to catch a Force Field launch I will be at the Burnaby one. Here are the details. There are a couple of others planned as well.

April 26th, 2013, 7pm.
FORCE FIELD Anthology Launch, Burnby
Force Field – 77 Women Poets of British Columbia. The first of its kind in thirty-four years, this anthology strongly celebrates women poets, from the emerging, mid-career to the established. Friday, April 26th, 7-10pm. @ the Shadbolt Centre for the Arts, 6450 Deer Lake Avenue, Burnaby. Free.
Hosted by Shauna Paull
Click on the poster for the line up of readers.
Posted by Daniela Elza on Apr 18 2013 | 1 Comment »
Last weekend I got to hold milk tooth bane bone for the first time.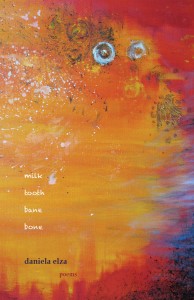 Here is Ursula Vaira (my publisher) and myself in the moment when she gave me a copy of the actual book. The real thing.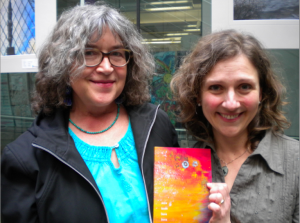 And Monday night was my read/talk/write at the North Shore Writers Association. There were about 20 people who attended and it was a warm night of questions, poems and we even got some writing in.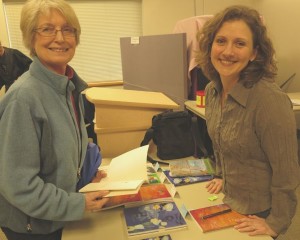 The Vancouver Launch for the book is scheduled for May 14th, 2013, 7pm. It will be the
LEAF PRESS SPRING POETRY LAUNCH celebrating Leaf Press' spring poetry collections:
Surge Narrows by Emilia Nielsen,
milk tooth bane bone by Daniela Elza and
Dark Matter by Leanne McIntosh.
Here is the evite: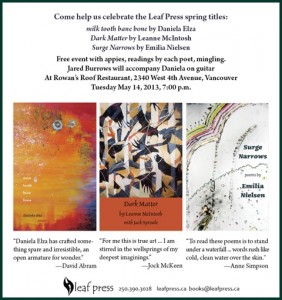 So May 14th, 7pm, at Rowan's Roof Top Restaurant, 2340 W 4th Ave, Vancouver. Readings. Nibbles. Books for sale. Free event.
Maybe I will see you there. Maybe you will bring a friend. Maybe you will bring someone to it who has never been to a poetry reading before.
Posted by Daniela Elza on Apr 12 2013 | Comment now »
So, after two years it is here. The launch of Alive at the Centre Anthology. A brain child, I believe, of John Sibley Williams, who was the first person to contact me from Ooligan to be a regional editor for the anthology.
Here it is. The cover of the tri-city book.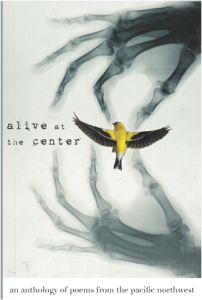 There are also three separate city specific volumes highlighting each of the cities in the book.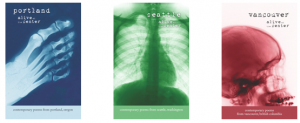 So tonight:
April 12th, 2013, 7-9pm.
ALIVE AT THE CENTRE ANTHOLOGY LAUNCH

You are invited to celebrate with us at the Vancouver launch of Alive at the Centre: An Anthology of Poems from the Pacific NorthWest (Ooligan Press, Portland, 2013). The anthology includes poems from three cities: Vancouver, Portland, and Seattle. Poet Laureate Evelyn Lau will open the night. Host: Rob Taylor. Readings by contributors who will be pulled out from a hat. Books for sale.
@the Rhizome Cafe (317 E. Broadway). Come early to enjoy Rhizome's delicious food and drinks.
Free event.
The Portland launch is scheduled for April 19th.
I am one of three Vancouver regional editors of this anthology along side Robin Susanto and Bonnie Nish. The other two cities also have three regional editors each. Which amounts to nice editors for the whole anthology.
Hope to see you there tonight.
Posted by Daniela Elza on Apr 10 2013 | Comment now »
We have a date, a time and a place. The Vancouver launch of milk tooth bane bone will be on May
14th. You cannot forget because it is election day. Vote for poetry. I will be launching with the two other poets Leaf Press is publishing this spring. Emilia Nielsen and Leanne McIntosh will also be reading from their new books at the event. My friend musician/guitarist Jared Burrows will accompany me on guitar. We are planning a more elaborate collaboration on April 24th at the Presentation House Studio. There will be a good number of instruments then and Jared has been at work on composition and orchestration. For other upcoming events you can go to my events/readings page or click here.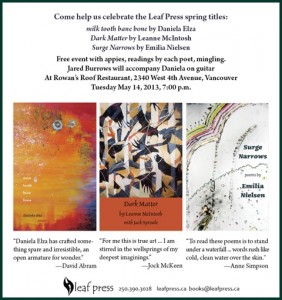 So here is the scoop.
Join us in celebrating Leaf Press Poetry Spring Titles:
MILK TOOTH BANE BONE by Daniela Elza
DARK MATTER by Leanne McIntosh
SURGE NARROWS by Emilia Nielsen
For milk tooth bane bone David Abram says:
"Daniela Elza has crafted something spare and irresistible, an open armature for wonder."
The book has an Introduction by Aislinn Hunter.
For Dark Matter, Jock McKeen says:
"For me this is true art … I am stirred in the wellsprings of my deepest imaginings."
For Surge Narrows Anne Simpson says:
"To read these poems is to stand under a waterfall … words rush like cold, clean water over the skin."
There will be readings by each poet.
Musician/guitarist Jared Burrows will accompany Daniela on guitar.
Books will be available for sale.
Free event.
Make a night of it. Rowan's Roof has a full menu and bar. There will be some free appetizers, mixing and mingling and general celebratory atmosphere. Hope to see you there.
Tuesday May 14, 2013, 7:00 p.m.
At Rowan's Roof Restaurant, 2340 West 4th Avenue, Vancouver.