Posted by Daniela Elza on Aug 14 2015 | Comment now »
Dear Armstrong,
I will be seeing you this weekend for the 3rd Annual Armstrong Farmers' Market Literary Festival.
Here is where and when:
August 14 – Friday evening at 6:30 pm – poetry reading "Food for Thought" + Q&A @ the Armstrong Library.
August 15 – Saturday 1 pm to 3 pm – writing workshop @ the Armstrong Library.
I will also be at the Farmer's Market on Saturday morning and will be offering to write you poems, organic ones, of course. So, stop by. Yeah, seriously.
The rest of the time I will be with the bees.
Posted by Daniela Elza on Aug 06 2015 | Comment now »
Writers write. Readers read. Sometimes we get reviews of our books. Sometimes we hear back from the individual and unique reader. I find these notes most exciting. I find they continue to fuel and inspire what I do. A reader does not have to say anything. However, I find that when they do, it is thrilling to close that loop from writer to reader and from reader to writer.
A couple of days ago I got this note:
"I have been reading a lot of poetry this summer by the likes of John Ashbery, Les Murray, Donald Justice, Frank Bidart, Jorie Graham, Allen Ginsberg, Jack Kerouac, Seamus Heany, James Dickey, Rae Aramantrout, T.S. Eliot, Ezra Pound, Marilyn Hacker, Adrienne Rich, Jean Valentine, Ted Kooser, Louise Glück, Anne Sexton, Mark Doty, Richard Wilbur, Jack Spicer, Robert Duncan and many, many, many others; and I got to say as a lay reader your book, "the weight of dew", continues to impress and tickle me sometimes at the same time. I hope you are finding the time to continue to develop and learn your craft. Some people try what you do with form but fail miserably so keep on keeping on e.e. elza. You have quite the voice in your writing."
Thank you Phil Menger, for this! It made my day. It is going into my reviews/feedback section.
Posted by Daniela Elza on Aug 05 2015 | Comment now »
I love the long days. The hours spent on the patio. The opportunity to travel here and there. In July I went to Portland (OR) where for the second year in a row I volunteered for the Summer Academy to Inspire Learning (SAIL) camp. It is for high school kids and hopes to inspire them to go to college and university. There are all sorts of subjects covered during the week like Economics, Architecture, Engineering, Neuro-Science etc. In my case we got busy writing and explored what writing has to offer to our curiosities and discoveries through language. I was pleased that we could offer each of the participants a copy of the book of It.
While in Portland we also managed to go on a day hike to Eagle Creek in the Columbia River Gorge. Yes, it was a gorge-ous place. Here are a few photos from some of what we saw.
Hello, August! We meet again.
Posted by Daniela Elza on Jul 04 2015 | Comment now »
I am pleased to say that my short short story Tempera in the Kitchen just got accepted for publication in Shale: Anthology of Short Fiction (Texture Press, US, 2015). It is a story I wrote quite some time ago, before I had kids. That puts it at about 20 or so years old.
In June I contributed a piece to a project from Brick Books in honour of their 40th anniversary. It is a year long project of Celebration of Canadian Poetry hosted on the Brick Books site. Click on the highlighted title to go to the piece. Hope you browse around at some of the other entries.
A few other things that came out in the mean time:
The latest issue of Prism international, 53.3, 2015 published three new poems. Thank you to the editors for selecting these.
autobiography of grief 1
autobiography of grief 2
what remains
I have two poems in the Make It True: Poetry From Cascadia (Leaf Press, 2015). This anthology came out just in time for the 5th Cascadia Gathering in Nanaimo.
intimate harbours
the salt of being
Last month the debut issue of a new journal came out. Cede Poetry. It was started here by a local poet and I am happy to have a very new poem in it:
waking up with you

To view and purchase ($3.00) the inaugural issue click here and scroll down until you see it. Or click on purchase and it will take you to it.
And forthcoming in August is:
speaking refuge
methodology II

in Room Magazine, 38.3, 2015.
Things to look forward to:
I will be giving a workshop at Word, Vancouver in September and likely reading for Room at their tent. More information on that as it becomes available. Stay tuned.
Posted by Daniela Elza on Apr 26 2015 | Comment now »
April is poetry month. But so far for me this year it has been one poetry month after another. Even before poetry month was here I spent two and a half intense months of reading poetry as one of the judges for the Dorothy Livesay Poetry Prize ( BC Book Prizes). Here are the 2015 nominees and winners. Last night was the gala and the awards ceremony, which I was pleased to attend. Congratulations to all the winners and all who were nominated. You are all winners to get this far.
Prism Magazine just came out with its spring issue and I have three poems featured in it.
A few days ago I heard from Room Magazine that they will be publishing two of my poems in their Trespass Issue due out in August.
Also this month was Wild About Vancouver Outdoor Educational Festival for which poet laureate Rachel Rose was commissioned to write a poem. Click here to read Song Dogs. She reminded me that I gave one of my poems to be used in the promo video for Wild About Vancouver. You can watch the youtube video here (1:32 min. long).
Also in April we saw the debut issue of Absinthe Poetry Review (US) in which I was happy to see the collaborated poem between myself and Matea Kulić published. Here you can read
you could be the one who knocks. Just scroll down to find it, and maybe you will be tempted to read some of the poems on the way.
Also Cede Poetry will be launching their debut issue sometime soon and I have a brand new poem in it called waking up with you. I wish both Absinthe Poetry Review and Cede Poetry a long and poetically vibrant life.
Coming up in May is the Make It True: Poetry From Cascadia (Leaf Press, 2015) in which I will have two poems: intimate harbours and the salt of being.
Another anthology that is expected to come out this year is Alone Together. It comes out of the Lunch Poems Reading Series. This is part of SFU public Square and The Writer's Studio.
And, last but not least, a beautiful project that was launched by the publisher of Brick Books (in celebration of their 40th anniversary) called Celebration of Canadian Poetry is well on its way. There are many entries to browse through. Seventeen weeks so far and a few entries are going up each week. This initiative is all about poets writing about poems, poets,and books which they love, celebrate, cherish. I have a piece coming out in the first half of June.
So Happy Poetry Month indeed. Sometimes it does not seem like all this work of a poet amounts to much but in moments like this when I have the time to highlight a few things I find that so much is going on on the poetry front that there is no time to lament or despair. Poetry is well and alive and thriving, despite the rumours.
Posted by Daniela Elza on Apr 13 2015 | Comment now »
The latest collaborated poem just came out in the debut issue of The Absinthe Poetry Review. I am pleased to see this work finding more and more homes. This one I wrote in collaboration with Matea Kulić. Here you can click on the name of the poem and it will take you to the issue. Scroll down till you get to our piece. Of course read some or all of the other pieces on the way there.
(a collaborated poem between Matea Kulić and Daniela Elza)

Absinthe Poetry Review (US),debut issue 1, April, 2015.
I have some new work coming out in the second issue as well. I will be the Green Hour Feature for that one with the following pieces.
afloat (on the emotion of bodies
self-portraits

(7 fragments)

forthcoming in Absinthe Poetry Review (US), Issue 2, 2015.
I hope you have a chance to check it out and perhaps even submit something for the future issues of the journal. Happy Poetry Month to all.
Posted by Daniela Elza on Apr 07 2015 | Comment now »
The trip to Ukiah and Pleasanton (California) was great.
We did two readings and were invited to present to a creative writing high school class in Ukiah.
Here is a glimpse of the reading in Ukiah. We read in an art gallery which at the time also had an exhibit of clocks.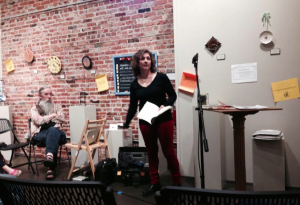 Here I am in the backyard of the house we stayed in. Getting ready for the reading in the quiet and warm of the afternoon. I could only hear ravens call, and the cats would lie on any book or pieces of paper that we put down.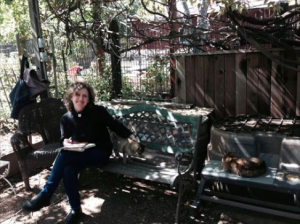 In between we had a lovely time with friends. I travelled with my good friend, Bonnie Nish, who has lived in the area. It was an exciting time walking backwards down memory lane for her.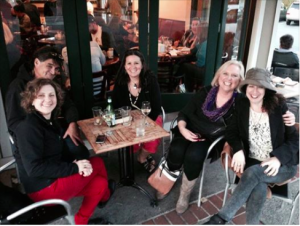 We were treated to a visit to Vichy Hot Springs Resort where we soaked in stone tubs in the mineral water which turned all out silver jewelry golden. The hospitality was warm and deep.
On the way to Pleasanton I spent one night on a boat. The next day had a chance to swim in the ocean for an hour. We ended up swimming against the tide both ways, because the tide turned with us as we turned around to come back.
The reading in Pleasanton went very well. Here is a snapshot. The colour coordination is surprising.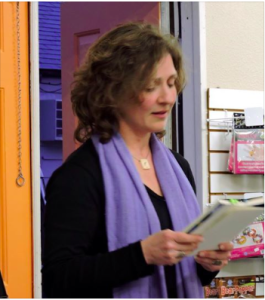 Here is a shot with our hosts in front of the History Museum in Pleasanton on the last day of our visit.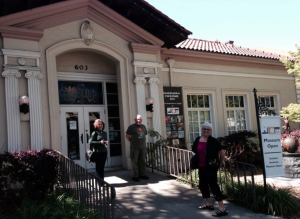 Thank you to all who fed us, put us up, treated us, loved us and supported us. Jabez, Tanya, Fred, and Cathe, thank you. Thank you to all who bought books and for the gifts we received. Thank you.
[Photos: most are courtesy of Bonnie Nish]
Posted by Daniela Elza on Mar 10 2015 | Comment now »
I will be doing a few readings in the San Francisco area at the end of the month. This will be my first time reading in the area. Hope you can come and say hello.
Thursday, March 26th, 7pm, in Ukiah

Writers Read Reading Series,
@ Art Centre Ukiah, 201 South State Street,
Corner of Church Street.


.

Saturday, March 28th, 2015, 6-9pm
@ Pleasanton at Towne Center Books,
555 Main Street, Pleasanton, CA.
From the press release:
For those of you who never had the pleasure of seeing the Northern Lights, we bring south for you O Canada, Bonnie Nish and Daniela Elza, and from the California north, Jabez W. Churchill; and for those of you who swoon to the Green Flash of the western sun, we shine the magic light of Clara Hsu
Hosted by Fred Norman
Posted by Daniela Elza on Mar 04 2015 | Comment now »
I am delighted to say that I will have three poems coming out in the upcoming issue of Prism.
autobiography of grief 1
autobiography of grief 2
what remains

forthcoming in Prism international, 53.3, 2015.
Thank you to the editor/s for selecting these poems. This is going to be a first. And, oh, how I love beginnings.