Posted by Daniela Elza on Apr 13 2017 | Comment now »
The dirt is broken up. The seeds are in the ground. The rain keeps persisting. The sunny days are still too few and come like gifts. In the mean time a number of poems like seeds will go out into the world.
This year I hope to see the publication of slow erosions, a chapbook in which all the poems are written in active collaborations with poet Arlene Ang.
And The Inflectionist Review just accepted four pieces, one of which is a poem written in collaboration with poet Linda King. They will also publish a poem inspired by music of Jason Zumpano in issue 6. And a few poems in issue 7.
I hope to see a few more things come to fruition this year. And hopefully some more time dedicated to writing.
Posted by Daniela Elza on Mar 27 2017 | Comment now »
March has been rainy. Very rainy. And on top of that the flu got me during spring break. While the rain poured and poured and I was delirious with fever, I had the pleasure of writing an essay about summer and my little roof-top patio. I was so busy with it that when we got back from spring break I started asking the kids in the writing room, how was your Summer break?
The essay will be published this summer in
The Summer Book (Mother Tongue Publishing, 2017)
24 writers capture the golden moments of summer in this treasury of warm tales, timeless memories, and meditations on nature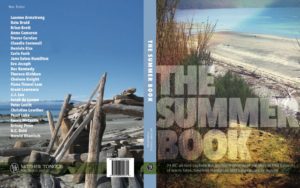 I am looking forward to reading all the other essays and to launching the book. I hope you can make it to one of the launches. I hope to make both.
SALT SPRING ISLAND
Saturday JUNE 10th, 7-9 pm,
@ Duthie Gallery: A beautiful spot near town with large sculpture garden. There will be refreshments and wine.
VANCOUVER,
Friday JUNE 23, 4-6pm,
Sylvia Hotel, in the Pendrell Room,
Free parking at hotel, happy hour, sandwiches.
Writing an essay was so much fun, I am writing another one. Hope you are writing too.
Posted by Daniela Elza on Feb 19 2017 | Comment now »
The 10th Mission Writers and Readers Festival has its program up. Check it out and sign up. I will be giving a workshop on what's in an image alongside workshop presenters Jordan Abel, Michelle Vandepol, Rob Taylor, Rob Lucy, ans Sylvia Taylor.
The price to attend is $40 for a whole day from 9:30am—4pm, that includes lunch and refreshments. Hope to see you there. If you know emerging writers encourage them to go. Even better, get them a pass and send them to it. Will be great to see you there. Please help spread the word.
Date: Saturday, March 4, 2017
Time: 10:00 AM to 4:00 p.m.
Location: UFV Mission Campus, Heritage Park Centre
33700 Prentis Avenue, Mission BC V2V 7B1
Click here for more details.
Posted by Daniela Elza on Nov 28 2016 | Comment now »
The BC Book Prizes had an online auction this year and one of the items on it was coffee donated by Echo Cafe. There is more. Along with each coffee you get a poem for each week of the year. The poems are by local authors. Yes, that is 52 poems for each week of the year. I had a poem (or few) in there as well.
Grant Smith won the poem-a-week item on the auction list. He writes about it in the Clearline newsletter he sends out to his clients.
It was delightful to see that out of the 52 poems he chose tree morphologies to include along with the description in his newsletter.
I also love the idea that he encouraged poems to be circulated around the office for his associates to read. Thank you Grant for supporting the fundraiser and for putting the poems to work. We cannot have too much poetry in out day. Or, at least, we surely can use more.
For the last two months we have been under cloud cover with the occasional moment of the sun coming out or a piece of blue showing. It has rained nearly every single day for the past two months, except for five. The poem always reminds me of that time of the year. Though this year it seems a bit extreme, even for Vancouver.
tree morphologies was initially published in The Pinnacle Literary Journal, Spring 2013. Its permanent home is in milk tooth bane bone (Leaf Press, 2013).
Posted by Daniela Elza on Nov 04 2016 | Comment now »
It has been a while. I was going to post something about my one week tour to Calgary back in August. Here we are in November already and I have not yet done that. Halloween just passed. Perhaps that summer post will come in December, when I need to remember again the long August days.
It has been rainy and gloomy too often lately, and the sun only makes small appearances here and there. I counted six rainy days in a row recently. So, perhaps my choice for a mask was no surprise. Something about light dispersing the dark, something about raven stealing the sun and releasing it into the sky.
Yes, there is a first time for everything. And this time it was putting on a mask. And so this is how we were in the Writing Room this past Monday.

These leaves I found on the ground at lunch break and … the similarity drew me. The shape of the leaves and how they hold the light also drew me.

At work the kids asked what I was. I said: I am a poem open to interpretation.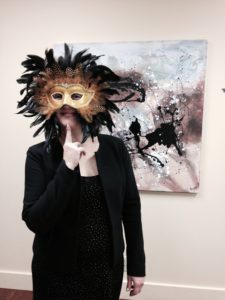 They made their guesses. They came up with ones I would never have come up with. That is the beauty of keeping the doors of poems open.
I hope you are all well in these shortening days. Make the dark less dark with your laughter and your wonder, your awe and your words.
Posted by Daniela Elza on Nov 02 2016 | Comment now »
My poem their thin mouths is up on Don't Talk to Me About Love. It is part of a sequence of love poems I am wrestling with. I hope you enjoy it. Let me know what you think.
Posted by Daniela Elza on Oct 08 2016 | Comment now »
Today the book of It and its siblings are going on a field trip to the Vancouver Public Library for the Indie Author Day.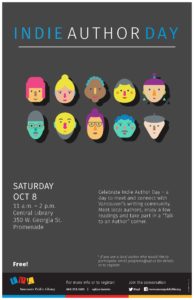 I used to take my kids to the library, now I take my books. Come and say Hi if you happen to be near by. We will be in the Promenade between 11am and 2pm.There will also be 5 min. readings and an Authors Corner. I am scheduled for 11:25am reading and for 11:55am at the Authors Corner.
Posted by Daniela Elza on Aug 22 2016 | Comment now »
My poem beware of dog will be in Ghost Fishing: An Anthology of Eco-Justice Poetry (University of Georgia Press, 2017). It was previously published in dANDelion magazine and FORCE FIELD anthology edited by Susan Musgrave. Thank you to the editors for selecting the poem.
Posted by Daniela Elza on Aug 04 2016 | Comment now »
Recently, I made more crow morphologies CDs, and tucked them in their origami covers.

[front cover]
The poems come from my book milk tooth bane bone and the vocals and soundscapes are by the wonderful Soressa Gardner.
You can hear the spaces between the words in the CD the way they are meant to be read. I love what Soressa did in collaboration with the poems and my voice. It delights me still. The CD is 30 min. long and has six tracks on it.

[back cover]
Each is $10. Each is a crow. So you can pick a number. We are at Crow # 60. Some of the numbers have already flown away like #63, 64, 66, 72 and #65 & #67 are spoken for.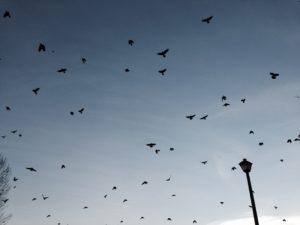 Click here to listen to at.tension (track three), which was also turned into a video poem by Tara Flynn.
Here is a review of crow morphologies by Catherine Owen (thank you, Catherine).
Let me know if you want one and I will find a way to get it to you. If shipping is involved and you are in Canada it will cost about $2 extra. If it has to be shipped further I can find out how much the shipping will be and can release a crow your way.
Initially, I imagined listening to the CD in the car on a long drive somewhere. I listened to it for the first time in its entirety, and as a listener, driving between Smithers and Terrace, BC. Away from the noise and bustle of the city. It was overcast and there were low tatters and wisps of clouds floating in and out between the hills. Some of these formations almost looked like dragons in their shifting. And I cried. It was an unforgettable moment. I was delighted to receive this note from a perfect connoisseur:
"I listened to your CD on my way north to the Cariboo. It was joyous. I am so proud to be able to say that I am living in the time of Daniela Elza, to share this atmosphere with your breath. Thank you. You got it perfect. This is the kind of work the whole world should notice."
Thank you Harold Rhenisch for these words. And thank you to the rest of you who emailed me with similar sentiments.