Posted by Daniela Elza on Jun 23 2017 | Comment now »
Last night we launched emblem of minutes, chapbook written to music tracks from The Cyrillic Typewriter's Your True Emblem by Jason Zumpano. The chapbooks are designed and put together by poet Kevin Spenst.
It was a lovely launch of strong and delighful words by Shazia Hafiz, Mariner Janes, Geoffrey Nilson, Bren Simmers, Kevin Spenst, and myself. The launch was warm and full to the brim.
I was glad to be hosting it at Twisted Poets Literary Salon. Also in the chapbook are poets Rob Taylor, Andrew McEwan,and Jennifer Zilm, with visual art by Sydney Hermant, and Jason McLean.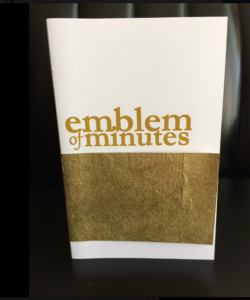 Today we are launching The Summer Book at the Sylvia Hotel, between 4 and 6pm. I have had essays published before but this is my first literary launch of an essay. New beginnings! I have so much to say about beginnings. And in such good company. Come share in the celebrations.
Summer is here. Let's launch it in style.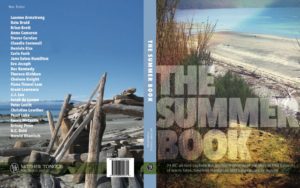 More essays to come soon, I hope.
Speaking of beginnings here is what we did for the staff fun day. We played lawn bowling. Before noon we were not doing too well. Once the coffee and lunch kicked in we made a stunning comeback. Here is the winning team. The beginner's mind at work.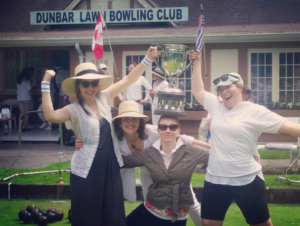 I love the people I work with.
Posted by Daniela Elza on May 05 2017 | Comment now »
Five poems got accepted for in light and darkness: suffering and the teacher's life anthology.
The poems have been previously published. Three are in the weight of dew (Mother Tongue Publishing, 2012):
Plato killed a moth in my dream
it: attempts at definition
a shoreline to stand on
And the other two in other publications:
ode to the critic

(Poetic Inquiry: Vibrant Voices in the Social Sciences,Sense Publishers 2009).
and

beauty is embarrassing

(POIESIS: a journal of arts and communication, 2013)
It is rare to get an acceptance email where the editor takes the time to say what they like about your work. Here is an excerpt:
I've finally had a chance to read your poetry, and it really takes my breath away. You remind me of Sappho a bit. Your writing is very beautiful and thoughtful; I love how you've combined your grasp of ancient literature and the erotic into these poems. I'd say your work has an almost mystic element… it definitely does what only poetry can do, which is awaken us to the ineffable and the something that is beyond words… which is exactly what this book is about!
What I also loved is how the poems cut across the different thematic divisions the book will be organized under. It speaks to my commitment to bridging distances between things divided, integrating things fragmented, and refusing to serve one category or another.
As I like to say: I work in the in betweens.
There is something delightful when the editor's words in the acceptance letter make you feel they really get it; these multiple layers I work with and try to weave in one strand. Or, shall I say, grok it?
I will keep you posted here on when the anthology is due to come out. These books are a labour of love, and that takes time.
Posted by Daniela Elza on May 04 2017 | Comment now »
Two of my students (Samantha Chen and Christina Chen) are winners in the 2017 Jessamy Stursberg Poetry Prize, a contest run by the League of Canadian Poets for Canadian youth.
When they came into the writing room and told me I realized I had two of the national winners in the writing room (at the same time in one space) and between them they won 1st, 2nd, and 3rd place in the junior category.
Such a lovely gift for National Poetry Month.
You can read the first place winner in the junior category here.
You can read the second place winner here.
And the third place winning poem here.
Check out the other winners as well. Thank you to the judges and for their comments.
Needless to say I am thrilled.
Posted by Daniela Elza on Apr 19 2017 | Comment now »
I will have a chapter of six poems in Poetic Inquiries of Reflection and Renewal. The chapter is titled:
through the poetry of the world: toward an ecology of being
Here is a description of the book copied form the publisher's website:
From migration, teaching, attending to the sick and dying, or navigating new relationships or identities, the poems in this collection are at once evocative and poignant and at times playful. This book offers insight into what is possible with the poetic voice.

This book can be read from beginning to end or by reading non-sequentially among the contributions. The editors of this collection have brought together a diverse array of authors who use poetry as research, and who explore many ways in which poetry can bring the reader into deeper understandings of experiences or issues.

Drs. Lynn Butler-Kisber, John J. Guiney Yallop, Mary Stewart, and Sean Wiebe are Canadian education scholars who employ poetic inquiry in their work. Since the inception of the International Symposium on Poetic Inquiry in 2007, they have been an integral part of the international poetic inquiry community. Each has a keen interest and commitment to education and the arts, social science research, and literacy learning.
Thank you to the editors Lynn Butler-Kisber, John J. Guiney Yallop, Sean Wiebe, and Mary Stewart, who worked hard to get this book out into the world. It is official now.
Release Date: May, 2017.
Posted by Daniela Elza on Apr 13 2017 | Comment now »
The dirt is broken up. The seeds are in the ground. The rain keeps persisting. The sunny days are still too few and come like gifts. In the mean time a number of poems like seeds will go out into the world.
This year I hope to see the publication of slow erosions, a chapbook in which all the poems are written in active collaborations with poet Arlene Ang.
And The Inflectionist Review just accepted four pieces, one of which is a poem written in collaboration with poet Linda King. They will also publish a poem inspired by music of Jason Zumpano in issue 6. And a few poems in issue 7.
I hope to see a few more things come to fruition this year. And hopefully some more time dedicated to writing.
Posted by Daniela Elza on Mar 27 2017 | Comment now »
March has been rainy. Very rainy. And on top of that the flu got me during spring break. While the rain poured and poured and I was delirious with fever, I had the pleasure of writing an essay about summer and my little roof-top patio. I was so busy with it that when we got back from spring break I started asking the kids in the writing room, how was your Summer break?
The essay will be published this summer in
The Summer Book (Mother Tongue Publishing, 2017)
24 writers capture the golden moments of summer in this treasury of warm tales, timeless memories, and meditations on nature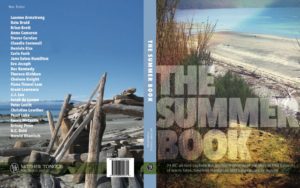 I am looking forward to reading all the other essays and to launching the book. I hope you can make it to one of the launches. I hope to make both.
SALT SPRING ISLAND
Saturday JUNE 10th, 7-9 pm,
@ Duthie Gallery: A beautiful spot near town with large sculpture garden. There will be refreshments and wine.
VANCOUVER,
Friday JUNE 23, 4-6pm,
Sylvia Hotel, in the Pendrell Room,
Free parking at hotel, happy hour, sandwiches.
Writing an essay was so much fun, I am writing another one. Hope you are writing too.
Posted by Daniela Elza on Feb 19 2017 | Comment now »
The 10th Mission Writers and Readers Festival has its program up. Check it out and sign up. I will be giving a workshop on what's in an image alongside workshop presenters Jordan Abel, Michelle Vandepol, Rob Taylor, Rob Lucy, ans Sylvia Taylor.
The price to attend is $40 for a whole day from 9:30am—4pm, that includes lunch and refreshments. Hope to see you there. If you know emerging writers encourage them to go. Even better, get them a pass and send them to it. Will be great to see you there. Please help spread the word.
Date: Saturday, March 4, 2017
Time: 10:00 AM to 4:00 p.m.
Location: UFV Mission Campus, Heritage Park Centre
33700 Prentis Avenue, Mission BC V2V 7B1
Click here for more details.
Posted by Daniela Elza on Nov 28 2016 | Comment now »
The BC Book Prizes had an online auction this year and one of the items on it was coffee donated by Echo Cafe. There is more. Along with each coffee you get a poem for each week of the year. The poems are by local authors. Yes, that is 52 poems for each week of the year. I had a poem (or few) in there as well.
Grant Smith won the poem-a-week item on the auction list. He writes about it in the Clearline newsletter he sends out to his clients.
It was delightful to see that out of the 52 poems he chose tree morphologies to include along with the description in his newsletter.
I also love the idea that he encouraged poems to be circulated around the office for his associates to read. Thank you Grant for supporting the fundraiser and for putting the poems to work. We cannot have too much poetry in out day. Or, at least, we surely can use more.
For the last two months we have been under cloud cover with the occasional moment of the sun coming out or a piece of blue showing. It has rained nearly every single day for the past two months, except for five. The poem always reminds me of that time of the year. Though this year it seems a bit extreme, even for Vancouver.
tree morphologies was initially published in The Pinnacle Literary Journal, Spring 2013. Its permanent home is in milk tooth bane bone (Leaf Press, 2013).
Posted by Daniela Elza on Nov 04 2016 | Comment now »
It has been a while. I was going to post something about my one week tour to Calgary back in August. Here we are in November already and I have not yet done that. Halloween just passed. Perhaps that summer post will come in December, when I need to remember again the long August days.
It has been rainy and gloomy too often lately, and the sun only makes small appearances here and there. I counted six rainy days in a row recently. So, perhaps my choice for a mask was no surprise. Something about light dispersing the dark, something about raven stealing the sun and releasing it into the sky.
Yes, there is a first time for everything. And this time it was putting on a mask. And so this is how we were in the Writing Room this past Monday.

These leaves I found on the ground at lunch break and … the similarity drew me. The shape of the leaves and how they hold the light also drew me.

At work the kids asked what I was. I said: I am a poem open to interpretation.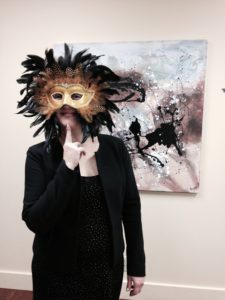 They made their guesses. They came up with ones I would never have come up with. That is the beauty of keeping the doors of poems open.
I hope you are all well in these shortening days. Make the dark less dark with your laughter and your wonder, your awe and your words.