Posted by Daniela Elza on Mar 30 2014 | Comment now »
Rumour has it that there is another review of milk tooth bane bone in Poetry is Dead Magazine. I have not seen it yet, have not had time to track down a copy of the magazine. But if you do let me know.
One more week of being UFV's Writer in Residence. It has been wonderful and busy and i will miss it a lot when it is done. The last reading I am hosting in on April 2nd with six features: Evelyn Lau, Elsie K. Neufeld, Robert Martens, and two faculty Rajnish Dhawan and Helene Littmann and myself. This will be my brief good bye reading. On Monday I have one more class to visit and talk in, and some more students to meet with before the end of the week.
If you can come to the April 2nd reading it will be at 12:30, at University House in Abbotsford.
Features: Evelyn Lau, Elsie K. Neufeld, Robert Martens,Rajnish Dhawan, Helene Littmann and myself. 10 min each.There will be a music interlude by Heidi Luhmert.
Also today I am reading in New West at Poetic Justice.
POETIC JUSTICE READING SERIES
Features Portland poet John Sibley Williams, Daniela Elza and Deborah L. Kelly plus open mic. Sunday, March 30, 3pm-5pm. The Heritage Grill (Back Room), 447 Columbia Street, New Westminster, Free event.
There is a lot more to report but not enough time, so this will have to do for now.
Posted by Daniela Elza on Mar 07 2014 | Comment now »
The review Al Rempel wrote of milk tooth bane bone is now up on Arc Magazine website. For those of you who are interested, read the whole review here.
Thank you, Al, for the way your mind works, and for perceptively picking up on important threads in the book.
Posted by Daniela Elza on Feb 28 2014 | Comment now »
The latest issue of Arc Magazine (Issue 73) has a review of my latest book by poet Al Rempel. Al Rempel's books of poetry are This Isn't the Apocalypse We Hoped For (Caitlin Press, 2013), understories (Caitlin Press, 2010) and a chapbook called The Picket Fence Diaries (Lipstick Press, 2010).
Here is a little snippet from the review.
"The four titular nouns typify what I mean by gravity and gaps. Elza places these words side by side as effortlessly as setting four small stones in a row on the beach, yet they carry the weight of four silent moons around a planet. Bodies that bend space-time, bodies to gather ideas around. And in the gaps: lightning-quick and neural."
Thank you for the review!
In other news, tomorrow is Mission's 7th Annual Writer' and Readers Festival and I will be giving a keynote at the beginning and and a workshop later in the day in my capacity as Writer-in Residence at University of the Fraser Valley. The festival runs from 10am to 4pm. It is only $40 for the whole day including a lunch and some refreshments. For students it is $20.
So, Mission, I will see you tomorrow. Come and enjoy Zaccheus Jackson Nyce and John Carroll, with readings and workshops, Steven R. Duncan with the *Mighty Little Chapbook* workshop, Margaret Evans, Cathy AJ Hardy, and more-
Now click here to check out the workshops and line up.
Posted by Daniela Elza on Feb 04 2014 | 1 Comment »
This is my third week as the Writer-in-Residence at the University of the Fraser valley. I have been enjoying my time there. So far visited a number of classes and did an inaugural reading.
Last week Katie Sotbbart, a student of English and Creative Writing, who also works at The Cascade did an interview with me.
I was pleasantly surprised to see a review of milk tooth bane bone also come out in the issue of the paper. What is more, the designer worked on the front cover and made it look like the cover of the book. Here is a photo in not so good light. It will have to do for now: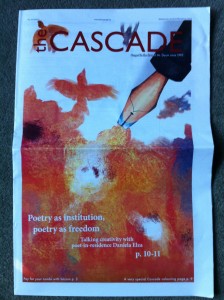 The interview is called:Place and presence: a dialogue on poetics with writer in residence Daniela Elza. You can click on the title to go to it and read the whole thing.
Hope you enjoy it. I sure did. It is a wonderful experience to talk with someone who has read my work and thought deeply about it. And this was one such occasion where I felt that. Oh, and Katie did a fabulous job harnessing the tangents I went on.
So thank you Katie Stobbart, and thank you to Anthony Biondi. Anthony took the photos.
Posted by Daniela Elza on Jan 21 2014 | Comment now »
Blumin Pop Up Shop is offering a weekend of workshops, readings and art displays.
I will be participating with a workshop on collaborations and a reading at the 8X8 on the evening of the 26th. Check out the other workshops and sign up for the ones that catch your fancy.
To check out the different workshops and sign up for any or all of them go to Blumin Pop Up weekend.
Blumin Pop Up Shop Workshop with Daniela Elza & Soressa Gardner – Working Together: When Artists Collaborate
In this two hour workshop we will talk about collaborations between artists within and across artistic mediums/disciplines. We will share some instances of collaborations we have been involved with. We will also engage in some collaborative activities and invite the process to inform us. Bring your inspiration and your questions.
To sign up for the workshop on collaborations click here.
And here is the line up of readers for the 8X8 reading:
Posted by Daniela Elza on Jan 14 2014 | Comment now »
Catherine Owen has reviewed the "crow morphologies" CD: a collaboration between myself and Soressa Gardner.
"This six track CD, recorded in a home studio, and featuring poems from Elza's book "milk tooth bane bone" (Leaf Press 2013) with Gardner's synthesized magic, is sweetly clear and resonant. The journey begins moodily, with medieval resonance, Elza's vocalization poised and water-drop luminous."
Read the whole review here.
Thank you, Catherine.
If you wish to acquire a copy of the CD let me know. They are 10 dollars + shipping.
Posted by Daniela Elza on Jan 08 2014 | 2 Comments »
I am thrilled to have been chosen as the 2014 Writer-in-residence for the University of the Fraser Valley. Happy New Year!
Posted by Daniela Elza on Dec 25 2013 | Comment now »
Mindful
by Mary Oliver
Every day
I see or hear
something
that more or less
kills me
with delight,
that leaves me
like a needle
in the haystack
of light.
It was what I was born for –
to look, to listen,
to lose myself
inside this soft world –
to instruct myself
over and over
in joy,
and acclamation.
Nor am I talking
about the exceptional,
the fearful, the dreadful,
the very extravagant –
but of the ordinary,
the common, the very drab,
the daily presentations.
Oh, good scholar,
I say to myself,
how can you help
but grow wise
with such teachings
as these –
the untrimmable light
of the world,
the ocean's shine,
the prayers that are made
out of grass?
Posted by Daniela Elza on Dec 15 2013 | Comment now »
Soressa Gardner has been hard at work on a CD which combines poems from my "milk tooth bane bone" book and her soundscapes and vocals.
I am quite in love with what she has done. We have kept quiet about this, but now we have a 6 track home-made CD (about 30 min in length). It is called *Crow Morphologies*.
Some of the tracks are soundscapes embracing the poems. Others have music voice and vocals added. Each track has its own feel and comprises of a few pieces. We have an origami cover. Maybe it is not very sexy, but it is hand folded and home made.
The CDs are numbered. 10 are already out into the world. If you would like one please let us know. They are $10 each. If we have to mail it then that will be $12. Give us your order/s and we will find a way to get it to you.
Track three was turned into a video poem with Tara Flynn's expertise added in the mix. Here is a link to that. Will post another taste of it later.