Posted by Daniela Elza on Oct 19 2014 | Comment now »
Last night I had the honour to perform at the Art in Residence Salon hosted by Keiko Honda in her home. I was nervous somewhat since I have never really done a performance this long (ended up going over an hour with conversation) and also where it was by invitation only. The moment I walked in the kitchen where everyone was busy with food and serving and talking I knew it was a good place to be in. The food was delicious, the care and attention people showed for each other was inspiring. After dinner the living room got transformed into a stage with an audience around it. And we were off.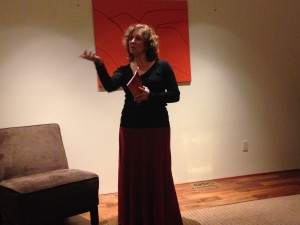 The audience was wonderfully attentive and engaged.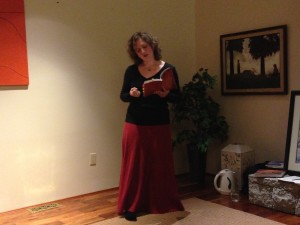 The gestures were wide and far reaching.

I delighted in the questions and the discussion.


There was deep conversation. There was love.

Thank you Keiko Honda for the invitation and for running this wonderful art series. This morning, the sweet memory lingers.
Posted by Daniela Elza on Oct 12 2014 | Comment now »
Ok, here are the last events I have scheduled for the year. It seems they all ended up in October.
Thursday, October 16, 2014, 5:30-9:00 pm.
Launch of Emerge Anthology, The Writers Studio, SFU. I will be giving an introduction.

I was the guest editor for this anthology this year and so this is the culmination and celebration of the process.
Host SFU The Writer's Studio
@ SFU Harbour Centre
515 Hastings Street Room 1430
Vancouver, BC

October 18, 2014, 7pm
Performing at AIR Series Salon. Attendance by invitation.

You can click here and scroll down to see the event.
Description:
This poetic performance will invite you on a journey. Daniela will showcase the ground she has covered over the last decade between poetry and philosophy, between awe and delight, between poetry and knowing and between poetry and dance. She will be joined by dancer and choreographer Su-Lin Tseng for the poetry-dance portion of the performance. Bring your poetic mind, your curiosities, your questions, and your passions. The performance will be followed by a Q&A period. Daniela loves to answer the call of the muse and she loves to answer questions.
October 22, 2014, 10-11:20am
Talk/workshop at Elder College in Chilliwack
October 28, 2014, 7pm-9pm
Wordwhips, Poetry and Art in the Gallery
Featuring poems written to the art exhibit Marked Panels Panels Panels Panels by Joyce Ozier
Poets: Mary Duffy, Daniela Elza, Falcon Ohara, Amanda Wardrop, and Warren Dean Fulton
Host: Fran Bourassa

@ Jewish Community Centre,
950 West 41st Ave. Vancouver
The featured poets will be writing to the visuals on the wall. Everybody will have an opportunity to be involved. There is time for the audience to write to the exhibit and to recite their poems.

Presented by the Sidney and Gertrude Zack Gallery in collaboration with Pandora's Collective. Made possible by the Yosef Wosk Poetry Initiative Grant
Oct. 29th 2014, 7pm
BOOK LAUNCH: Second Growth by Fabienne Calvert Filteau with Jen Currin, Surya Govender and Daniela Elza
(The event is co-hosted by Pandora's Collective and People's Co-op Bookstore)
Location: People's Co-op Bookstore, 1391 Commercial Dr Vancouver, BC (604) 253-6442


Readers:
Fabienne Calvert Filteau (Second Growth),
Jen Currin (School, Inquisition Yours, Hagiography, and The Sleep of Four Cities)
Surya Govender (2014 graduate of The Writer's Studio)
Daniela Elza (milk tooth bane bone, the book of It and the weight of dew)
Maybe you will be able to come out to one of them. Hope you are all having a lovely Autumn/Fall season. Happy Thanksgiving weekend!
Posted by Daniela Elza on Oct 11 2014 | Comment now »
The weekend at the Oregon Poetry Association gathering in Bandon, Oregon, was wonderful. The motel was perched right above the beach with the surf rolling in and the foghorn at night. The sound of the surf was constant, permeated everything. Oh, how I love that sound, that constant reminder of the power of the ocean.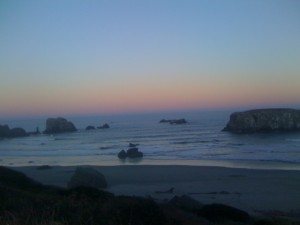 My workshop was very well received. Lots of good conversations.


By the end of the stay there I felt that not only I loved it, but I was loved back.


By the people, by the ocean,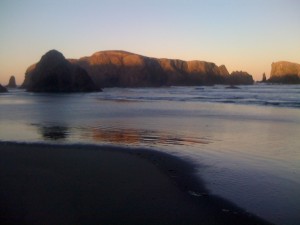 by the rocks, and cliffs. Even by the smallest of living things.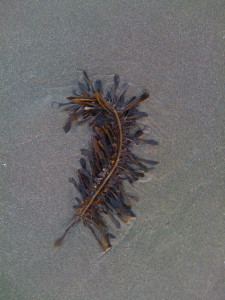 Oh that incessant surf, and how things looked so different at night and in the mist.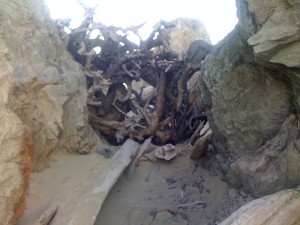 I had that don Juan (Carlos Castaneda) feeling

when we descended to the beach in the dark


and everything looked like something else.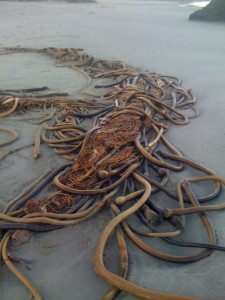 And how in the morning everything was different, new, swept clean except for what the ocean coughed up at night. What the ocean composed.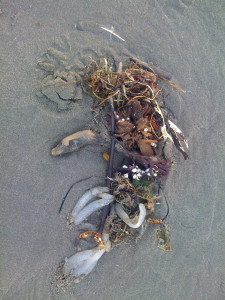 Thank you to the organizers, all the participants for their enthusiasm, and presence, and to Analoly, who was kind enough to give me a ride between Portland and Bandon and back.
Posted by Daniela Elza on Sep 28 2014 | Comment now »
This was my first time going to Cypress Falls in North Vancouver.

I have been meaning to go to the woods for so long and life has been just too demanding of my time.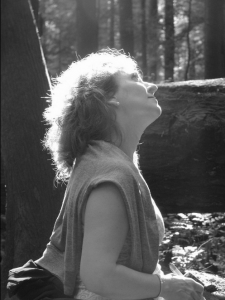 But really there is no excuse.
Walking among trees that are probably between 500 and 1000 years old very quickly puts things in perspective.

Long term and short term. From what endures to the most delicate structure that a wave of your unthinking hand can destroy.


The inquiry of trees. Trees do not give up easily. Even when they fall they hold onto rocks (some as big as me) in their roots clenching them as if they are something precious. And they are.


They do not only put things in perspective. They put things in poetry too. See those lives spinning, see those lines spinning in my head. See that height that is not making me dizzy? I can sit all day like that and grow roots to talk to trees. Every walk there is a poetry walk. Every walk there is a life-line walk. Every walk there is a reminder of what it is we love and what loves us back without imposing conditions on us.
.
.
[all the photography in this post is courtesy of Robin Susanto and his poetic vision and light sensibility]
Posted by Daniela Elza on Sep 21 2014 | Comment now »
Thank you to the The Maynard editors for giving a few brand new pieces a home. They come from a section in my latest manuscript called self-p0rtraits. Here is the introduction to this latest issue.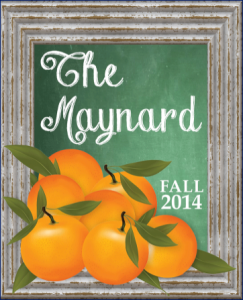 Check it out. On the left hand side is the contents. Click here to go directly to self-p0rtraits to read and listen. Or just read, or just listen.
In any case, check out The Maynard, and consider submitting to their next issue.
Here are the submission guidelines.
Posted by Daniela Elza on Sep 15 2014 | Comment now »
This year I submitted flash fiction and non-fiction to contests and anthologies. I have not done much with this genre even thought I have a few flash fiction/micro-stories out there. Two were published a while back in One Cool Word (or OCW) and one was published in Blue Print Review.
So when I heard that I made it to the long list for the short fiction contest I thought it was already an accomplishment. Today I found out I am the runner-up (or in some other words, second place). In good company too. The winner is Rob Taylor for his piece Here I Lay Down My Heart. Congratulations Rob, and to all that are on the long list and those that are on the editor's choice list.
Thank you to Judge JJ Lee for selecting my story Waiting for Twilight as runner up for the 2014 Hummingbird Prize for Flash Fiction contest. Click here to read the announcement. The story will be published in the Winter issue of Pulp Literature magazine.
My sequence of poems, intimacy requires more, that was runner-up for the Magpie Award for Poetry will be published in Issue 4 of Pulp Literature magazine.
Posted by Daniela Elza on Sep 11 2014 | 2 Comments »
Two years ago I mailed a postcard poem to Cascadia Review with my submission of a few poems and a statement of place. I was leaving Vancouver at the time to go visit my parents and met my sister at the airport so we can travel together. I was planning to mail the postcard from the airport.
Once we went through security I realized it was too late to buy a stamp since the only place that sold stamps was out of bound at that point. With the help of two security guards I managed to have it mailed on time. I gave them money for stamps with my envelope and my sincere thankyous.
I had no idea if it will ever arrive, but judging by how their faces lit up when I told them it is a poem they were holding in their hands, and how they took the story to heart, I was pretty confident the letter will arrive.
Here it is on the Cascadia Review website.

In the busy days getting ready to travel I did not have time to look for a special card, and the only thing I had was the card my publisher made for my book. So I thought that might be an appropriate card, and got all that dew in the poem too.

Posted by Daniela Elza on Sep 07 2014 | Comment now »
I submitted a piece to the Contest Why Vancouver? Why You?
It seems like voting is going to be part of the selection process. Here is the link if you wish to read and cast a vote. There are 92 entries all together.
To cast your vote for my piece, click here.
I have never participated in a contest like that, where there is input from the community. It is kind of cool and at the same time unsettling for the authors who have to throw their writing out there. There is a first time for everything.
To read other entries click here. You can then browse and pick your favourites to vote for. You can vote once a day per IP address up until October 15.
Good luck to everyone.
Posted by Daniela Elza on Sep 04 2014 | Comment now »
A couple of things coming up this week and weekend.
September 4, 2014, 8pm
The TWS READING SERIES
The Writer's Studio's featured author for September will be poet Daniela Elza. The other readers are Ingrid Rose, Angela Kenyon, D.N. Simmers, Diana Joy, Sheila Galati, Jude Neale, and Dhana Musil. Hosts: Ivan Antoniw and Romney Grant.Thursday, September 4 at 8:00pm. Cottage Bistro, 4470 Main Street, Vancouver.
Did you stop by the Pop-Up-Poets this summer here on False Creek? Did you get a poem written, recited, even sang? No? If not you will have another chance this coming Sunday, Sept.7th. The poets, of course the poets will have their pens and pencils, and type writer keys, poised.
Here is the poster and info for the Sunday event. Spread the word.
Vancouver Pop-Up-Poets return on September 7th, 2:00 pm to 4:00pm.
Your Word! We Write! We Recite! We invite you to request a poem be written on the spot. The poet performs it and gifts it to you.
Find us 1600 Columbia St @ 100 Athlete's Way. (Go to end of Columbia towards water, turn right, head about 10 ft East towards Science World, we will be near the silver railed dock on left.)
Join Meharoona Ghani with guest poets:
Daniela Elza,
Barbara Baydala and
Susilawati Bryant