Posted by Daniela Elza on Sep 18 2023 | Comment now »
I was looking for my poem called symmetry, to send to a friend in answer to how I felt about the topic, when I came across a blog that had had some fun thinking with the poem.
Delightful when people engage this deeply with my work. You can read it here. 
It was initially published in ditch, poetry that matters – a site that no longer seems to be live, or at least the link do not seem to work.
Posted by Daniela Elza on Aug 12 2023 | Comment now »
THURSDAY, SEPTEMBER 14, 2023 AT 6 PM – 8 PM
Erosion: The Inte/ruption of Home
On Thursday, Sept. 14th at 6pm, join Massy Arts, Massy Books, Caitlin Press, Mother Tongue Publishing, and Raven Books in celebrating the work of Adrienne Fitzpatrick, Daniela Elza, and Ian Thomas.
Erosion encompasses the environmental impacts on home, as well as the emotional and spiritual. Erosion can be subtle, not even noticeable and then suddenly devastating. Inte/ruption disrupts the flow, alluding to the breaking apart of the narrative of home.
Register here  (registration is free and required for entrance).
For more information on the event and books and for bios you can go to Massy Arts page here.
To access the FB event link click here.
This project has been made possible by the Government of Canada. Ce projet a été rendu possible grâce au gouvernement du Canada.
Posted by Daniela Elza on Jul 24 2023 | Comment now »
I will be joining Stephen Collis, Betsy Warland, and Natalie Lang in this event at Massy Arts for the launch of Remnants of Place. I will read some poems and very much look forward to connecting. Details below. FB event with more info and bios here. And the event info is also up on Massy Arts website, here.
——–
SATURDAY, July 29, AT 6 PM – 8 PM
Remnants of Place: Natalie Virginia Lang
Location: 23 East Pender Street,Vancouver,V6A 1S9,CA
Through poetic prose, Lang meditates on the social, historical, cultural, and environmental losses suffered at the hands of infringement upon natural areas. Natalie Virginia Lang will be joined by Guests Stephen Collis, Betsy Warland and Daniela Elza.
Posted by Daniela Elza on Jul 15 2023 | Comment now »
It was an honour to find out that my poem Adver/city  won first place in the 5th Annual Muriel's Journey Poetry Prize. Click here for more on the prize. And here is their FB page.
These poems have been hard to write. I am glad to see they are walking their path. I hope they stir up some dust in the process and forge their own path.
All the winners will be published in a chapbook and will be reading their winning poems at Word, Vancouver on September 9th, 2023 from 2:30-4pm. This will be an online event, click here for more details and to watch the streaming on youtube.
Thank you to the judges who worked on selecting the winners, and congratulation to all the other winners and honourable mentions.
Posted by Daniela Elza on Apr 15 2023 | Comment now »
"Fire Song" is a poem I wrote in collaboration with poet Alan Hill and it is forthcoming in Canadian Literature, issue 252.
Posted by Daniela Elza on Apr 01 2023 | Comment now »
Happy Poetry Month
I will be reading at the sixth instalment of the Inflectionist Reading Series on
April 24th, 2023, 5pm – 6pm (Pacific Time), 8pm-9pm (Eastern Time).
Posted by Daniela Elza on Mar 21 2023 | Comment now »
I will be at this festival in the capacity of a workshop presenter, editor, performer, and co-judge of that day's haiku contest. There are nine workshops you can pick from (for both kids and adults). Everything is FREE. There is a slam performance you can register to perform at in the evening. There will also be poetry displays and video poems.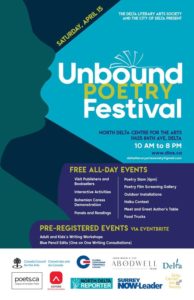 Here is the info:
SATURDAY, APRIL 15, 2023 AT 10 AM – 8 PM
Unbound Poetry Festival 2023.
11425 84 Ave, Delta, BC V4C 2L9
Do help spread the word to people you know might be interested.
Posted by Daniela Elza on Mar 06 2023 | Comment now »
In March I will be reading (in person) in Surrey. Here are the details below. This is their first in-person Surrey Muse gathering after the COVID Lockdown in March 2020.
MARCH 25, 2023
READING AT SURREY MUSE: An Interdisciplinary Art and Literature Presentation Group
1:00 – 4:00 PM (PT)
Room 418, City Centre branch, Surrey Libraries
10350 University Dr, Surrey, BC V3T 4B8
Free & Accessible event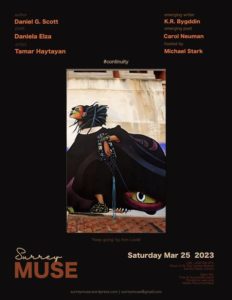 Poet Daniela Elza, Author Daniel Scott, Musician Tamar Haytayan, Emerging Poet Carol Neuman, Emerging Writer K.R. Byggdin
Host Michael Stark
Out of town artists will participate via Skype, and for that, we'll need your Skype name and
phone number.
Underground parking is available, Surrey Central
skytrain station is nearby, and the venue is wheelchair accessible.
For more information Contact:surrey.muse@gmail.com
Website: click here.
Posted by Daniela Elza on Feb 25 2023 | Comment now »
Thank you to those who came out today to have some fun with words at the Discovery Centre in Delta/Ladner. I discovered that things have more than one name, and streets are known by numbers and names sometimes. Even Delta and Ladner are interchangeable?  How does google even do it? I was supposed to turn right on 48th, which was in reality 10th Ave, which is also called Arthur Street? At least that is how I think it went, before I ended up driving miles and miles through farmland, and then had to be talked off a bridge.  :-)
Thank you to women who work hard at organzing so many of the literary events in the area. And the lunch treat and laughter was great.