Posted by Daniela Elza on Mar 04 2015 | Comment now »
I am delighted to say that I will have three poems coming out in the upcoming issue of Prism.
autobiography of grief 1
autobiography of grief 2
what remains

forthcoming in Prism international, 53.3, 2015.
Thank you to the editor/s for selecting these poems. This is going to be a first. And, oh, how I love beginnings.
Posted by Daniela Elza on Feb 23 2015 | Comment now »
I loved being at the 7th Mission Writers and Readers Festival last year as the 2014 Writer in Residence at UFV. I gave the keynote (my first one) and did a workshop. It was also lovely to sit in on some of the other workshops.
This year there is a wonderful line up again. Evelyn Lau, Lois Peterson, Emily Pohl-Weary, Chris Gilpin, and John Carroll, and myself will be giving workshops at the 8th Mission Writers and Readers Festival. This will be on March 7th between 10am and 4pm at the Heritage Park Centre, Mission. Emily Pohl-Weary will be giving the keynote as the current Writer-in-Residence at UFV.
Hope you can make it to some of these workshops.
My workshop is called
Having Fun with Rejections
I have never given it before. So it will be fun to put together and invite you to walk this walk with me.
For the whole day: $40 for adults, $20 for students (includes coffee breaks and lunch).
Check out the other workshops, descriptions, presenters, schedule of events and more,
here.
Posted by Daniela Elza on Jan 29 2015 | Comment now »
Delighted to hear that filling Station will be publishing a collaborated poem written between myself and Jason Sunder. The poem is titled untilted.
I had some work previously included in filling Station (issue #57) which showcased experimental writing by women.
Thank you to the editors for including this poem in their collaborative issue. The poem is likely to come out in issue #61.
And there was also one rejection that came in today. It was a fun rejection, with a sense a humour.So that was good as far as rejections are concerned.
Posted by Daniela Elza on Jan 26 2015 | Comment now »
The old year left and the new one arrived. Yes, I was keeping an eye on all that, but I was also busy with a number of things that were pre-occupying me with such delight that all I feared I would feel at the end of the outgoing year was overshadowed by this delight.
Which is a wonderful change from the emotional landscape of the rest of 2014. There are a few new things in my life that I wished for, including a new job (which I love very much). I have also been reading a surfeit of poetry. And, no, it is not a form of punishment. Well, mostly not.
It is only now that I am finally coming around to wishing everyone a Happy New Year. The year is still so crisp and so new and has not gathered any dust or grime around the edges. Let's keep it that way. Let it be new till the end.
Happy New Year! (You get one exclamation mark, so you know this is significant. I do not use them lightly. In fact, I do not use them at all.)
A few things I wanted to share that came in during this pause in posts.
Pedestal Magazine (US), December 2014, published eros/ions (3 fragments). (You can read the poem by clicking on the title.)
I am thrilled that Crannóg Magazine (in Ireland) will be publishing speeding steel in their Issue 38, Spring 2015.
And some work will be appearing in the debut and issue 2 of The Absinthe Poetry Review (US), 2015. Namely, afloat (on the emotion of bodies, you could be the one who knocks (a collaborated poem between Matea Kulić and Daniela Elza) and 7 fragments from my self-portraits series.
Also this past year I ran out of the first print run of the book of It. Thank you to all who purchased it. To all of you who loved it enough to write back and tell me about it. It is available in both electronic versions and in a print on demand version and if you want get yourself a copy you can find it here. The Kindle edition, here.
I found this comment on the book by a Kindle customer on Amazon:
At first, I puzzled over the spacing, but then I slipped into the spacing and started recalling some of my favorite childhood memories. The world was more alive then, dew on wet feet, carrots fresh from the ground with the earth still clinging, late night questions my brother and I pondered before sleep took over. The childhood wonder of being 3, 4 and 5 again that Daniela Elza captured and returned to me. And then returned me to age 68, where I was pondering philosophy, physics and the current world. I read this right after finishing "Trespassing on Einstein's Lawn," by Amanda Gefter. What a perfect transition. And then, of course, I had to go fix dinner; both worlds would have to wait.
This is also a good time to express my gratitude to everyone who made 2014 what it was,
to you who will partake of the next year,
to my family,
my publishers,
to my editors,
fellow writers,
and all of you readers who have sat with my words, who have dreamed on them, who have been inspired.
To you who bridge the gaps: Let 2015 be another delightful leap into the unknown.
And hope we can face it all with love, compassion and grace.
Posted by Daniela Elza on Dec 30 2014 | Comment now »
It is the eve of New Year's eve. And what a year it has been. So much has happened. So much is behind me. There was joy and there was grief and all sorts of colours and shades in between.
And yet, the last two weeks of this year have been filled with blessings.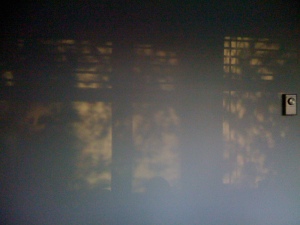 The Winter Solstice marks an important time of the year for me. The light is beginning to grow. I can celebrate light. Nothing to worry about there. I can celebrate light with a clear conscience. No compromises need to be made.
So I watch the sun paint its canvases on the walls of my house. New canvases each day. Places I would never have thought to put a canvas in, canvases between canvases. Just like you never know where a door would open, where a window will form and where a new threshold might offer itself for the crossing.


Fluid canvases, they move like water, winter water in the bed of a river, light on the walls, in the mouth and grip of life. Listen carefully, watch as they enter your eye. Be prepared to enter each as if for the first time. And each day anew.

Posted by Daniela Elza on Dec 22 2014 | Comment now »
The Solstice is one of those days I can celebrate with a clear conscious. So I am focusing on it this year. I heard the drums. Realized we had not prepared our lanterns, our sources of light. Even though the Solstice found me unprepared, the kids and I joined the procession, the singing, and the drumming to the Granville Island where the fire show took place. All I had was my own light to bring with me. And I did. One little flame next to another little flame makes a big fire. Here is to the light, to love, and to the bearable lightness of being.
Posted by Daniela Elza on Dec 05 2014 | Comment now »
Another collaboration.
The latest issue of in education is out and I have a paper with friend and colleague William Welton in it titled:
The Many Paths to Sophia: Toward a Deeper Philosophical Appreciation of Poetry
Here is the table of contents.
If you get a chance to read it, let us know what you think.
Posted by Daniela Elza on Dec 02 2014 | 2 Comments »
Collaborations continue. As some of you know I have been writing poems with other poets for a few good years now. It is a different experience with each poet. And it has been a beautiful exploration of these spaces between.
Here is a poem I wrote with Jude Neale which just found a home as Monday's Poem at Leaf Press.
Hope you enjoy it.
Posted by Daniela Elza on Nov 17 2014 | Comment now »
So this is out. The Inflectionist Review (issue 3). I have an interview in it which I really enjoyed doing and a selection of poems. All in all about 15 pages or so. If you get a chance give it a read.
This is what one of the editors says.
"We're excited to announce Issue #3 of The Inflectionist Review is now available. You can read the new issue at Inflectionism.com.
We are honored to present the ambitious and evocative work of Vancouver, BC poet Daniela Elza in this issue's Distinguished Poet section, alongside the textured abstracts of featured artist Jonathan K. Rice.
Each piece in TIR thrives within its own created world yet adds to the larger dialogue we hope to foster. We invite you to join the conversation.
As a note, we have now begun reading for Issue #4." —John Sibley Williams (editor)
Click here to go to the front page and then click on the cover to read. I am somewhere betwen page 45-60ish.
Let me know what you think.