Posted by Daniela Elza on Mar 29 2018 | 1 Comment »
This hefty, over 400 pages, book arrived today. It is a thrill to have a poem in it and share the space between its covers with Naomi Shihab Nye, Adrienne Rich, Lucille Clifton, Danez Smith, Saadi Youssef, Wendell Berry, Sam Hamill, Joy Harjo, Jane Hirshfield, Wilfren Owen, Denise Levertov, and so many many more including a handful of poets from the poetry community I know. A shout out to Elee Kraljii Gardiner, Kim Goldberg, Christi Kramer, Stephen Collis, and Sarah Browning.
Thank you, to editor Melissa Tuckey for including me in this large and eco-friendly community of poets.
We are hoping to have a launch here in Vancouver or its vicinity sometime in June. I will post more details when they are available.
Posted by Daniela Elza on Mar 22 2018 | Comment now »
My poem serving time (in the burbs II is forthcoming in The Puritan's, Literary Suburbia Supplement (April, 2018).
I love saying the title of this poem. I might have to write a few more poems in this series. The first, the original, serving time (in the burbs found its home in the weight of dew (Mother Tongue Publishing, 2012). There were a good number of reviews that the weight of dew book inspired. Here is a lovely surprise review by Jess Wind in raspberry magazine, in which she travels backwards toward Vancouver. Thank you, Jess, for this delightful review that reminded me again how to love my book even more.
One of my favourite (and more philosophical) reviews was by Dr. Hilary Turner (who teaches English and Rhetoric at the University of the Fraser Valley). It came out in the Pacific Rim Review of Books (Issue 18, Vol. 9, No. 1), July, 2013.
Unfortunately, the review is not available online, so here are three excerpted quotes:
In the weight of dew, [Elza] explores the BC Interior with the eyes and ears of a traveller who is familiar with the unfamiliar, and who cannot wait to try out the sound of words in spaces where they will resonate differently, or where geography may impose a grammar of its own.
"…for it is word-play of a specific kind that interests Elza. As Wittgenstein famously said, "words are deeds." Elza concurs, and adds that they can be objects too, both animate and inanimate. The plainest example of her use of this complex device occurs in 'alternate grammars' where the speaker discovered 'a stylized calligraphy' in the grass of a hillside and uses this script not merely to write her name, but to become the thing she has written."
"As a shore is a kind of a line, and as a line (of verse) can shore up our knowledge of a place, these poems render their setting all the more palpable for their attention to the effects of language upon experience. The paradox is one that has preoccupied modern philosophy at least since Nietzsche, and Elza is a most philosophic traveller, leaving the place she has visited not untouched but illuminated."
Much gratitude to all who spend time with my words, and take the time to write a few words themselves to tell what my poems carry across, how they traverse the spaces between us with the imperfect tools of language.
Posted by Daniela Elza on Mar 17 2018 | Comment now »
Below are two upcoming events which will highlight readings from the anthology SUSTENANCE: Writers from BC and Beyond on the Subject of Food (Edited by Rachel Rose, published by Anvil Press, 2017). I am organizing one of them, and I will read at both.
Next week, March 22nd, Twisted Poets is dedicated to readers from the Sustenance Anthology.
The featured readers will be: Rachel Rose, Merna Hecht, Murray Reiss, Danny Peart, Adrienne Drobnies, Sylvia Symons, Henry Rappaport, Judith Penner, Elen Ghulam, Monica Meneghetti, Terrie Hamazaki, Kathryn Alexander, mia amir, Adrienne Gruber, Leef Evans, Katarina Balazsova, Jan Tse, Lydia Kwa, Beverley O'Neil, Elena Johnson, daniela elza
There will be no Open Mic at this event.
Location: The Cottage Bistro, 4468 Main Street, Vancouver
Hosts: Daniela Elza & Bonnie Nish
​Suggested donation at the door: $5
On Saturday March 24th from 11:30am-1pm there will be another reading at the Farmers' Market at Nat Bailey Stadium.
The readers at this event are: Rachel Rose, Kevin Spenst, Adrienne Drobnies, Daniela Elza, mia amir, Murray Reiss, Elaine Woo, Diane Tucker, Lynn Easton, and Merna Hecht.
I hope you can come and share in an evening or morning on the subject of food and support this Sustenance project. Help us spread the word.
About the Anthology:
Sustenance: Writers from BC and Beyond on the Subject of Food brings to the table some of Canada's best contemporary writers, celebrating all that is unique about Vancouver's literary and culinary scene. Punctuated by beautiful local food photographs, interviews with and recipes from some of our top local chefs, each of these short pieces will shock, comfort, praise, entice, or invite reconciliation, all while illuminating our living history through the lens of food. Sustenance is also a community response to the needs of new arrivals or low-income families in our city. The contributors have donated their honoraria to the BC Farmers Market Nutrition Coupon Program. A portion of sales from every book will go towards providing a refugee or low-income family with fresh, locally grown produce, and at the same time will support B.C. farmers, fishers, and gardeners.
For more information or to purchase copies you can go to Anvil Press here.
Posted by Daniela Elza on Feb 19 2018 | Comment now »
My friend Dorothee Lang sent this crow from Germany. She painted the crow on top of pages 34 and 35 of my collection milk tooth bane bone (Leaf Press, 2013). Dorothee is doing a whole series of book sketches you can check out here.
Daily booksketches, day 17: milk tooth bane bone is a moving collection by my poet friend Daniela Elza. One of the poems, at.tension starts with a line I couldn't resist: "I cannot draw these crows." When I revisited the book, and read the line, I knew I had to try.
Posted by Daniela Elza on Jan 26 2018 | Comment now »
I will have some previously published work in two anthologies. One in the US and one in Canada.
In the US Lummox Press is putting together an anthology of Canadian poets. Publication is planned for late October/November. The working title of this collection is Tamaracks: Canadian poetry for the 21st century. My poem autobiography of grief 1 will be included in it. It was first published in Prism international, 53.3, 2015.
And the League of Canadian Poets is putting together an anthology on trees, or a tree anthology. I am happy that my poem cypress falls is going to be one of the fifteen or so poems in the BC/Yukon chapter. cypress falls was first published in Poetic Inquiry III: Enchantment of Place (2017).
It is exciting when poems, especially ones I love, find homes in different places. There is something delightful in that. Thank you to the editors for selecting these two.
Posted by Daniela Elza on Dec 31 2017 | Comment now »
It is the last day of the year. This always harkens back to my childhood where gifts were exchanged on the same night on which the new year tiptoed in. Santa meant out with the old, in with the new.
I find that quite symbolic now. The idea of physical gifts is not as exciting as when I was a child, but the metaphor remains. The gifts I look forward to in the new year are the wishes I make, the hopes I throw into the days that lie ahead like little beacons that guide me.
It has been another year of growth and exploration and new beginnings. I got my first literary essay published. As an editor, I edited my first essay which also got accepted for publication. Needless to say the writer I worked with is thrilled.
I would like to thank all of you whose work I had the chance to edit this past year. It is an honour to be trusted with your words and poems. A precious cargo we ferry back and forth. I celebrate with you the success you have had in placing this work for publication. It brings me as much joy to see your work published as it gives me to see my own.
I want to thank all the editors, and publishers, I have worked on my own work with, and always appreciate the care you put to preserve its integrity and the way it is laid out on the page.
This was also a year in which I had the chance to go back home. My younger son and I travelled to Bulgaria. The last time he was there was when he was six. Now he is seventeen. We spent a week in Venice, where I finally met poet and dear friend Arlene Ang in person. Then we had a few weeks in Sofia, and one on the Black Sea, with my parents. An eight hour layover in Munich gave us the opportunity to meet Dorothee Lang, another writer artist friend who I had never met in person. Thanks to her, we got to see the old city, a bit of a large park, a bit of art gallery, and have lunch with various sausages at Hofbräuhaus, a famous 500 year old beer hall. Then the flight back to Vancouver.
It has also been a year of political and environmental challenges around the world. It is inevitable for those to not affect us personally in our lives as well. I hope for less of that.
I wish us all health. If there is good health a lot more is possible. I wish you all further success in all your pursuits in the new year. Let it be peaceful, and full of delightful moments, with laughter and love.
Posted by Daniela Elza on Nov 16 2017 | Comment now »
Last month Prism international accepted my poem life as conceptual art. It is forthcoming in their 56.2 issue. I am thrilled it will find a home there. This will be the longest poem I've had published in a journal so far, a total of six pages. Thank you to the Editor Shazia Hafiz. This long poem is part of my unpublished manuscript the ruined pages which is also looking for a home.
In other good news, five previously published poems were accepted for an anthology/collection titled Suffering and the intelligence of Love: In light and darkness This compilation has now found a publisher. My poems will be scattered throughout the book. They are:
Plato killed a moth in my dream
ode to the critic
it: attempts at definition
a shoreline to stand on
beauty is embarrassing
Of course there were a few rejections too, but not worth mentioning. :-)
Ok, back to the editing and writing.
What have you been up to this dark and rainy November month?
Posted by Daniela Elza on Oct 13 2017 | Comment now »
I will be giving a whole day workshop in beautiful Hope, BC on November 11th from 9am to 5pm at UFV Hope Campus. The intention is to go through the whole process of creating to submitting a piece of work. And attend to the in between phases. Especially suitable for:
*people who fear poetry
*or think they might be poets, but are not sure where to begin
*or poets who are emerging
*or poets who need a jumpstart
*or writers who wish to poeticize their prose
So it is not limited to poetry entirely, we can also address how poetic awareness and skills help us in our writing in other genres. The submission process section of the day will mostly address poetry submission for publication. In other words it will not address finding agents.
If you have any questions please let me know. I am looking forward to this very much. Please pass the information to friends and people you know might benefit from this. For registration see info below.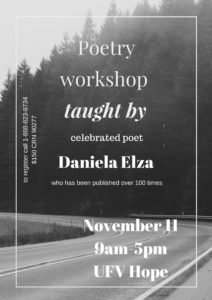 Hope Campus (1250 7th Ave Hope, BC V0X 1L4) course reference number 80277 . 1 session. Saturday Nov 11/17 . 9am – 5pm $150 (including tax) call to register 1-888-823-8734 or visit a University of the Fraser Valley Office of the Registrar location http://www.ufv.ca/admissions/contact/
Poetry Process – Writing, Editing, and Submitting

In this workshop we will go through the point of generating text through writing activities. We will consider basic techniques of editing your own and other's work. We will think about what writing means, how it finds its form and the benefits of a writing practice. We will write a cover letter for submission as well as discuss questions around publication.
Posted by Daniela Elza on Sep 21 2017 | 1 Comment »
the shape of questions was published a while back in Vallum's Play and the Absurd issue (6:2). This week it was featured at Vallum Poem of the Week. If you click through to the link you can also hear a recording I experimented with.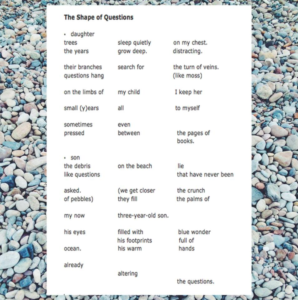 Thank you Vallum for picking it out. The permanent home of this poem is in the weight of dew (Mother Tongue Publshing, 2012). Poems like to travel, so it is always nice to see where they end up.