Posted by Daniela Elza on Jan 02 2020 | Comment now »
Let this be the beginning of a better and wiser decade. I hope we come to our senses, all of them, and stop being such a destructive species. Let's regain the trust we need to have in each other and our institutions.

On the personal level I hope it is a great year for both the heart and the mind. And let there be more poetry, more love, and more human connection, intimacy and kindness.
Even scientists are now showing that doing good is not only good for the world and people around you, but it's good for you. As if we needed them to tell us that, but if that is what you needed to push you over the edge then you have it now.
So do it. Help someone, lift someone up, and take good care of yourself too.
And let there be more trees. We lost so many this past decade.

Posted by Daniela Elza on Dec 31 2019 | 1 Comment »
Lovely to see this piece come out on the cusp of the new year. A few of us wrote pieces in memory of E. D. Blodgett.
I did a cento of first lines from his book Sleep~You~A Tree.
A cento of beginnings—
Here take a read. In memoriam E. D. Blodgett. I am at the end.
Posted by Daniela Elza on Dec 29 2019 | Comment now »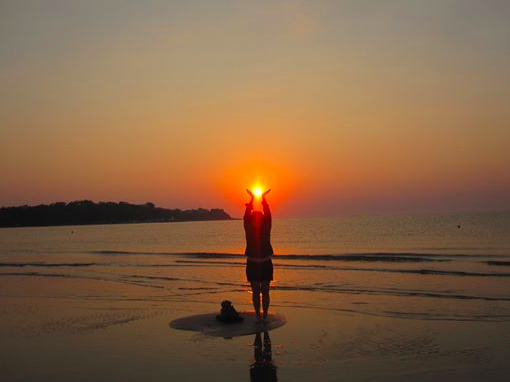 Winter solstice is something I like celebrating more than Christmas. We did not make a big deal of Christmas when I was growing up. But New Years was a big deal. This looking back, looking forward moment and stepping over the threshold of the New Year.
On the night of the 21st of December there are so many events on Granville Island with dancing and drumming and a fire show a the end of which they light up a sun on the top of the green hill. So we go, and carry a lantern or candle or something that adds to the light.
So this is me pushing the light up into the New Year.

I still prefer the New Year celebrations. Mostly because many make a big deal of Christmas and it is so commercialized that the New Year celebration seems more true and honest to me. It is less anxious and less anxiety driven.

We are at the Oregon Coast for this threshold, this stepping into the 2020. The surf is incessant and mesmerizing. Time for thinking, writing, looking back and looking forward.

I hope you have a chance to do that too in some sweet spot and set the tone for the next year.
Posted by Daniela Elza on Nov 06 2019 | 1 Comment »
The book with my essay It Begins With Our Words arrived today. This is my fourth published essay.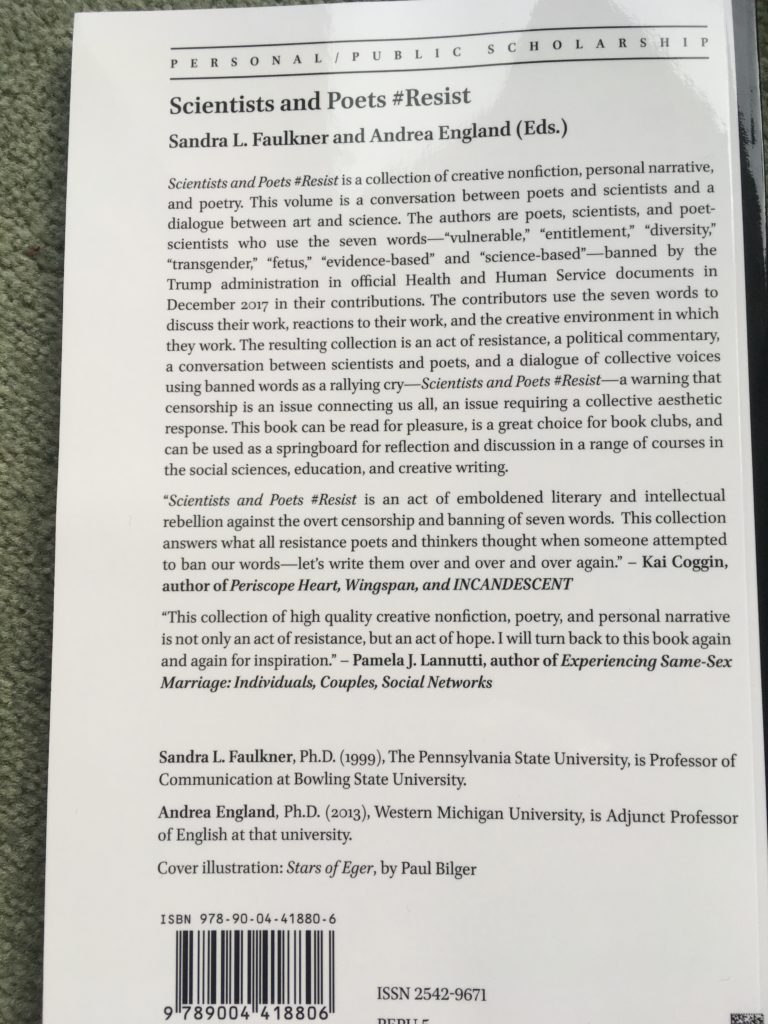 Posted by Daniela Elza on Oct 16 2019 | Comment now »
I will be reading for, to, and among the trees tomorrow (Thursday) at the Sidney and Gertrude Zack Gallery. See poster for details. Audience members will have a chance to write as well and read at the open mic portion of the event. Maybe I will see you there.
Posted by Daniela Elza on Oct 14 2019 | Comment now »
My new book is slated to be out in April 2020. Working on the blurb right now. And below is the cover. Still in the deep waters of editing.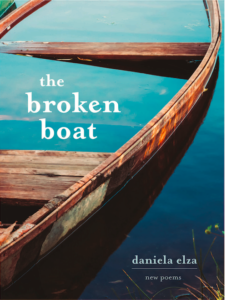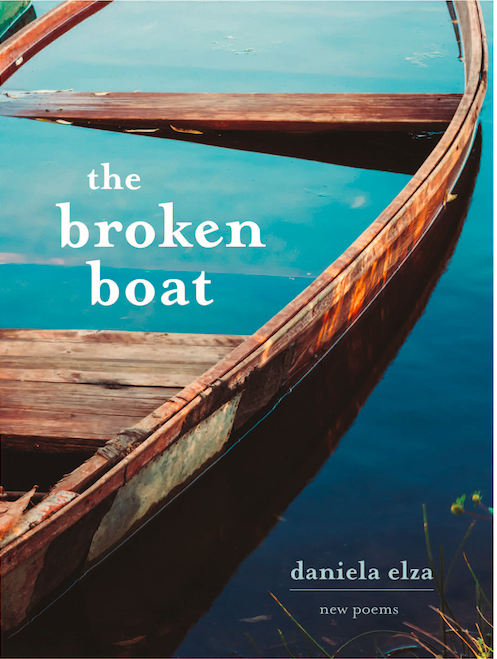 How is this for the blurb so far. It is so hard to write meaningful blurbs. If the book can summed up like that then there is no need to write it. :-)


Back cover blurb:
In her fourth book of poetry, Elza deftly builds a raft of questions to stay afloat amidst the breaking of things. A twenty-year marriage that has taken on too much water, mirrors subtler breakages and fragmentations in her city and natural world. "/her story comes    a/part w/here the poem rips." How do you survive this loss of meaning, this "wintering through"? The intricacies of light, of nature, of water buoy us through grief and begin to astonish, to lift us into making meaning again. Transforming and coupling a deeper self with the soulful eros/ions of our world.
Posted by Daniela Elza on Oct 12 2019 | Comment now »
My poem grief's workshop is forthcoming in the anthology A Journey Across New Westminster by Word: A Poetry of Place.
Thank you to the editor Alan Hill for including it.
Posted by Daniela Elza on Aug 26 2019 | Comment now »
I was browsing through my bookshelf looking for a reference and came upon this editorial comment by the guest editor James Hatley in a special issue he edited for Environmental Philosophy called Species of Thought: In the Approach of a More-than-Human World (Volume V, Issue II, 2008). I am so grateful to his perceptive reading and for his insight. It is very rewarding when what I hope to do with poems and my form comes through in thoughtful reading.
"How greatly must human language be stretched, how creative must we become in both our perceiving and our speaking, if we are to witness responsibly the living world? Daniela Elza's poem "In the Eye of the Crow" comes … as an exemplar of another sort of writing and subjectivity that might be more in line with that of Mowat with sustaining our responsibilities to the living world. Among the innovative features of her poem, Elza asks that its open verse structure be read in all possible directions on the page. In requesting this of her readers, she is moving them to a more radical responsibility in regard to the words she has offered on behalf of a crow. She is also breaking open any controlling narrative structure by which the hold upon another living entity's world might be solidified."
—James Hatley, Salisbury University
Posted by Daniela Elza on Jul 31 2019 | Comment now »
My poem Our Own Lemon Creek will be published in the Sweet Water: Poems for the Watersheds.  
The anthology's edited by Yvonne Blomer. This is the second volume in the series after Refugium: Poems for the Pacific.