Posted by Daniela Elza on Sep 27 2018 | Comment now »
Fall is well under way, and a string of sunny days has brought lots of smiles to our faces. I have read about trees having a heartbeat (as if we could not intuit that), but scientists now are making it their business to document. I have read about plants emitting sounds, and communicating with each other and perhaps with us, if we care to listen. All things we kind of know on a low hum level, but now that the scientist are documenting it with sensitive enough technologies we can believe it too. I knew this before scientists discovered it. But how cool that they have. I hope nature is patient enough for us to discover how to be better with her.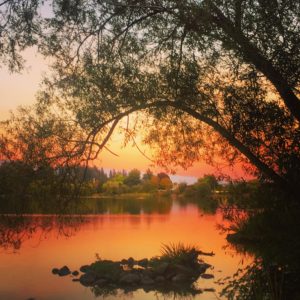 Photo Credit: Amy Logan (used with permission of the artist)
I also heard that two of my poems have been selected to participate in Poetry Pause (an initiative of the League of Canadian Poets), which is akin to the A-Poem-a-Day that some are familiar with. My poems suddenly leaves (forthcoming in my next book), and the weight of dew (from the weight of dew, Mother Tongue Publishing, 2012) will be take part in 2019 Poetry Prose. If you subscribe and receive Poetry Pause, do let me know when you run into them sauntering through your mail box and your day.
Posted by Daniela Elza on Sep 17 2018 | Comment now »
September is here and the rains are back. Some mornings are so dark and gloomy, they remind me of the fall and winter days that lie ahead. It doesn't feel like summer had a chance to run its course. It feels like we lost a lot of days to smoke from the fires in the interior. But rain is sweet. It is meditative, and the air is more breathable, and my garden is happier. I get so busy sometimes that even if I think about the garden I might not be able to get to it in a day or two. So, welcome rain, we need you. If something had not eaten the beets I planted about a month ago, we would be picking beats soon. But as soon as they put out their first tiny green leaves on little red stems, something snipped the leaves off. I suspect it was those pesky slugs. After that the beets did not stand a chance.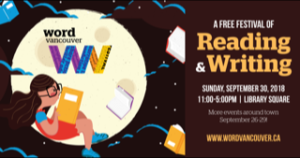 It has been a while since I was at Word, Vancouver festival (previously known as Word on the Street) which happens at the end of September. Mostly because I have been working on Sundays for a few years. This year I will do a number of things at the festival. I took the day off work, so I can enjoy it better. Below is the program for the big day, Sunday.
Click here to see the Sunday Sept. 30th schedule.
Hope you get a chance to attend some or most of what this festival offers. It is free and has a wide range of readings and workshops and books and activities. Not to mention you can connect to groups that are active all year, and find community.
I am also hosting the Twisted Poets Literary Salon on Thursday, September 27th, at Hood 29 (previously known as Cottage Bistro.Here are some of the other events running in conjunction with Word on the days leading to the Sunday festival.
#WORD18 begins on September 26th and culminating in its day-long celebration of the literary arts at the Vancouver Public Library Central Branch on September 30th. See details here.
Posted by Daniela Elza on Aug 31 2018 | Comment now »
It almost feels like summer disappeared in six weeks of work and the smoke from the fires. I did not get enough patio time, I got more rejections than I cared for, and had too many things on the to-do list.
But, finally, the sky cleared in the last week, and my essay bringing the roots home (which I wrote only in a few days to meet the deadline) got accepted in About Place Journal.
Now savouring the last few days before we are back to work in September. I hope your summer was long and luxurious. I hope the next few days will be that way here to charge up for those dark winter days.
Posted by Daniela Elza on Jun 06 2018 | Comment now »
Below are three events I will be reading at this month. I have smaller parts in two anthology events (about 8 min each) and the reading at Poets Corner (Massy Books) is a 20 min feature spot. I have invited Clyde Reed (on double base) to accompany me at that reading.
June 17th, 2018, 11-1pm
Readings from Sustenance Anthology with Rachel Rose, Christie Lee Charles, Peter LeBlanc (receives fundraiser check), Honourable Minister Adrian Dix, Renee Saklikar, Lydia Kwa, Karen Shklanka, Jami Macarty, Fiona Lam, Kevin Spenst, Daniela Elza and perhaps five other poets from the anthology.
Location: on the East side of Dude Chilling Park, in the parking lot between the Park and Mt. Pleasant Elementary
June 20th, 2018
Reading at Poet's Corner with Jami Macarty
Time: Doors open at 7:10, readings begin at 7:30pm.
I will have a 20-25 minute reading set at this event. With a few minutes for questions at the end.

Location: Massy Books, 229 East Georgia St, Vancouver
There is an open mic portion of the evening so bring something to share.
Hosts: James Felton and Massy Books
Thank you to the Hosts and to League of Canadian Poets for supporting me in this event.
June 21st, 2018
Launch of Ghost Fishing: Eco Justice Poetry Anthology

I will take part in this reading on June 21st to help launch the ghost fishing anthology in Vancouver. We will be reading from this eco justice poetry collection on this Summer Solstice. It will be in the garden of the Joy Kogawa house. Thank you to Christi Kramer for organizing this event. And to Editor Melissa Tuckey for putting this book together.

Time: 7:00 pm.
(reading to begin at/near 7:00pm)
Location: The Historic Joy Kogawa House
1450 West 64th Ave, Vancouver, BC V6P 2N5
(in the garden)
Posted by Daniela Elza on May 17 2018 | Comment now »
A poem of mine called someone comes along with a very bad character made it to the short list of the Magpie Award for Poetry contest.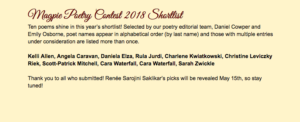 The title someone comes along with a very bad character is a line in a Frank O'Hara poem.
Posted by Daniela Elza on May 16 2018 | Comment now »
I will be a featured reader at Poet's Corner at Massy Books on June 20 @ 7:30pm. There is an open mic component of the evening, so do bring a poem to share. The features read 20-25 min. There is a little time for questions as well. Come join us. Wine and books for purchase. If you have requests for specific poems you would like me to read, let me know and I might be able to work them in.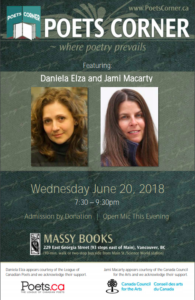 Thank you James Felton and Massy Books for hosting this series.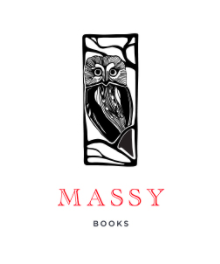 Thank you to the League of Canadian Poets for funding me.
Posted by Daniela Elza on May 09 2018 | Comment now »
Two more excerpts from my latest manuscript are up today in the Inflectionist Review.
My poems are on page 34 & 35.
The ISSUU engine requires Adobe Flash to be enabled in your browser. If you are having difficulties reading Issue 7, you can read it in PDF format and scroll through the issue.
Posted by Daniela Elza on May 09 2018 | Comment now »
My poem serving time (in the burbs II found a home in the Literary Suburbia issue of The Puritan.
Thank you to Kathryn Stagg for including it in this gathering. You can read the poem here.

Would love to know your thoughts. How are the suburbs from where you see them?
Posted by Daniela Elza on Apr 11 2018 | Comment now »
Again, second year in a row, I have two of my students winning a national youth contest. Out of the five people I encouraged to submit four got listed in the Jessamy Stursberg Poetry Prize. Two winners and two honourable mentions. There is so much reward and joy associated with getting such acknowledgements for your work at an early age. Yes, writing is its own reward, I teach them. Yes, submit and then forget about it. But when it happens it is a definite boost and recognition that we are doing the work. Also it is priceless to see these young poets' faces beaming. It is about as good, or even better, than getting acceptances to my own work.
Here is the list of winners and honourable mentions.
Here are the first and third place winning entries. You can read the poems and enjoy these new voices.
Here is
Dawn by Stephanie Cui (First Place, Junior Category)
and
A Tree's Life by Connie Xie (Third Place, Junior Category)
Christina Chen and Samantha Chen won last year First, Second, and Third place in their category and were Honourable Mentions this year. Needless to say my heart swells.
Congratulations to all the winners and honourable mentions.