Posted by Daniela Elza on Aug 06 2014 | Comment now »
This is my favourite time of the year. It is the long days, which feel endless. It is the chance to sit on my patio when I can. It is watching the late sun sinking into the water. It is still busy, but with different things which makes it feel less busy. I have been catching up on submissions, and on reading. I have been doing a course on line. Of course, the kids are home and that is already busy. Definitely making time for more yoga as well. And time for all those pesky appointments like dentists, and eye doctor for the kids, and getting new glasses, and yearly check-ups of one kind and another. Even the car wants an appointment. Keeps flashing Service when I start it and showing me a wrench. It thinks that's the thing for a car to do. So I am taking it in tomorrow, at 8:30am. Don't let me sleep through that.
One thing I will be part of this month is the Vancouver Pop-Up-Poets. If you are in the area pop by. We will be at Olympic Village between 12 and 2pm on August 10th and will be writing poems for people who stop by and ask for a poem.
The event is hosted by Meharoona Ghani with guest poets Daniela Elza and Joshua Todd.
Yes,
On the Spot Poetry!
Vancouver Pop-Up-Poets return on August 10th, noon to 2:00pm.

Your Word! We Write! We Recite! We invite you to request a poem be written on the spot. The poet performs it and gifts it to you.Find us in Olympic Village area, along the seawall heading kinda East towards Science World, close to Creekside Community Centre.
Posted by Daniela Elza on Jul 18 2014 | Comment now »
It has been a wonderfully busy six or seven months. I have been focused more on the turning outward. Now is time to do a bit of turning inwards. Time to focus on some of my own writing, work on my manuscript, do some more submissions. It is going to be a time less busy with events, and more busy with my writing space (which probably will include cleaning my desk and making it useful again), time on my patio, time to catch up on my reading too, and spend time catching up with friends.
I am also getting off FaceBook till September. If you need to contact me please email or call. If you do not have my email or number already, message me here. Thank you for all your participation and conversations here and elsewhere.
Now it is time to do some creative care and take care of my digitally cannibalized brain. Hope you find some time to do that too. Speaking of the influence digital media can have on your brain and, more importantly, on the child's brain here is a talk I enjoyed on the subject. Also some good thoughts on stress and fear and how they impact learning.
(Sorry cannot seem to figure out how to get the screen to fit in the margins. But since I also like to wander in the margins, I will not worry too much about it.)
It is time for Face to Face conversations to counter the FaceBook effect. It is time for sitting with a book in the late sun. For the beach. For more real world stuff. "The world looks different under trees" (said Annie Dillard, I think?) Yes: more trees, more grass, more walks, swims, yoga, writing and reading. I will slip in some submissions as well, unnoticed. Why not? In the mean time stay out of trouble and mind that Poet Voice.If you are susceptible to it, practice finding your own unique voice, which will bring your work to its full potential, its full life.
Posted by Daniela Elza on Jul 10 2014 | Comment now »
It was already exciting that I was in the top five shortlisted pieces for the Magpie Award for Poetry. And now it is official: I am the first runner-up. That is like second place, right? Delighted. Also you can read the judges comments as well on the site.
Thank you to judge George McWhirter (and to other judges involved) for selecting this sequence of poems. They are dear to me.
It was fun to read them at Poetry in the Park (in New Westminster) yesterday, while the winners were being announced (in Vancouver).
Posted by Daniela Elza on Jul 09 2014 | Comment now »
Yesterday the Elohi Gadugi Journal published its new issue on the theme of Sticks and Stones. I sent four poems and all four were picked up by the journal. There are two very old poems and two new poems written within the last year. Can you guess which ones are which?
Here you can see the content of the journal.
And here are the poems:
Hope you enjoy them. I will read them tonight at Poetry in the Park, in New Westminster. See previous post for details on where and when.
I have also been shortlisted for the Magpie Award for Poetry. Tonight they will announce the winners.
Pulp Literature Summer Launch
The Grind & Gallery, 4124 Main Street
Wednesday 9 July, 7 – 9pm
Maybe you will go. Maybe you will text me and tell me in real time who the winners are? Maybe I will read that poem in New West? Maybe…
Posted by Daniela Elza on Jun 29 2014 | Comment now »
Time has been precious and scarce. I have been negotiating with exhaustion daily. Got back from Portland late on the 27th, and last night was the Marpole Dance Festival. Sometimes life is like that. I am currently also guest editor of an anthology and going through about three dozen manuscripts to which I have to give feedback. It is fun except for the tight deadline which makes it feel like you have had too much of something good. It is that kind of time crunch. A crunch of time. And you do not want to rush it, each one deserves the same attention as the one before and so…that is how it goes.
In the mean time here are the July events I will be part of. Two presentations and conference/sympsiums, three readings and a workshop. You can pre-register for the workshop so the organizers have a better idea of numbers. It is free. Maybe I will see you at some of these. If you are there, come and say hi. Ok, now back to editing.
—
—
July 9th, 2014, 6:30 -8:30pm
Poetry in the Park: I am reading with Alan Hill and Celeste Snowber. Bring something for open mic. Also if you wish a blanket and a picnic. Readings take place in Queen's Park Band Shell, New Westminster. Rain or Shine. If it rains PIP will take place in the Arts Council New West gallery.
Poetry in the park runs on Wednesdays from July 2nd to Aug. 27th.
Free Event.
—
July 14th, 2014
Literary Café, Harison Festival of the Arts. Poetry and Music.
Monday, July 14 7:30pm
Memorial Hall
Tickets: $12.00 (for tickets and more information click here).
Featured writers include Andrea MacPherson, Daniela Elza, John Carroll, Rajnish Dhawan, Katie Stobbart, Michelle Rickaby, and Michelle Vandepol.
Musicians: Jared Burrows and Clyde Reed.
UFV, which is celebrating 40 years in 2014, has worked in partnership with the Harrison Festival since 1978, and presented the Literary Café since 1999.
—
July 15th, 2014, 6:30 -8:30pm
Writing Workshop: Getting messy with Writing:
A writing workshop in which participants write, share, and listen. We will also discuss the importance and the messiness of this generative process of writing and its discoveries.

Register at 604-527-4667 or
secretary@rclas.com

Location:
New West Public Library, 716 – 6th Avenue, New Westminster.
Sponsored by the Royal City Literary Arts Society and the Library

Posted by Daniela Elza on Jun 17 2014 | Comment now »
On June 14th I received a Distinguished Poet Award at the WIN ceremonies. Here are a few snapshots.
I thanked everyone, did some editing, and then read a couple of poems.

and a photo of the photo op.

After the day of dance, poetry and ceremony was over I partook of the 1st annual Bloomsday Celebration. It was fun to read Ulysses and to have a part where my dancer friend Si-Lin Tseng improvised a dance to Molly's monologue which I enjoyed reading out loud.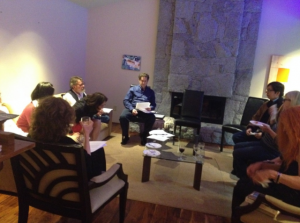 Thank you for the invitation to that.
Last week was a week of sentences. I was quoted in the Creative Coaching Group Newsletter with the following:
"Every time I doubt or question the value of what I do, I drop down and ground myself in the why I do what I do. I write because I cannot not write, because it is the way I make sense of a fragmented world, because it thrills me and delights me."
Thank you Jan Carley for picking that quote.
And one sentence went to a project called A Rewording Life which is a book of sentences that elucidate the use of certain words. Sheryl Gordon has taken on this huge task. For more on this project click here.
My word was chimera. The sentences are written by writers.
And my sentence?
I am surrounded by versions of us, these chimeras that scratch and roar at our doors.
Thank you, Sheryl, for including me in your rewording project.
This is the kind of week it has been.
I am going into to deep editing mode as of tomorrow, and also on Thursday I am off to Portland to help out with SAIL (Summer Academy to Inspire Learning).
I am back for the Marpole Dance Festival on June 28th. I am working with Celeste Lyon on a ten minute performance of poetry and dance. The performance is in the evening but there is a lot going on during the day that is free.
Here is the info (Click here to go to the FB page).
Saturday June 28, 2014
FREE Open House Workshops, Showcases & Food Fair @ 1 – 5:30pm
Festival Performance Gala @ 7:30pm
Tickets:
$20/$15 (Group 10+: $18/$12)
Festival Venue:
Scottish Cultural Centre
8886 Hudson St, Vancouver
So, check it out and hopefully I will see you there.
Posted by Daniela Elza on Jun 15 2014 | 4 Comments »
I've been "tagged" by author and friend Jacquie Pearce to join in a game of blog hop. The rules of the game: answer four questions about your writing and writing process, and tag three more people. Jacquie writes novels, short stories and poetry — mostly for children and young adults. To see her post on the blog hop, click here.
Here are the four questions:
1. What am I working on?
I am working on a new manuscript as well as the usual submissions and editing jobs I have to do. The manuscript was written within the last couple of years, but mostly in the last year. I am still making sense of it because I have never written so much in so short a time. It is work which tries to understand grief and loss of what has found its way into our being and we have come to perceive as inextricable from ourselves. In other words a separation. Right now I am sitting with it to see if there are certain permutations it wants to undergo. It has been rejected once, so it is already having its own adventures.
2. How does my work differ from others of its genre?
I like to experiment with language and play on the page. I like to invite the lyric moment and I like to have a narrative arc. I like it all. So perhaps I like to integrate more than identify myself with a stream, strand, or tributary in the river of what we call poetry today. I have had my work also called lyric philosophy and that makes me glad, since I inhabit a space between poetry and philosophy and think they should be holding hands.
3. Why do I write what I do?
Mostly because I cannot not write it. It is a necessity. I make sense of the world through my writing. It gives me a pause and allows me to even better understand what I feel, think, and do. I also find it delightful to dwell in this place that stops time, and the rush of the world, ever so briefly.
4. How does my writing process work? 
Usually I will have a good book with me, just in case the writing is not coming. But once it does I will put the book down and follow the muse. I use my writing practice for re-writing or for creating something new. Depending what shows up that day. And then, as the doctor's prescription goes, repeat that everyday or as often as possible.
Lately, it has been hard to keep up my writing practice. The business side of writing (collaborations, rehearsals, editing, readings, applications, submissions, volunteering) have been claiming centre stage. All things I like to do. And of course there is the computer, email, FB, blog, etc. are always such perfect distractions. So this is the negotiation that is going on right now: how to get back to where I can do what is bigger and less certain instead of what is more mundane and sure and requires not much time to do. I need to bring back the hour and a half to two hours uninterrupted time where good things happen.
***
For the next stop on the blog hop, I've tagged Lindsay Glauser Kwan, Juliane Okot Bitek and Lesley-Anne Evans, and they'll be blogging on June 30th.
Here are their bios:
Lindsay Glauser Kwan is a creative writer of many genres. She has been published online and in print, including for Vancouver Is Awesome, emerge, The Liar, and The Blind Hem. She writes about fashion, arts, culture and lifestyle topics for various professional blogs and companies. A graduate of The Writer's Studio at SFU, she is currently working on a manuscript.
Juliane Okot Bitek: Once, as a girl, I stepped on a long rusted nail and pulled it out of my foot. Well, the whole nail didn't enter my foot but it was a pretty long and very rusted nail. I hobbled home with the nail and showed it off to my mother who promptly asked everyone to hold me down hard. The she got a new razor blade and sliced out the surrounding flesh. No anaesthetic or anything. My mother maintains she saved my life. I'm squeamish at the sight of wounds but I write poetry and creative non fiction. Sometimes I dabble in actual fiction.
Lesley-Anne Evans was born in Belfast, N. Ireland, now lives in Kelowna, B.C. with her spouse, three children and dog. Lesley-Anne has placed in contests and is published in The Antigonish Review, CV-2, Lake Journal, and Quills. Buddy Breathing blog follows her navigations of writing, relationships, and faith ~ http://buddybreathing.wordpress.com/ Her author websites are http://laevans.ca/ and http://popuppoetry.ca/.
Note: If the next blog hop posts aren't up by June 30th, please check again in a few days.
Thanks for playing!
Posted by Daniela Elza on Jun 07 2014 | Comment now »
A week from today the WIN 3rd Annual Literary Festival and Award Presentation will take place in Richmond. I will be the recipient of one of the WIN Distinction Awards. Thank you Writers International Network.
Here is more information on the participants and the poster.
Saturday, June 14, 2014
Richmond Cultural Centre
7700 Minoru Gate, Richmond BC
10.00 AM to 4.00 PM
Writers International Network Canada will like to congratulate the winners of the
"WIN Distinction Awards" and "Dr. Asha Bhargava Memorial Awards".
Hosts: Bonnie Quan Symons and Janet Kvammen
WIN Distinction Award Recipients:
Laura Byspalko & Sirish Rao, Daniela Elza, Manolis Aligizakis, Madhu Varshney, Angela Naccarato , Jarnail S. Sekha, Anca Mihaela Bruma, Sattar Saberi, Kuldeep Srivastava , Mary Anne Anderson, Alan Hill, Zayra Yves, Ananya Bhargava and Lilija Valis
Community / Literary Ambassador Award Recipients:
Sita Carboni, Sonja Grgar, Ken Herar, Shankhanaad Mallick, Barj S. Dhahan and Candie Tanaka
Performances by – Beautiful Devils, Lilija Valis and The Secret Messengers, Max Tell, Kathara Canada Dance Group, Loza'h, Synne Kune Loh and Dawn and more.
PLUS many Featured Readers! and a special presentation by Candice James, Poet Laureate of New Westminster
Lunch Provided.
Location: Richmond Cultural Centre
7700 Minoru Gate, Richmond, B.C.
Contact: bhargava2000@yahoo.com
http://writersinternationalnet work.wordpress.com/awards/
Congratulations to all the recipients. See you there.
Posted by Daniela Elza on Jun 06 2014 | Comment now »
Saturday, June 7, 2014, 8pm.
Fundraiser and benefit show as part of BC Children's Hospital's Balding for Dollars fundraiser, which raises money specifically for their Oncology department. There will be an actual shearing of long hair, probably on stage. Hope you can come and support this benefit show.
Admission is by donation and goes to Balding for Dollars (if you cannot attend but would like to donate click here).

the musicians: Clint Wilson, Kenn Nakamine, Matt Lef, Lory White
the voices: Chris Gilpin, Pamela Bentley, Marylee Stephenson, Kyle Hawke, Candice James, Jp Lorence, Lara Varesi, Sho Wiley, Fortunate Sonya, Daniela Elza, Angelo Renai, Callahan Connor
Elegwen Ó Maoileóin
Jack Gibson & Altogether Lisa
the Apple Tobacco Twosome, Daniel Deorksen & Phyllis Ho
show starts promptly at 8. pre-show warmup will start at 7.
FB page: https://www.facebook.com/events/246144118924938/

---