Posted by Daniela Elza on Nov 16 2017 | Comment now »
Last month Prism international accepted my poem life as conceptual art. It is forthcoming in their 56.2 issue. I am thrilled it will find a home there. This will be the longest poem I've had published in a journal so far, a total of six pages. Thank you to the Editor Shazia Hafiz. This long poem is part of my unpublished manuscript the ruined pages which is also looking for a home.
In other good news, five previously published poems were accepted for an anthology/collection titled Suffering and the intelligence of Love: In light and darkness This compilation has now found a publisher. My poems will be scattered throughout the book. They are:
Plato killed a moth in my dream
ode to the critic
it: attempts at definition
a shoreline to stand on
beauty is embarrassing
Of course there were a few rejections too, but not worth mentioning. :-)
Ok, back to the editing and writing.
What have you been up to this dark and rainy November month?
Posted by Daniela Elza on Oct 13 2017 | Comment now »
I will be giving a whole day workshop in beautiful Hope, BC on November 11th from 9am to 5pm at UFV Hope Campus. The intention is to go through the whole process of creating to submitting a piece of work. And attend to the in between phases. Especially suitable for:
*people who fear poetry
*or think they might be poets, but are not sure where to begin
*or poets who are emerging
*or poets who need a jumpstart
*or writers who wish to poeticize their prose
So it is not limited to poetry entirely, we can also address how poetic awareness and skills help us in our writing in other genres. The submission process section of the day will mostly address poetry submission for publication. In other words it will not address finding agents.
If you have any questions please let me know. I am looking forward to this very much. Please pass the information to friends and people you know might benefit from this. For registration see info below.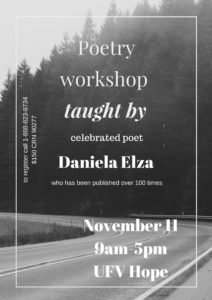 Hope Campus (1250 7th Ave Hope, BC V0X 1L4) course reference number 80277 . 1 session. Saturday Nov 11/17 . 9am – 5pm $150 (including tax) call to register 1-888-823-8734 or visit a University of the Fraser Valley Office of the Registrar location http://www.ufv.ca/admissions/contact/
Poetry Process – Writing, Editing, and Submitting

In this workshop we will go through the point of generating text through writing activities. We will consider basic techniques of editing your own and other's work. We will think about what writing means, how it finds its form and the benefits of a writing practice. We will write a cover letter for submission as well as discuss questions around publication.
Posted by Daniela Elza on Sep 21 2017 | 1 Comment »
the shape of questions was published a while back in Vallum's Play and the Absurd issue (6:2). This week it was featured at Vallum Poem of the Week. If you click through to the link you can also hear a recording I experimented with.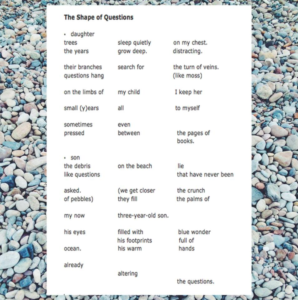 Thank you Vallum for picking it out. The permanent home of this poem is in the weight of dew (Mother Tongue Publshing, 2012). Poems like to travel, so it is always nice to see where they end up.
Posted by Daniela Elza on Sep 12 2017 | Comment now »
I am thrilled that my poem all this will be coming out in an anthology on local food. Sustenance: Writers from B.C. and Beyond on the Subject of Food anthology will be published this year by Anvil Press, 2017. It is put together by current poet laureate of Vancouver, Rachel Rose. I am thrilled because it is a very special poem to me, one that has grown in significance since it was written.
In 2015, I went to Armstrong and stayed with Jamie MacDonald and Cat Majors (4663 North Grandview Flats Rd., Armstrong, BC, V0E 1B5). They run Armstrong Apiaries. I spent a few days on their bee farm in August, and contributed to the Poetry at the Market, which Cat had organized for their Farmers Market. We read poems while people shopped for local food and hung out. Poems were written on the spot, on a typewriter, for interested passers by. Cat had also arranged for a table with manual typewriters. All day children and adults click-clacked, wrote whatever they wished. Many of the young writers had never seen, let alone touched, a typewriter. It was common to hear them exclaim what muscle it took to actually make marks on a page. For some who remember typewriters, like myself, it was sheer nostalgia.
I initially met Cat while I was launching the weight of dew in Vernon and the Historic Mackie House in 2012. She was such a generous and kind host. Everything had the feel of care and love around her. Things in her house were not just things, they were memories. There was a special handmade black-and-white carved soap waiting just for me. It felt as if from the moment we met we recognized a kindred spirit in each other.
The buckets of honey I brought back to Vancouver reminded me, with each spoonful, of the place, Cat and Jamie, the bees, the fields that surrounded the blue bee house.
I vividly remember the morning when I got up very early and Jamie took me around the farm. The italics in the poem are close to the things he said if not exactly what he said.
Between the time of submission of this poem and its acceptance, I heard the devastating news. Cat passed away last year, after being diagnosed with cancer. One of the last exchanges I had with Cat was to send her a rough draft of the poem. She wrote back:
LOVELY!
Seeing our little farm
Interpreted so
So lovingly
Is a deep thrill
Thank you, Daniela
I then sent her another little poem which later got absorbed in all this. That one ended with the lines:
I bend down to the dying
pray they will never leave.
I meant that for the bees. I did not know Cat was also dying. She loved that one too. That was probably the last exchange we had.
This poem is dedicated to the bright light that Cat was, and still is in my mind. It is dedicated to her love for the bees, and her playful, poetic spirit. It will remain a small altar for the special moments and rituals we shared together, for the bee-dance hugs, the walks, the laughter I still hear, for her love of people, bees and life. It will always remind me that sustenance is not just what we grow with love, what we nourish out bodies with, but also what we let in our hearts, what we choose to celebrate.
Posted by Daniela Elza on Sep 06 2017 | Comment now »
I have really enjoyed working with emerging poets this year from near and far, including youth. Thank you to those who have already contacted me. It has been a pleasure.
The League of Canadian Poets has a page for manuscript readers and poetry editors. You will find me there, second on the list right behind Di Brandt.
I work with emerging poets, including writers in the Poetic Inquiry field who employ poetry as part of their thesis and research.
I have a soft spot for ESL writers.
We can meet face-to-face, we can work remotely through email and/or skype, or a combination of any of these. I am generous with my time.
You are the guide, you know best what you are putting into the words, while I give suggestions for rewording, cuts, organization, to help your work shine.
The goal is not only to improve your poems/manuscript, but for you to still love them at the end.
My rate per hour: $45
My rate for a manuscript: $400
Some sliding scale pricing available.
If you find that we might be a good match and you want to take your poems, or manuscript, to the next level, do not hesitate to contact me @
daniela@livingcode.org
Feel free to inquire with your questions. Include a couple of sample poems of your work.
Posted by Daniela Elza on Sep 04 2017 | Comment now »
The Inflectionist Review has nominated the poem "Sometimes" (Issue 6), for this year's Orison Anthology. This poem was written in collaboration with Linda King, whose work I admire. Linda is one of the few poets I can read who inspire me to pick up the pen and write a poem. I usually get my poetic inspiration from other places.
The Inflectionist Review has also nominated my poem "the heat & hiss" for the 2017 Best of the Net Award (hosted by Sundress Publications). An older version of the "heat and hiss" poem appears in the chapbook the emblem of minutes which was put together by Kevin Spenst and was written to music by Jason Zumpano.
Thank you to the editors John Sibley Williams and Anatoly Molotkov of The Inflectionist Review for making these choices, and sending the poems on adventures. Thank you for being so supportive of my work over the years.
Posted by Daniela Elza on Jun 30 2017 | Comment now »
This came across my mailbox today. A little view of The Summer Book in the Coast Reporter. Nice to see my name in there as well.
Love song to summer
The Summer Book, a new collection from Mother Tongue Publishing, drips with nostalgia. The 24 B.C. writers who share their stories reach back to their childhoods for inspiration – what did summer mean to a child? Maybe picnicking at Lumberman's Arch (Eve Joseph) or climbing trees (JJ Lee). Or it could be learning to swim in the 28-foot swimming pool at a quirky South Vancouver home for Fiona Tinwei Lam. There's much to admire in Daniela Elza's Stairway to Haven – she writes prose with the voice of a poet. The book opens with a gorgeously lyrical short piece, Love Song, by Pender Harbour writer Theresa Kishkan who arouses the spirit of the Sunshine Coast in her description. The reader can almost hear the thrushes sing and inhale the scent of fresh raspberries. The book is illustrated with understated drawings and linocuts by Gary Sim and Peter Haase in black and white. In this case, it is the prose that gives colour to the book.
Some July launches:
Victoria, BC
Sunday, July 9, 7 pm
@ Martin Batchelor Gallery.
Doors open 6:30,
Readers: Eve Joseph, DC Reid, Carla Funk.
Harrison Hot Springs
Monday, July 10 at 8:30pm.
Tickets: $14.50
Harrison Hot Springs Memorial Hall, 290 Esplanade Ave.,
Harrison Hot Springs.
Featuring Grant Lawrence, Chelene Knight, Trevor Carolan, and Bren Simmers.
Details at harrisonfestival.com
Vernon
Thursday, July 13, 7pm
@ Vernon Public Library.
Readers: Sarah de Leeuw, Trevor Carolan and Harold Rhenisch.
I will not be around for those, but hope you can catch a convenient to you location to celebrate the book. I hope to make any August launches. Until then I hope to have more summer patio moments. Here I am on my patio with the book. These serendipitous photos were snapped by Rick Muise who says he only takes pictures of birds. Little did he know I am one. But perhaps he did know… :-)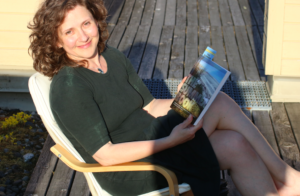 Happy summer to all.
Posted by Daniela Elza on Jun 23 2017 | Comment now »
Last night we launched emblem of minutes, chapbook written to music tracks from The Cyrillic Typewriter's Your True Emblem by Jason Zumpano. The chapbooks are designed and put together by poet Kevin Spenst.
It was a lovely launch of strong and delighful words by Shazia Hafiz, Mariner Janes, Geoffrey Nilson, Bren Simmers, Kevin Spenst, and myself. The launch was warm and full to the brim.
I was glad to be hosting it at Twisted Poets Literary Salon. Also in the chapbook are poets Rob Taylor, Andrew McEwan,and Jennifer Zilm, with visual art by Sydney Hermant, and Jason McLean.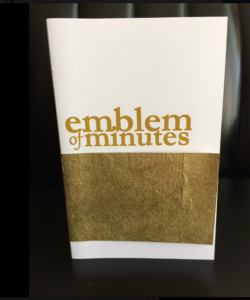 Today we are launching The Summer Book at the Sylvia Hotel, between 4 and 6pm. I have had essays published before but this is my first literary launch of an essay. New beginnings! I have so much to say about beginnings. And in such good company. Come share in the celebrations.
Summer is here. Let's launch it in style.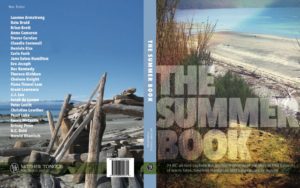 More essays to come soon, I hope.
Speaking of beginnings here is what we did for the staff fun day. We played lawn bowling. Before noon we were not doing too well. Once the coffee and lunch kicked in we made a stunning comeback. Here is the winning team. The beginner's mind at work.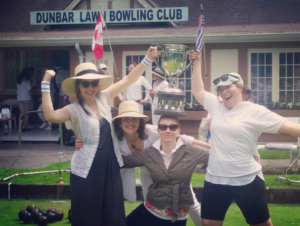 I love the people I work with.
Posted by Daniela Elza on May 05 2017 | Comment now »
Five poems got accepted for in light and darkness: suffering and the teacher's life anthology.
The poems have been previously published. Three are in the weight of dew (Mother Tongue Publishing, 2012):
Plato killed a moth in my dream
it: attempts at definition
a shoreline to stand on
And the other two in other publications:
ode to the critic

(Poetic Inquiry: Vibrant Voices in the Social Sciences,Sense Publishers 2009).
and

beauty is embarrassing

(POIESIS: a journal of arts and communication, 2013)
It is rare to get an acceptance email where the editor takes the time to say what they like about your work. Here is an excerpt:
I've finally had a chance to read your poetry, and it really takes my breath away. You remind me of Sappho a bit. Your writing is very beautiful and thoughtful; I love how you've combined your grasp of ancient literature and the erotic into these poems. I'd say your work has an almost mystic element… it definitely does what only poetry can do, which is awaken us to the ineffable and the something that is beyond words… which is exactly what this book is about!
What I also loved is how the poems cut across the different thematic divisions the book will be organized under. It speaks to my commitment to bridging distances between things divided, integrating things fragmented, and refusing to serve one category or another.
As I like to say: I work in the in betweens.
There is something delightful when the editor's words in the acceptance letter make you feel they really get it; these multiple layers I work with and try to weave in one strand. Or, shall I say, grok it?
I will keep you posted here on when the anthology is due to come out. These books are a labour of love, and that takes time.