Posted by Daniela Elza on Sep 06 2020 | Comment now »
Next thing coming up is the annual Word, Vancouver festival. Everything is free to the public and this year it's online. You do not even have to be in Vancouver to join. Go to the website and make your picks from the many panels, workshops, readings, etc. They also have Adopt an Author page if you would like to support the festival. And festivals do need a lot of support, especially now when they do not have the funding that comes from the vendors they would have had if the festival happened in the physical world. I'll be involved in three of the events.
READING
POETIC TRANSITIONS
Thursday, September 24, 2020
11:00 AM 12:00 PM
Featured Authors:
Evelyn Lau, Pineapple Express (Anvil Press)
Daniela Elza, The Broken Boat: New Poems (Mother Tongue Publishing)
Patrick Friesen, Outlasting the Weather Selected & New Poems 1994-2020 (Anvil Press)
Relationships can be complex and messy, fulfilling and lovely as can life itself. These three poets examine the various sides of life and how we cope at the best and worst of times through depression, loss, and love and all of life's questions.
Hosted by: Fiona Tinwei Lam
PORTRAITS WORKSHOP
Facilitator: Daniela Elza
Like painters, we will write into a world refracted through our senses, our memories, and delve deeper into the subtler and softer insights of the body's wisdom. What narratives hibernate there? What obsessions haunt us? We will generate new writing inspired by prompts. There will be opportunities to share and interact, to listen and respond. Come with questions, come with curiosity. Bring a pen and paper.

This workshop is inspired by the idea of self-portraits I used in my latest book the broken boat (Mother Tongue Publishing, 2020).
I see the workshop is already at capacity.
Hosting a reading from the Sweet Water: Poems for the Watershed anthology reading which was planned for Twisted Poets in September and that event usually is done in collaboration with Word. Click on the link for details and who is reading. This would have been our September Twisted Poets Reading Series event, which we usually run in conjuction with Word, and as part of Word.
Posted by Daniela Elza on Aug 29 2020 | Comment now »
Thursday, September 3rd, 2020, 7pm
SALT SPRING ISLAND, BC
Salt Spring Island Public Library
7:30pm Guest Poet Daniela Elza (the broken boat, 2020)
Sign up for open mic at 6:45pm, Open Mic Readings at 7pm.
Location: VIRTUAL EVENT
This reading will be online and so you can join from anywhere that seems convenient time-wise. The time listed below is Pacific Standard Time. Hope to see you there, especially if you have not had a chance to attend one of these yet. Not the same as in person, I know, but it also gives more people a chance to tune in. Instructions on how to join the reading are on the poster below. There is an open mic portion of the event, so polish off some of those poems and join the reading.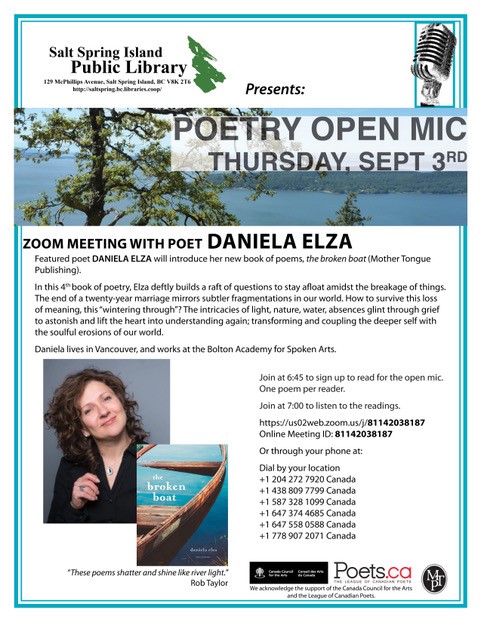 Posted by Daniela Elza on Aug 28 2020 | Comment now »
Thank you to poet Cornelia Hoogland and stain glass artist Ted Goodden for all the work they put into organizing this event with so many uncertain variables floating around. Ted and Cornelia themselves just published a book on which they collaborated, called Cosmic Bowling.
Thank you to the Hornby Arts Council for the space and sound. And thank you to The Writers Union of Canada for supporting this reading.
The stage was a dream. The sound was amazing. The trees had my back and attended this reading (over 100 of them). There is no limit to how many trees can attend an event. The pandemic guidelines say it's better if trees attend your reading, and you are outdoors.
What a delight to hear Traci Skuce read from Hunger Moon, her debut collection of short fiction. The audience was brave, and attentive. Yes, we speak now of brave and audience in the same breath. Thank you to all who supported us, with your presence, your questions, and with purchases of our books under quarantine.
Posted by Daniela Elza on Aug 23 2020 | Comment now »
Today I am reading in New Westminster at the Heritage Grill between 3 and 5 pm. (see previous post for details)
This coming Thursday I will be going to Hornby Island for the first time. Here are the details and the poster. This will be an outdoors reading and I am very much looking forward to it. Also I am excited to see bioluminescence for the first time too, so keep your fingers crossed that the ocean lights up for me.

Thursday, August 27, 2020, 3pm
HORNBY ISLAND, BC
Poetry Hornby Island
Daniela Elza (the broken boat, poetry) and Traci Skuce (Hunger Moon, short fiction)
Location: On the Outdoor Stage of the Arts Council, 2115 Sollans Rd. (Behind the Credit Union) 
Host:  Cornelia Hoogland
Thank you for the support by TWUC and the Hornby Island Arts Council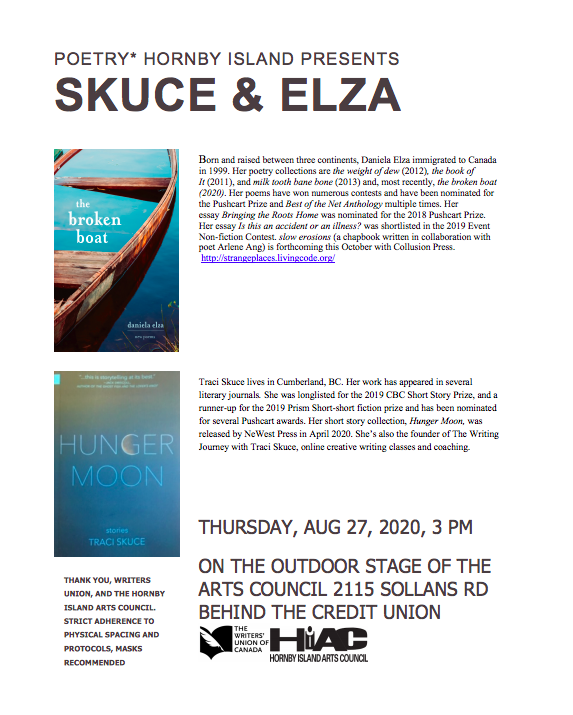 Posted by Daniela Elza on Aug 18 2020 | Comment now »
August 23rd, 2020, 3-5pm
NEW WESTMINSTER 
Featured poet Daniela Elza reading in person from her new book the broken boat (Mother Tongue Publishing, 2020)  
Location: The Heritage Grill
447 Columbia Street, New Westminster, BC, Canada V3L 1A9
Host: Warren Dean Fulton
There is an open mic portion of the event. So come sign up and share some new work.
Thank you to Mother Tongue Publishing for the poster and to The League of Canadian Poets for the funding of this reading.
Posted by Daniela Elza on Aug 16 2020 | Comment now »
I had the pleasure of spending a few days on Salt Spring Island as a writing retreat. I stayed with Diana, a good poet friend. She just published her book "Labyrinths of Green" (Plumleaf Press, 2019). While I was there Diana was working on finalizing the CD "Deeper into the Forest," which she had just recorded in collaboration with a local musician, Andy Meyers. I was working on a new manuscript, and on a bunch of submissions.
During the pandemic Diana's husband built and completed a little writing studio for her. I watched it being built on FB as she posted photos in progress. So much care, love, and thought went into it. There is even a poem inside the walls of the studio on one of the panels. You cannot see the poem, or read it. But it's there between the walls whispering. Diana was gracious to let me use her studio for a few days.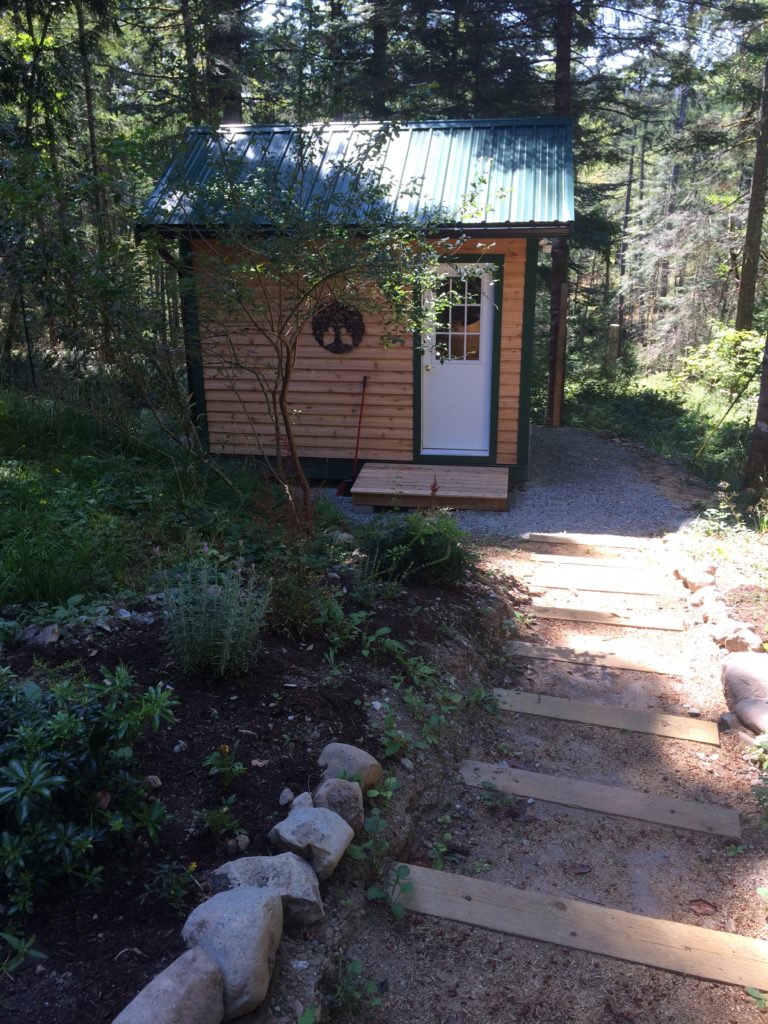 How healing to sit in the silence of the forest! The forest is never silent, but also, Oh, so silent. It is a loud silence. The quiet there is big and productive. I was startled with a raven call, and then I heard the raven call many more times. I watched small birds go about their business from wire to branch. I was mesmerized to the point where I forgot to take photos.
Inside the studio, the cabin smells exquisitely of pine. It is all pine on the inside. The smell took me back to my childhood when we had a pine chest in our room.
Diana also organized a reading in her lovely garden with fish pond. Below is a photos of the process of setting up my first in person reading in Diana's garden under the full August moon. (Two meters apart, of course).
It was magical. After a number of on-line and virtual launches this felt like a first all over again. When I paused between poems the silence was big in between and when people asked question the silence grew and built into the answers. The conversation was deep, and I am so grateful for that. Thank you to all who come to support the reading and the book.

It was also delightful the meet Mr. Ginger, who I think is a dog in a cats body. I can only aspire to the schedule Mr. Ginger had. Perfect and punctual. He almost made me want to take a nap in the morning.
When I got back to the city everything was so loud. Even the places I thought were quiet were loud. It took a few days to adjust. I am missing the quiet now and have mostly been with ear plugs in my ears to sustain a little taste of that feeling I got on the island. But to no avail. We are loud in the city. And easily get used to it, but it takes its toll on us.
Thank you Diana for your hospitality and welcome. It was a memorable visit with much needed down time after 18 weeks of online teaching.
Posted by Daniela Elza on Aug 10 2020 | Comment now »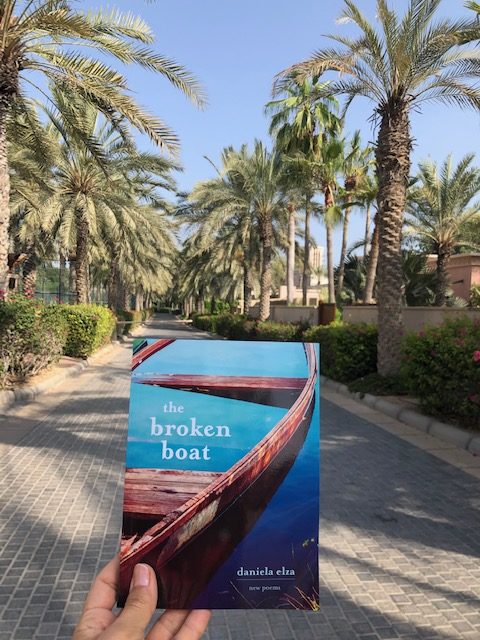 I love getting photos of places the book goes. Thank you for sending. Here it has finally arrived in Dubai.
Posted by Daniela Elza on Aug 07 2020 | Comment now »
Another review of the broken boat. This one is in the Ormsby Review. So good to see people responding to the poems in the book.
"The poems in Daniela Elza's latest volume are not confessional so much as analytic, drawing less on Plath than on the Atwood of Power Politics (1971), though with a milder use of irony."

"….an anthology of loss to which readers can return almost at random and be sure of finding poetic sustenance."
You can read the review here.
Thank you Christopher Levenson for your thoughtful engagement with my words. Thank you Ormsby Review for giving these thoughts a home.
Posted by Daniela Elza on Aug 05 2020 | Comment now »
The broken boat seen at the Book Warehouse right next to Leonard Cohen and above Atticus. :-) Thank you for sending me photos. I have more copies now if you would like to order: $19.95 + $3:35 for shipping in Canada.
Thank you to all who have already purchased a book. With every purchase I will send you a little gift to thank you for supporting the book at this difficult time.