Posted by Daniela Elza on Nov 11 2020 | Comment now »
It has been a week full of distractions and exhaustions. This morning I woke up to what remains up on Poetry Pause, a poem a day program from the League of Canadian Poets.
The thought that a 1000 people might be reading this poem in their inbox today is humbling. Thank you for the emails.
Posted by Daniela Elza on Nov 09 2020 | Comment now »
My poem forecasts was accepted for the digital Watch Your Head project which is an anthology of creative works devoted to climate justice and the climate crisis. You can read more on this project here.
You can read forecasts here. There will also be an audio of the poem uploaded in the coming week or so. I just need to get to recording it first. :-) Stay tuned.
Posted by Daniela Elza on Oct 19 2020 | Comment now »
Next, and likely final reading for a while from the broken boat (Mother Tongue, 2020) will be next month. You need to register online to get the virtual link to the event. Event it FREE. Below is the info.
Wednesday, November 18, 2020
Lunch Poems Reading Series
Features Daniela Elza & Danielle LaFrance
Link to register for this event 
12 p.m.–1 p.m. PT | Online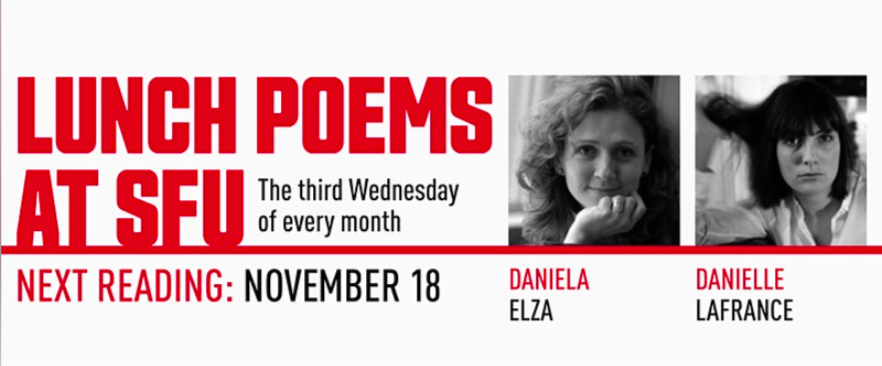 Posted by Daniela Elza on Oct 16 2020 | Comment now »
The cover is done and the chapbook is heading to the printer. You can preorder your copy now.
slow erosions is published by Collusion Books. The poems in it are written in collaboration across the miles with Arlene Ang. The image on the cover, dated 1893, is one of the first "celestographs" made by laying a photographic plate outside at night. The plate reacted to atmospheric particles and temperatures, so it turned out to be a long-exposure photograph of dust. The skyline is of Venice, where Arlene and I met after writing together for seven years. We began writing collaboratively a decade ago.

You can now preorder the chapbook, or the whole set of three, on the website. This is a set of three chapbooks all written in collaboration between two, and they are the inaugural set. So another first.

Click here to preorder.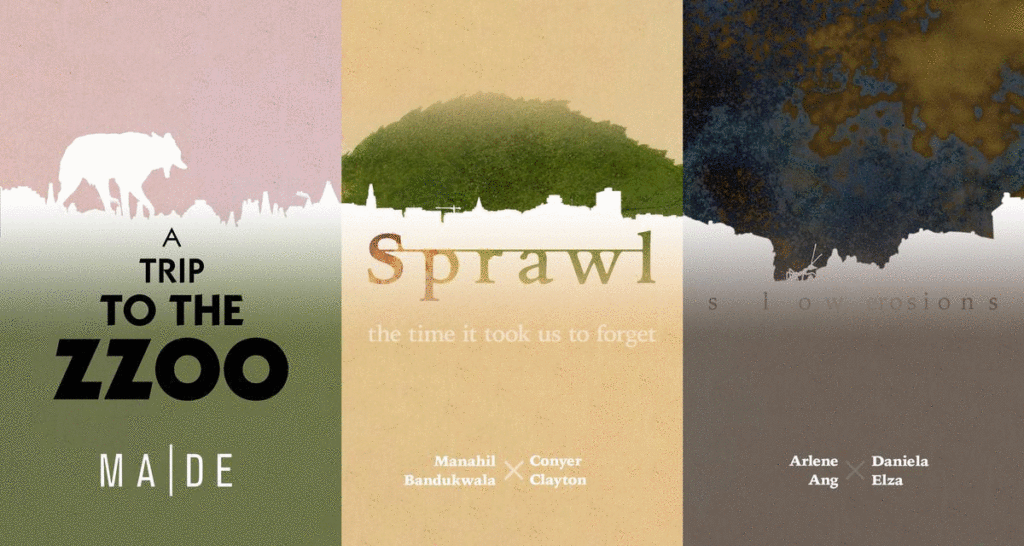 Thank you Andy Verboom for editing, design, coordinating across three chapbooks, and 7 people, and publishing this long exposure of our collaboration, this labour of love.
Posted by Daniela Elza on Oct 09 2020 | Comment now »
This summer was good for collaborated poems. I have chapbook of about 10 poems written in collaboration with poet Arlene Ang. It is called slow erosions and should be out in the next month or so with Collusion Press. Thank you to Andy Verboom for selecting this chapbook as one of three to come out this fall.
Two other poems were accepted in the Futures Anthology series at Collusion Press. This edition is called Is This a Good Time Collusion Books, 2020).
These two poems I worked on in collaboration with Anne Van Amstel and my son.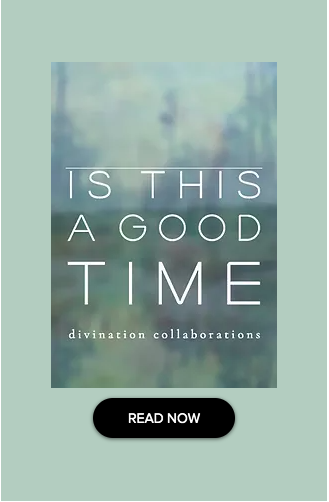 teaching a machine to write poetry by feeding it my body (of work
(a collaboration between myself, Azlen Elza, & AI)
The series of anthologies is also a fundraiser. They are now available to download and read for free. I was delighted to hear that another pair of collaborators in the anthology read What Leaves collaboratively. So click on the button at the bottom of the poem to see the video and listen to the poem.
Posted by Daniela Elza on Oct 06 2020 | Comment now »
Lovely to wake up to my tossing & turning poem yesterday in Poetry Pause. Poetry Pause is a program ran by The League of Canadian Poets that sends you a poem a day (well, almost, not on the weekends).

Thank you for the sweet and kind notes you sent me on the poem. I'm delighted to know it brought something to your day.

Also very pleased to see the shape of the poem came through so well. These poems are sensitive creatures, a font change is enough to alter their shape and mood. Thank you League of Canadian Poets. Here I am pasting the poem below as well. It comes from my latest book the broken boat (2020). Click here to read it on the LCP website.
Posted by Daniela Elza on Sep 24 2020 | Comment now »
Today I read from the broken boat at WORD, Vancouver with two amazing poets in the community Evelyn Lau and Patrick Friesen. The event was called Poetic Transitions and was hosted by Fiona Tinwei Lam. What an honour to share this space with such powerful voices.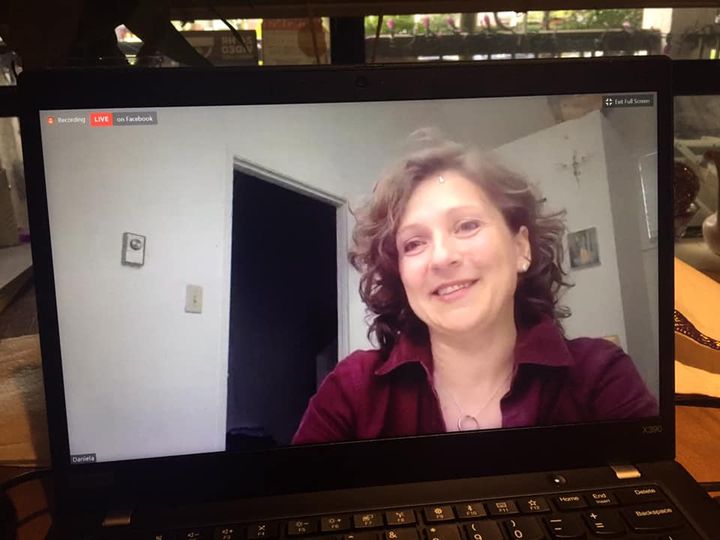 The reading is streaming on Facebook right now . You can watch it there.
It will also be available for a few weeks on YouTube and I will link it here when it is up. (Not yet thought. )
My reading begins at min 17 till about minute 29. If you have time watch the whole thing. I was quite moved. At the end there was some discussion about writerly things.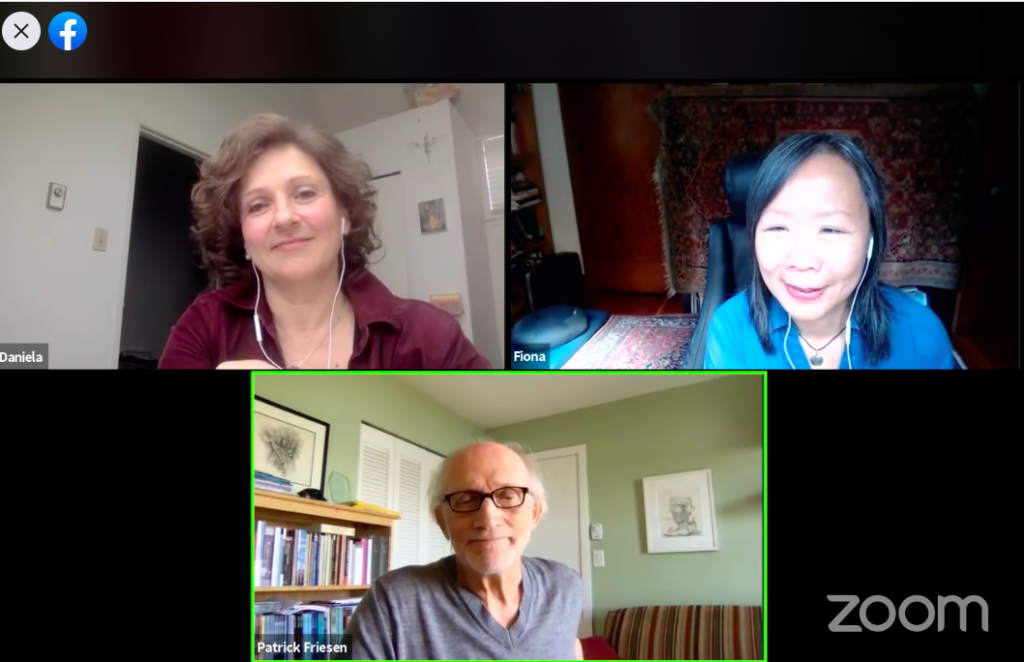 I hope you get a chance to listen. You can purchase the books in this reading from IronDog books (the official bookseller for the festival). Or you can get a copy from me or your favourite independent bookstore. The book is $19.95 and I can get it to you signed and packaged with love, in the mail in Canada for about $3.35 postage.
Posted by Daniela Elza on Sep 17 2020 | Comment now »
People ask me what I have been writing lately. For the last few years I've mostly been working on essays. And some poetry. But my focus has mostly been captured by essays.
Getting them out there was a little slow going and sometimes I wondered if it is worth the trouble. I've had a few published, one shortlisted, and one nominated for the Pushcart prize. But still, it seems like a long winding intro into non-fiction.
In the last month I have had two accepted. The kind of sign that helps me push forward.
The Queen's Quarterly will publish my essay But where are you really from?
and
Riddle Fence will publish Poetry is Bread, It's Also a Carrot, and a Leaf Falling in their upcoming issue.
How do you keep yourself going on the projects you have to sustain long-term?
Posted by Daniela Elza on Sep 06 2020 | Comment now »
Next thing coming up is the annual Word, Vancouver festival. Everything is free to the public and this year it's online. You do not even have to be in Vancouver to join. Go to the website and make your picks from the many panels, workshops, readings, etc. They also have Adopt an Author page if you would like to support the festival. And festivals do need a lot of support, especially now when they do not have the funding that comes from the vendors they would have had if the festival happened in the physical world. I'll be involved in three of the events.
READING
POETIC TRANSITIONS
Thursday, September 24, 2020
11:00 AM 12:00 PM
Featured Authors:
Evelyn Lau, Pineapple Express (Anvil Press)
Daniela Elza, The Broken Boat: New Poems (Mother Tongue Publishing)
Patrick Friesen, Outlasting the Weather Selected & New Poems 1994-2020 (Anvil Press)
Relationships can be complex and messy, fulfilling and lovely as can life itself. These three poets examine the various sides of life and how we cope at the best and worst of times through depression, loss, and love and all of life's questions.
Hosted by: Fiona Tinwei Lam
PORTRAITS WORKSHOP
Facilitator: Daniela Elza
Like painters, we will write into a world refracted through our senses, our memories, and delve deeper into the subtler and softer insights of the body's wisdom. What narratives hibernate there? What obsessions haunt us? We will generate new writing inspired by prompts. There will be opportunities to share and interact, to listen and respond. Come with questions, come with curiosity. Bring a pen and paper.

This workshop is inspired by the idea of self-portraits I used in my latest book the broken boat (Mother Tongue Publishing, 2020).
I see the workshop is already at capacity.
Hosting a reading from the Sweet Water: Poems for the Watershed anthology reading which was planned for Twisted Poets in September and that event usually is done in collaboration with Word. Click on the link for details and who is reading. This would have been our September Twisted Poets Reading Series event, which we usually run in conjuction with Word, and as part of Word.