Posted by Daniela Elza on Nov 24 2013 | Comment now »
Michelle Barker asked me a few questions…and I answered. Thank you, Michelle, for the interview. It got easier after I got past the first question: Tell us something most people do not know about you?:-)
Click here to read the whole thing.
Posted by Daniela Elza on Nov 04 2013 | Comment now »
With the days growing shorter into November and December Rilke's Book of Hours might just help even things out by keeping the spirit bright.
"Summer was like your house: you knew/
where each thing stood./
Now you must go out into your heart/
as onto a vast plain. Now/
the immense loneliness begins.//
The days go numb, the wind/
sucks the world from your senses like withered leaves./
Through the empty branches the sky remains./
It is what you have./"
—Rainer Maria Rilke
Posted by Daniela Elza on Nov 03 2013 | Comment now »
Hello, November. You and I and December have this thing. You cut the days short and I keep counting till the light begins to grow.
Another trip come and gone. The reading at the Residual Reading Series with Lorri Neilsen Glenn and Robyn Sarah at Librarie Drawn and Quarterly, Montréal, went well. Many thanks to Wanda O'Connor who runs the series and who organized the event, and to those who came out to support the event.
The Poetic Inquiry Symposium was intense and full as usual. The location of the symposium was in a gallery which meant we presented, sat, ate, listened, and talked among lots of paintings. Here is most of us who were there. You can click on the photo for a larger view.
The place we rented for our accommodations in Montréal coloured the visit with it's own unique features. I did not realized how close the sleeping quarters were and how we were pretty much in one big room with a loft. How everyone staying in the house could walk through the space. There were times I was dreaming of a door to close.
The reading in Toronto at the Mutual Readings Series went well. I felt welcome and enjoyed hanging out with bill bissett and David Bateman, both of whom are involved in running the Secret Handshake Gallery and the Mutual Reading Series.
I mostly forgot to take photos on this trip except when I had a little time before the reading at the gallery. Here are some photos before the reading of the space. bill bissett was the doorman and his grandson played guitar while we waited. Enjoyed the laughs and the conversations.

The Secret Handshake Gallery, on Mutual Street.

bill bissett's paintings. The chair with the box for donations is where he will sit to be the doorman later when people start gathering.

Paintings by David Bateman.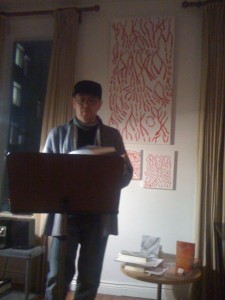 David hosting and doing the introductions in front of a bill bissett's canvas.
Today I awoke to the sun paining windows and bare trees on my walls. It finally came out after a few days of rain rain rain. I am grateful for this break in the rain. I love the rain, but really Vancouver you know how to do rain and stick with it.
Reconnecting with colleagues and friends is always a good feeling for which I am grateful. Making new friends and meeting congenial souls is always a delight.
Much gratitude goes to the number of people who assisted me and who put me up and took care of me. I hope to be able to return the favour and the flavour one day.
Posted by Daniela Elza on Oct 16 2013 | Comment now »
I often get asked if I am from Quebec. Now I will finally go there to see where some people think I come from. Motréal, this will be a first. And Toronto this will be my first time seeing you. Please spread the word.
October 23rd, 2013, 7pm
Featuring at Residual Reading Series with Lorri Neilsen Glenn and Robyn Sarah at Librarie Drawn and Quarterly, 211 Rue Bernard Ouest, Montréal, QC. Doors open 7pm readings begin 7:30pm. Thank you Wanda O'Connor for organizing this event and to TWUC for funding.
October 27th, 2013, 7pm.
Featuring at Mutual Readings Series at the Secret Handshake Gallery,189B Mutual Street
Toronto. I will have the pleasure to share the stage with Aydin Mehmet Ali ( poet, educator, activist) from Cyprus. Other features TBA. Mutual Reading happen on the last Sunday of each month.Doors open at 7:00 readings start at 7:30Thank you to David Batman for organizing this event and to TWUC for funding.
Posted by Daniela Elza on Oct 15 2013 | Comment now »
This Sunday, October 20th, 7pm, at People's Co-op Bookstore:
Inspired by Pacific Lands – Writings from Cascadia and Hawaii: Tom Peek, Daniela Elza, and Trevor Carolan Reading from Their New Works
Posted by Daniela Elza on Oct 11 2013 | Comment now »
Sitting in the Ferry terminal with Victoria on my horizon. If you are in Victoria tonight come on out for some poetry.
October 11th, 2013, 7:30pm.
Reading at Planet Earth Reading Series with Emilia Neilsen. The reading series happens at The Moka House, #103-1633 Hillside Avenue, Victoria, B.C. $3 at the door.
And tomorrow if you are in Vancouver, this is one of the things happening there. Oh, I know, there is so much going on in Vancouver and that is the beauty of it.
October 12th, 2013.
Screening at Visible Verse Festival. Our videopoem, Crow Morphologies, is an official selection of the 2013 Visible Verse Festival at the Cinematheque in Vancouver, BC, Canada, the date Sat, Oct. 12.
Posted by Daniela Elza on Oct 10 2013 | Comment now »
In a mini review of 4 poets (Mother Tongue Publishing, 2009) in Canadian Literature: A Quarterly of Criticism and Review, Reece Steinberg says:
In 4 Poets, Daniela Elza writes with space as much as with words. The Rocky Horror anticip……..ation phrase aptly describes the liquid pauses that spread throughout the page, preventing the eye from darting to the next word. It's impossible to read a rum bottle breaking next to my ear without vivid images exploding from the words.
Read the whole thing here.
Posted by Daniela Elza on Oct 05 2013 | 4 Comments »
After almost 3000 km. I am sitting in the glow of the trip up to Prince George, The Rural Writers Retreat, Terrace and Smithers.
On September 25th I headed up from Vancouver for the reading that night in Prince George at 7pm. Fellow poet Al Rempel assisted me with the organizing of this event and also joined me in the reading. Thank you, Al. Books & Company was an excellent venue. And a big thank you to Andrea and Ken who put me up for the night, for those conversations that go late into the small hours.
On the 26th I headed to the Rural Writers' Retreat, where I was the poet-in-residence for the next four days. The event took place at Banner Mountain Lodge, (about 15 minutes outside of Smithers, BC). Much gratitude goes to the people who organized the retreat and especially Sheila Peters who invited me. You can also find Sheila at Creekstone Press.
There was an amazing picture window in the main gathering space at the lodge. I took photos of the mountain view from the window, but they ended up darker on my iphone than they were. So you will just have to imagine it: the mountain, how it changed from day to day. Over the course of the four days you could see the snow cover more and more of the mountain as it crept further down its slopes.
Each workshop host had to do a presentation in the morning for the whole group and work with their genre specific groups in the afternoon. I enjoyed meeting the other two writers in residence: Laura Robinson (journalism/non-fiction) and Eden Robinson (fiction). (I wanted my last name to be Robinson too for the duration.)
I loved my group: their good focus, their enthusiasm, their willingness to follow and trust the activities I offered. I was really impressed with what was coming out in the writing.
The food was wonderful, the atmosphere buzzing with excitement. The kitchen/common space always had interesting conversations going on. And of course it was hard for me to stay away. Something happens when people come together for a few days to share the same spaces, and I mean something beautiful. At least here that is what happened. There was lots of laughter too, especially the echo of Eden Robinson's laugh which seem to permeate everything.
On leaving the retreat I had that sinking feeling one gets when you know it might be a while before you see each other again.
On the way to Terrace I took the wrong turn, a turn too soon, and when I hit the dirt road I was thinking: Oh, my, what have they done to the highway to Terrace. Thankfully, I turned back after a while and retraced my steps to the actual highway.
The Terrace event was a very pleasant surprise. It took place in the Green Blossom Studio of Joan Conway. Joan is a most gracious host. Here she is introducing me.
Here is the studio before you come in.
Here is the studio without people in it.

And here it is with some of the people who were there, all 17 or so of them. They came out on a drizzly Sunday night to listen to poetry.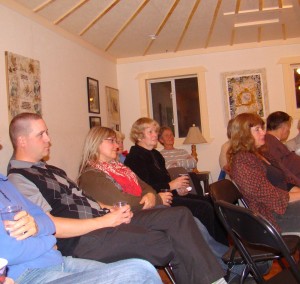 And of course here is me reading.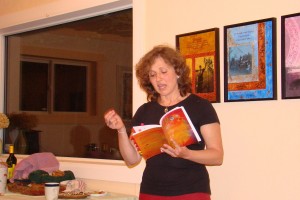 [all the photos above are courtesy of Eberle Balfour]
There was so much warmth and love and support in that room. I loved how responsive the audience was. The energy they gave back to replace the energy I tend to put out. It was one of those readings which will remain in my memory for a while. Also I sold the first CDs ever at this reading. For those of you who do not know yet, we have burned the first 30 min of the crow morphologies CD that Soressa Gardner and I are working on. [disclaimer: no food was burned during the burning of this CD] If you want a copy contact me or watch out for the news when we have it up on the web somewhere for purchase. Right now you can get them for $10. We are working on a sexier cover. Track three of the CD also got lucky and got turned into a video poem that will be screened at The Visible Verse Festival in Vancouver on October 12th. (Click on the link for more info and details).
One of the people attending that night, Harold Feddersen, shared a poem with me and a piece of art he designed with a crow in it, which I loved. Here it is, read about what inspired it.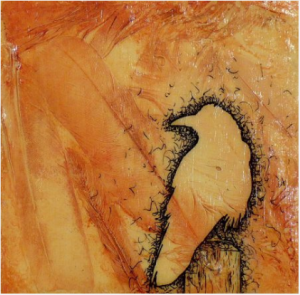 [art by Harold Feddersen]
Here are Joan Conway's thoughts of the night. If you are a writer and find yourself in Terrace for a reading contact Joan. Maybe you will be lucky to have Joan host you.
Much gratitude also goes to Norma and Solveig for putting me up for the night. The stories around the table, the story behind the ingredients and where the food comes from, I loved it all.
The last reading was in Smithers Public Library at noon on the last day of September. I drove from Terrace that morning through the hills drenched in mist, fleeting and impermanent. For hours sipping on the view as if it were a delicious cup of tea. For hours thinking of the highway of tears. How 2 out of the 8 posters at a gas station billboard were asking for leads to a murdered woman, and a missing woman. How there were billboards along the way not of products or hotels, but asking women not to hitchhike. How… How… the story is endless…how people you talk to knew someone who has disappeared or has been through a residential school…and how these people were all so dear…how words fail us… how the system fails us…how this all boggles the mind…and how I wanted to light a candle on every mile.
Thank you to the library for the hospitality. Here I am with a favorite children's book as part of their check it out campaign. Guess which book came to mind first?

[photo courtesy of The Smithers Public Library]
If you are a writer going through Smithers stop by the public library and have your photo taken with your favourite children's book.
Last, but not least, I would like to thank each and everyone of you, the audience, who came out to the various readings and lent your ear, asked questions, and gave me feedback and shared your stories. What would I do without you!
Then the long drive home. With thoughts that went back and forward and sideways while focusing to pass the slow trucks when the passing lanes came along. Some cars go a long way with you and almost feels like you begin to know them. Then in the last two hours of the trip I ran into the blinding rain that took me all the way into Vancouver. Sheer focus among sheer exhaustion and the lines were not even painted in the long strips of construction on the highway. Thank goodness for those cats eyes and for those who watch over us.
Posted by Daniela Elza on Sep 21 2013 | Comment now »
The three remaining readings before the end of the month will be in Prince George (on the 25th of September) Terrace on the 29th and Smithers on the 30th.
So if you are in the area stop by and say hello.
September 25th, 2013.
Reading with Al Rempel at 7pm at Cafe Voltaire, Books & Co., 1685 3rd Ave., Prince George, (250) 563-6637
Sunday, September 29th, 2013. 7pm.
Reading in Terrace
@ Green Blossom Studio
2406 Pear St., Terrace B.C.
for more info contact: Joan Conway 250-635-6753/emmajoanc@gmail.com
Monday, Sept. 30th, 2013, 12 noon
Reading at Smithers Public Library
Address: 3817 Alfred Avenue, Smithers.
Thank you to Sheila Peters, Al Rempel, Canada Council for the Arts and Leaf Press for their support in making this possible.