Posted by Daniela Elza on Jun 22 2022 | Comment now »
Here it is. It took a lot out of me to write this. Spent most of the fall of 2021 working on it, after the battle at City Hall in October.
Market Arguments Do Not Work for Those Who Cannot Take Part in the Market.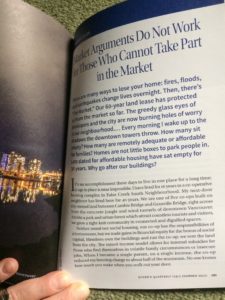 If you get a chance to give it a read, I would love your thoughts on it.
Posted by Daniela Elza on Jun 10 2022 | Comment now »
In March I read for the Belfast International Page and Stage series.  They just published an interview with me in four parts. Here is the link to the first part and at the bottom of each part there is a click to go to the next part. Here are the links to each of the four parts in case that is more useful.
Part 1 – An Eclectic Childhood 
Part 2 – The Background to the Collections 
Part 3 – Inhabiting the Poem
Part 4 – Writing New Collections
If you are on FB you can listen to the March reading  here. I come on at about 15 min into the reading.
Context: I had just arrived to the place where I teach and was settling into a small room I booked in the library. Coincidentally, some of my students are in the room next to me prepping for the presentation they are about to give that day. They were very intrigued what I was doing and kept peeking in on me through the window. I stand when I perform, so I put a chair on the table where I could put my laptop at the right height for the reading. :-)
Posted by Daniela Elza on Apr 17 2022 | Comment now »
I ran into an interview done ten years ago just before my first ever launch of my debut collection the weight of dew. I was intrigued. And delighted to see that I do not disagree with the Daniela from those days.
You can read the two parts below.
Thank you Rob for these thoughtful questions and always thoughtful and deep reading that allowed me to also surprise myself.
Posted by Daniela Elza on Apr 02 2022 | Comment now »
For Earth Day, the day before Earth Day I will have the pleasure of reading with Heidi Greco in a back and forth conversation of poems. The wonderful Rob Taylor will be our host and will have to keep us in line.
Here is the link to register for this FREE event.
You need to register to get a link to attend.
Daniela Elza and Heidi Greco, both defenders of trees and water, will read poetry that evokes the love for the earth and the intimacy we need to cultivate with the more than human world, not only for a richer life but also for the spark that propels us toward better care and stewardship of the planet. Daniela, Heidi and Rob are in the Worth More Standing: Poets and Activists Pay Homage to Trees coming out this month of April from Caitlin Press. There will be time for discussion and Q&A.
Presented by: Word Vancouver with support from the League of Canadian Poets
Posted by Daniela Elza on Mar 25 2022 | Comment now »
The Unbound Poetry Festival will make its dedut on April 9, 2022. And it is in person. A FULL DAY of all things poetry. This event is for writers and non-writers alike, families, and anyone who simply enjoys being entertained.
I will be doing a workshop, Panel (Free), and Blue Pencil sessions.
Pre-registration is required for all workshops and one-on-one consultations with one of the Blue Pencil Editors. I will do a workshop called FRAMED, in which we will play with writing self-portraits. You can register for that here. There are other workshops you can check out. I will be doing some Blue Pencil Sessions, you can register for those here.  If you want to work specifically with me, do mention that since it will be who ever is available. I am also on a free panel/poetry and activism (4:30-5:30pm). To register for other workshops visit Eventbrite here.
UNBOUND will feature free activities such as poetry film screenings, reading-in-conversations, painting inspired by words and music, blackout poetry, magnetic poetry, a one-day Haiku Contest, outdoor poetry installations, vendors and free info in the Lit Interest Area, and more. The evening will feature a Poetry SLAM! Here is write up about it in the Peace Arch News.
See you on April 9th!
Thank you also to the League of Canadian Poets for their support.
Posted by Daniela Elza on Mar 23 2022 | Comment now »
Place Mattering Matters Salon 04: The Intimacy of the Places We Call Home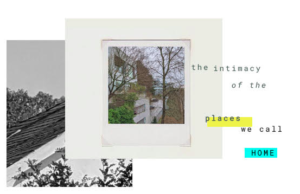 What connects you to the place you live in? Join us for our fourth salon where we explore the intimacy of place and home through image, poetry and story with guest storyteller and artist Naomi Steinberg, poets and artists Daniela Elza, Richard Evans, Graham McGarva, and Maria Roth. Come ready to pen a line or few describing the places you find welcoming, intimate, the places in your neighbourhood generous enough to daydream in.
The Place Mattering Matters Collective gathers together two architects and two artists who seek to open conversation on the qualities of place needed to thrive in our shared urban environment. As it rapidly transforms around us, not only does place matter, but that it matters is essential for the health of the whole community.
We can be reached by email at: info(at)placematteringmatters(dot)com
Posted by Daniela Elza on Mar 22 2022 | Comment now »
For the next two weeks (March 21 to April 3) Writers Radio will air a 30 min program of conversation, and reading/performance from the broken boat and a track of crow morphologies based on poems from milk tooth bane bone. The program will run on the top of each hour.
Click here for the link for the next two weeks and then it goes into the podcasts section.
the broken boat is available from Mother Tongue Publishing and your preferred bookstore.
milk tooth bane bone (Leaf Press 2013) is available directly from me. I have the last copies left of it.
crow morphologies, and other works by Soressa Gardner, are available through Soressa's bandcamp page.
Posted by Daniela Elza on Mar 19 2022 | Comment now »
March 24, 2022, 12 noon PST | 7pm UK time
Host: International Page and Stage, Belfast
I will be reading along side Kathleen McCracken, Mervyn Morris, Seamus Heaney, Catherine Graham, & Matthew Rice.
No need for registration.

You can tune in on FB here.
I gratefully acknowledge the support of The League of Canadian Poets. 
If you wish to listen to recordings from previous readings or audio poetry you can find more readings/performances available on youtube. After the event you can still watch the recording here.
Posted by Daniela Elza on Feb 24 2022 | Comment now »
Place Mattering Matters
The newly minted Place Mattering Matters Collective gathers two artists (Maria Roth & Daniela Elza) and two architects (Richard Evans & Graham McGarva) with the purpose of opening conversations on the qualities of place needed to thrive in our shared urban environment: to look at the issues through the poetics of space as well as the mathematics of it.
After the two battles we had with Vancouver city hall last year—one for the lease renewal framework in June, and the other in October on the proposed redevelopment plan of False Creek South—we saw the need to continue to engage with communities that are fighting for their deeply affordable homes. We started the Place Mattering Matters Salon to look at the different pieces of the puzzle in the un-affordable housing crisis.
Salon 01 launched on January 25th with the screening of the movie PUSH to lay some common vocabulary and background on the financialization of our homes.
Salon 02 followed on February 8th with a discussion on mass affordability with guest speaker Patrick Condon who has been writing with passion and clarity on the complexities we are grappling with. Patrick's book Sick City: Disease, Race, Inequality and Urban Land is free to download.
Each salon aims to dispel myths entrenched in the discourse, contributes to unpacking words around housing that are poorly defined, and has some form of poetic/artistic engagement. We close with the questions: What can we do today? (short-term) and What can we do tomorrow (long-term)? We hope to empower each other with specific actions we can take right away and build a vision for the future. We aim to accomplish all this in a once-a-month 60 minute (for now online) session.
We run on the second Tuesday of the month. Salon 03: Celebrating Women in the City is on March 8th, 4PM with guest speaker Leslie Kern. You can find her book here. You can register here.  
Salon 04, on April 12, will discuss the more poetic aspects of what gives our neighbourhoods a happiness advantage. Other topics we hope to cover in future salons are illicit/criminal money in housing & aging in community. 
As it rapidly transforms around us, not only does place matter, but that it matters is essential for the health of the whole community. We hope you can join us in these explorations.
contact us at email: info@placematteringmatters.com