Posted by Daniela Elza on Mar 03 2010
quarrtsiluni online literary journal has another call for submissions: New Classic. Yes, since it is that time of the year full of spring energy, if you are not wiriting you must be sending stuff out.
Tomorrow I am reading at Twisted Poets Literary Salon from the 4poets book.
I am going to read some of the poems that I have caught myself skipping over. Once I realized that, I started thinking: What is it that makes one read some poems more than others? To eliminate the element of habit, or complacency I will try to balance this out by focusing on a different set this time. (If there are requests however, I will honour those first.) I will be featuring along with Christi Kramer. In the spirit of Pandora's Collective, she and I have been writing a bit together to prompts, as well as collaborated on a poem. So we will read our new babies, as well. Yes. As fresh and raw as they are.
Time: 7-9pm.
Location: Cambie Bakery and Cafe, 312 Cambie Street (North of Hastings), Vancouver B.C.
In the spirit of Vancouver all poets are welcome. Come and read, there is an open mike section.
Also, March 15th, 2010, I will be reading at a Fundraiser for Pandora's Collective and The Vancouver Artists Collective.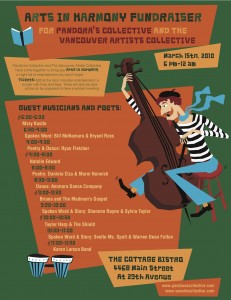 Click here to see the poster enlarged:
Pandoras_Fundraiser
Time: 6 pm – 12am
Location: The Cottage Bistro
4468 Main Street @ 29th Avenue
Tickets: $20 at the door includes entertainment, a burger with fries and beer. After costs, all proceeds go directly Pandora's Collective and The Vancouver Artists Collective.
Come and support and have some fun. Here you can see the schedule and the line up.