Posted by Daniela Elza on Mar 19 2011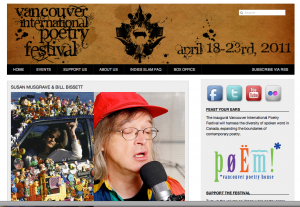 Here comes the Vancouver International Poetry Festival. I know it is the week of my defence. But, hey, what better way to celebrate. The schedule is not out yet, but here are some of the events that have been confirmed so far.
So you can get started by getting your tickets/passes now. Click here for the Box Office.
They have limited festival passes. Individual passes cost $60. If you get 2 passes they cost $50 each. Festival passes allow you access to all of these events – but there are only a limited number available. Maybe I will see you there.