Posted by Daniela Elza on Apr 13 2011
For those of you who have asked questions about how to purchase the book of it, here is an attempt at a more coherent answer. I realize one has to use the right technical words to avoid confusion. I am slowly learning the terminology around this technology.
So,
the book of it is available now for the Kindle device, as well as for the free Kindle app for Mac, PC, iPad, iPhone, iPod touch, Android, Blackberry, and Window Phone7. Basically, you can enjoy it even at this early phase on any one of these devices when you download the free Kindle app.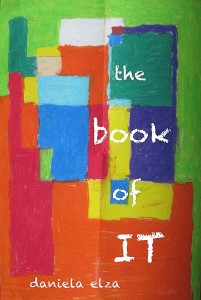 We are working on getting it up on ibooks as well.
For all of you book lovers who want a paper book to hold, I understand. I myself feel awkward not to be able to hold this baby. I am also discovering the side effects of having such a virtual birth. I promise I will look into a way to get something solid to hold soon. I thank you for your interest, and will keep you posted.
I would also like to thank Dorothee Lang for featuring the book on the Daily s-Press blog and Rob Taylor for commenting on the book on his blog.
Now, how does one launch an eBook? Advice is always welcome. For now, I will be reading from the book of it in various venues starting this week with:
POETRY AROUND THE WORLD
(Poets and Writers of the New Millennium)
April 14th, 2011
6:30pm – 8:30pm
Location: Renfrew Public Library, 2969 East 22nd Avenue, Vancouver, BC
Host: Lucia Monica Gorea
Info: 604-441-0169
Poetry Around the World elebrates National Poetry Month with an evening of poetry and spoken-word readings featuring: Bonnie Nish, Daniela Elza, Ashok Bhargava, Franci Louann and Warren Dean Fulton and OPEN MIC.
Admission is free. Refreshments.