Posted by Daniela Elza on May 20 2011
Last Saturday Rob Taylor launched his debut collection of poems The Other Side of Ourselves in Vancouver.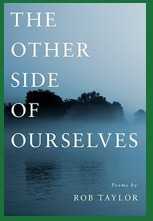 The place was not just buzzing with excitement and energy, it was literary bursting at the seams. (Here you can see some photos on Rob's own blog).
I enjoyed Aislinn Hunter's reading "to warm up the room" as she said. (Here is a bit of an introduction and a little interview with Aislinn Hunter Rob posted on his blog a day before the launch.)
Aislinn did a gracious and generous introduction of Rob and highlighted the effort and persistence it takes to put out a first book of poems. No kidding. I think there is something quite valuable in more established poets to introduce and nurture younger emerging poets (ok, let us agree physical age here has nothing to do with poetic age). I consider myself a young poet.
Then, of course, it is always great to have music. And that was contributed by a group called Jasper Sloan Yip. You can check them out again on Rob's blog. (Rob took the time to introduce each of the features on his blog a few days before the event. Brilliant, Rob.)
And then there was Rob. I love when Rob reads because he knows how to read. See, this whole writing business is one thing, but then when it comes to delivery, that is a whole other bag of tricks. And Rob has got that figured out, as young as he is. He will not bore you till you drool. (And if you do, it will be for other reasons.) It is always a pleasure to listen to poets who read their work like it is … their work. I call that inhabiting the work. Read it like you felt it when you wrote it. Make me feel the energy, the excitement, the disappointment, the lament. That initial surprise, shiver, grief.
I was lucky to have read the book prior to the launch. So that was another new experience for me. I would hear poems I had already read. And there was a certain pleasure when Rob hit on poems that I enjoyed and loved in the initial reading. (Ok, I admit, I read it twice.)
Here is a list of some of my favourites: The Wailing Machines, Early Rain (where the title comes from), Rejection Slips, Haiku 1-4 (made me laugh), Wait, December Sonnet, The Same Thing, Computer Monitor Ekphrasis, Lyric.
When you get a hold of the book let me know what stirred you, what surprised you. And make sure you make it out to a reading sometime. Make a request. Rob will read you your favourite poems. I think he will. Why wouldn't he?