Posted by Daniela Elza on Aug 11 2012
I am so glad to see this project finally come to fruition. I have contributed two poems. Glad to be part of the international response.
Al-Mutanabbi Street Starts Here: Poets and Writers Respond to the March 5th, 2007, Bombing of Baghdad's "Street of the Booksellers"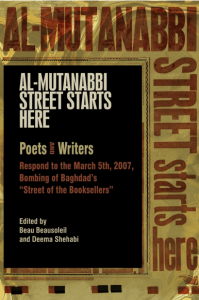 "On March 5th, 2007, a car bomb was exploded on al-Mutanabbi Street in Baghdad. More than thirty people were killed and more than one hundred were wounded. This locale is the historic center of Baghdad bookselling, a winding street filled with bookstores and outdoor book stalls. Named after the famed 10th century classical Arab poet al-Mutanabbi, it has been the heart and soul of the Baghdad literary and intellectual community. This anthology begins with a historical introduction to al-Mutanabbi Street and includes the writing of Iraqis as well as a wide swath of international poets and writers who were outraged by this attack."
Read more about the book and see the long list of contributors including Sam Hamill, Naomi Shihab Nye, Jane Hirshfield, Saadi Youssef, Adrienne Rich. Also Jabez W. Churchill, who comes each year from California and is a regular at Summer Dream Literary Arts Festival. Some of our local poets Bonnie Nish, Sita Carboni, Fran Bourassa, and myself.
Thank you PM Press, and editors Beau Beausoleil and Deema Shehabi for this book.
If you would like a copy let me know. We would hope to bring is some for the launch. And if you are quick you might be able to get one at a good discount.
Watch out for a Fall Launch in Vancouver. I am going to be working closely with Bonnie Nish from Pandora's Collective to make that possible. Hope you will all come and make it a success.