Posted by Daniela Elza on Oct 18 2012
Last week at the Heritage Hall we celebrated 5 years of trade publishing by Mother Tongue Publishing and the launch of 111 West Coast Literary Portraits. Photographs by Barry Peterson and Blaise Enright, Text by BC Authors, Introduction by Alan Twigg (Mother Tongue Publishing, 2012).
In the book I have a black and white portrait and a poem.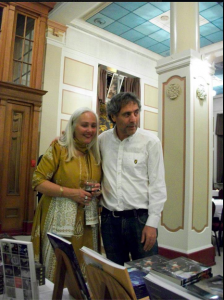 There was a few speeches. One by the photographer, Barry Peterson, who spoke of the 15 years in the making of this project. One by Mona Fertig (the publisher) who spoke of the impetus to launch into trade publishing and what Mother Tongue has accomplished in the last five years.

Alan Twigg wrote the introduction of the book. He gave a bit of the history of the project and how he happened upon it. He spoke from the heart. I have to admit I got choked up a few times with things he said. In a good way, of course.
Some photos from the launch (courtesy of Mona Ferig).

[Maxine Gadd, myself, Dethe Elza, Liisa Hanus]

[A bigger view with the blur of Cat and Mona in the center. See, they moved like bees, hence the blur. Cat came from bee country. We always have to honour the bees. She sees to that. I danced with her too. Glad no one caught that on camera. What has to be done, has to be done.]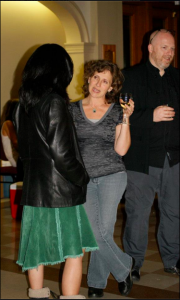 [Rita Wong and I in conversation. I feel like a wave of water here in this pose, and in general when I talk to Rita]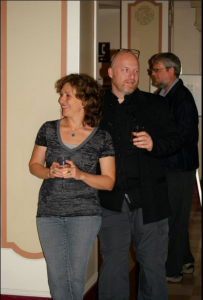 It was a lovely pleasant and warm night all around. Happy 5th anniversary Mother Tongue.
I reamin in deep gratitude for having been embraced by Mother Tongue. I truly feel like part of the Mother Tongue family and I am referred to as a Mother Tongue daughter who now has many sisters and brothers.
This is not just for show. Mona walks the talk. I did not hear one thing that she committed to when she started this five years ago that she is not doing. As a writer I have felt supported and loved and cherished. Embraced. To date I am happy to say I am in four out of their 13 publications, with the fifth one on the way (an Anthology of 75 Women Poets, edited by Susan Musgrave,Spring of 2013).
So, thank you, Mona. And thank you Alan for supporting BC publishers and authors with BC BookWorld and abcbookworld. What a difference that makes in creating better infrastructures for the printed wor(l)d.
And of course it was great to have Dethe there, within arms length, a warm hand's reach, a kiss. Alway.