Posted by Daniela Elza on Dec 26 2012
Last Wednesday my friend and writer, Ariana Salvo tagged me to be part of the interview series,'The Next Big Thing', where writers speak of their latest book, work in progress, or manuscript. You can read her entry here. Here is another example: This one by writer (A)lex Leslie.
It works like this: an author answers the ten questions below on his/her blog and then tags up to 5 other writers to do the same the following Wednesday.
1. What is the working title of your next book?

Milk Tooth Bane Bone
2. Where did the idea come from for the book?

There was no original idea, per se. It was not a project. The image of the crow kept appearing in my poems persistently enough for me to eventually ask why. After a decade, I had amassed a good number of pieces so I put them together to understand better: why crows, why snow? I was curious about the image and the possibilities inherent in it, the freedom and the seduction in its staying power. The image before the word even. Considering how pervasive and powerful images are, how reckless we are with their ubiquitous use in our world today.
3. What genre does your book fall under?
Poetry.
4. What actors would you choose to play the part of your characters in a movie rendition?

You, of course, will have to be one of them. And the crows. Lots of crows. And children making sense the way only children can with their more-than-us conscious world.
5. What is the one-sentence synopsis of your book?

Ouch. That is hard to do for a poetry book. To sum it up in one sentence is to betray it. If I could summarize it I should not have bothered with the book. Perhaps it is an exploration into story/personal mythology/poetic ecology/the other/the child/the image and its staying power.
Paul Valery says somewhere that to summarize an essay is to capture its essence, to summarize a work of art is to lose its essence.
6. Will your book be self-published or represented by an agency?

The book will be published by Leaf Press in April of 2013. Here is more information on their website.
7. How long did it take you to write the first draft of the manuscript?

I would say a decade. It was only a couple of years ago that I assembled the fractals/fragments and looked at it from a, shall we say, birds eye view.
8. What other books would you compare this story to within your genre?

How can I compare it to something else? It is still a puzzle to me. It is itself. And all I want for it is to continue in its persistence to be fully what it is. Hopefully it will not get too tamed in the process of binding it into a book. I want it to remain wild, and full of questions.
9. Who or what inspired you to write this book?

I could say the crows, since that was the impetus. I could not ignore their call. I had to pay attention each time I heard their call, that black charred voice. Then, naturally, the questions that came with the journey. All I could do was follow diligently and persistently, and, well, …see what happened.
10. What else about the book might pique the reader's interest?

These crows are mischievous. They move the words around. And just when you think you have lined them up they peck their way in and out of poems and plots.
My nominations for The Next Big Thing are the following writers. Check them out and their blogs to learn more about them. They might just be the next big thing!
Rob Taylor's first collection of poems, The Other Side of Ourselves, was published in April 2011 by Cormorant Books. He is the co-founder and editor of One Ghana, One Voice and is currently one of the organizers of the Dead Poets Reading Series. He is presently in Zambia with his wife Marta and you can see what they have been up to and follow their trip on Handkerchief! Handkerchief!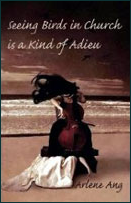 Arlene Ang's latest book of poetry Seeing Birds in Church is a kind of Adieu was published in March of 2010 by Cinnamon Press. Her previous books are Bundles of Letters Including A, V and Epsilon (poems by Arlene Ang and Valerie Fox) (Texture Press, 2008) and The Desecration of Doves (2005). Arlene is also a poetry editor at Pedestal Magazine and is the CSS functionary of Press 1. She loves the sound Ctrl+X and Ctrl+V in the evening.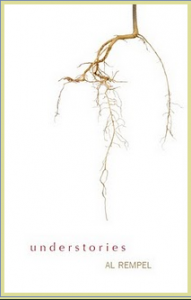 Al Rempel's books of poetry are understories (Caitlin Press) and The Picket Fence Diaries (Lipstick Press).(Here is a book view I did of Al's understories.) His poems have also appeared in The Malahat Review, CV2, Event, and in anthologies such as The Best Canadian Poetry in English, 2011. Al's second book of poetry, This Isn't the Apocalypse We Hoped For, is forthcoming in spring, 2013 with Caitlin Press. He can be found at http://alrempel.com/
Sheila Peters' work has appeared in Canadian literary journals like Event, Prairie Fire, Grain, The Malahat Review, and Descant. Creekstone Press published her first book, Canyon Creek: A Script (1998) and Beach Holme Press published Tending the Remnant Damage, a collection of linked short stories, in 2001. The weather from the west came out in 2007 and The Taste of Ashes, a novel, was published by Caitlin Press in 2012. For more on Sheila visit her website: http://sheilapeters.com/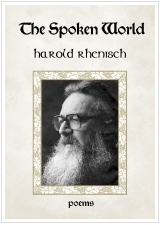 Harold Rhenisch has published 17 books of poetry, 4 books of memoir, two books of environmental nonfiction, a novel, translation, and essays since 1981. His latest book of poetry, "The Spoken World" (Hagios, 2011), explores the Old Norse roots of English. His next, "North West", sets Canadian Literature aside to speak from the Pacific Northwest, on both sides of the 49th Parallel. He lives in Vernon. For more on Harold go to: www.haroldrhenisch.com