Posted by Daniela Elza on May 10 2013
Remember that piece of mature forest that was endangered of being sold so the municipality of Langely can raise money for a recreation centre? In November and December Susan McCaslin (and WOLF-Watchers of Langley Forest, and others) started making a lot of noise to convice the Langely Council to not sell it for development?
Well 60% of it is off the market. The other 40% are still pending saving. And there is hope.
Tomorrow, May 11, is one of the events that is a continuation of raising awareness and money and more noise regarding this issue. A lovely occasion at which we will gather to read amidst the paintings that were painted to 12 of the poems. Below is the painting Susan Falk did inspired by a poem I wrote for Susan McCaslin (this is not a rehearsal III: in the nightmares of nomenclature). Susan's enthusiasm inspires me.
Click here for the different poets and the paintings inspired by their poems.
If you can come, do come and support this event. There will be readings, wine and cheese, mix and mingle, and a silent auction at which the paintings will be sold. Part of the proceeds will go to WOLF.
And here is the artist herself in the forest.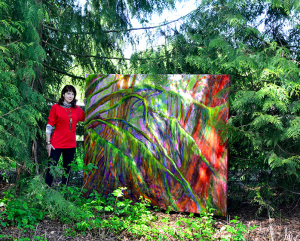 Here is a write up in the Langley Times. Click here to read it.
Here is all you need to get there including the lineup of poets.
WRITTEN IN THE FOREST
Poetry reading by Han Shan Poets opening Susan Falk's Art Exhibition (May 8-26).
Sat. May 11, 12-3 pm.
Poetry Readings between 1 and 2 pm,
at The Fort Gallery, 9048 Glover Road, Fort Langley.
Poets: E.D. Blodgett, Daniela Elza, Pam Galloway, Heidi Greco, Fiona Tinwei Lam, Chris Levenson, Susan McCaslin, Ray McGinnis, Elsie K. Neufeld, Catherine Owen, Jamie Reid, Celeste Snowber. 
Wine and cheese; silent auction of 12 new paintings by Susan Falk based on 12 poems by the Han Shan Poets.
Contact: 604-888-7411
Website: fortgallery@hotmail.com