Posted by Daniela Elza on May 13 2013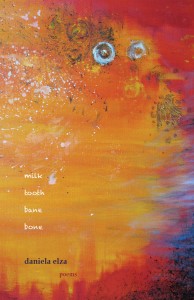 Tomorrow is the day. The big day. The Vancouver launch of milk tooth bane bone. It is also election day. Vote for whatever party you will vote for and then come vote for poetry and celebrate with us. I already voted so I do not forget. Here are all the details and the poster/evite: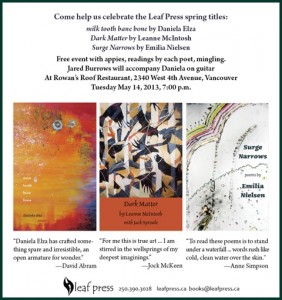 Rob Taylor has been running a poem from each of the poets in the last three days. You can read my poem here. Read Emilia Nielsen's poem here. To read a poem by Leanne McIntosh's click here.
For those of you who cannot attend but still want a copy of the book, you can buy the book from the website and the awesome part is: the publisher pays for the shipping. Click here to go to the milk tooth bane bone page on Leaf Press' website. Scroll down to where the purchase information is.
I know you might not believe this but tomorrow's launch and May 23rd reading at Twisted Poets Literary Salon with Aislinn Hunter are the only two Vancouver readings I have scheduled pretty much till the end of the year. And that is it. Most of my other readings will be outside of Vancouver or out of country. Yes, I will be giving you a break Vancouver.
Hope to see you there. I am rooting for the poetry party to win.