Posted by Daniela Elza on Apr 07 2015
The trip to Ukiah and Pleasanton (California) was great.
We did two readings and were invited to present to a creative writing high school class in Ukiah.
Here is a glimpse of the reading in Ukiah. We read in an art gallery which at the time also had an exhibit of clocks.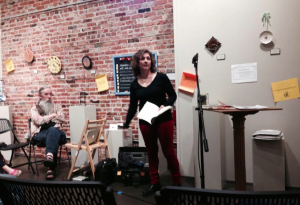 Here I am in the backyard of the house we stayed in. Getting ready for the reading in the quiet and warm of the afternoon. I could only hear ravens call, and the cats would lie on any book or pieces of paper that we put down.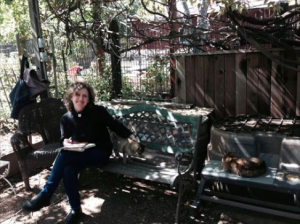 In between we had a lovely time with friends. I travelled with my good friend, Bonnie Nish, who has lived in the area. It was an exciting time walking backwards down memory lane for her.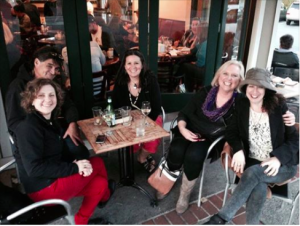 We were treated to a visit to Vichy Hot Springs Resort where we soaked in stone tubs in the mineral water which turned all out silver jewelry golden. The hospitality was warm and deep.
On the way to Pleasanton I spent one night on a boat. The next day had a chance to swim in the ocean for an hour. We ended up swimming against the tide both ways, because the tide turned with us as we turned around to come back.
The reading in Pleasanton went very well. Here is a snapshot. The colour coordination is surprising.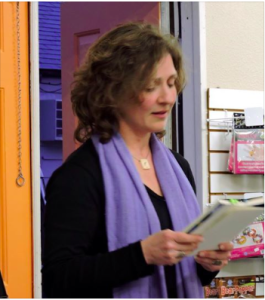 Here is a shot with our hosts in front of the History Museum in Pleasanton on the last day of our visit.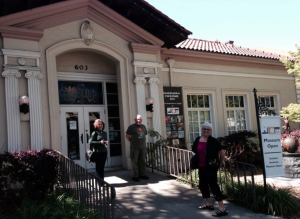 Thank you to all who fed us, put us up, treated us, loved us and supported us. Jabez, Tanya, Fred, and Cathe, thank you. Thank you to all who bought books and for the gifts we received. Thank you.
[Photos: most are courtesy of Bonnie Nish]