Posted by Daniela Elza on Mar 27 2017
March has been rainy. Very rainy. And on top of that the flu got me during spring break. While the rain poured and poured and I was delirious with fever, I had the pleasure of writing an essay about summer and my little roof-top patio. I was so busy with it that when we got back from spring break I started asking the kids in the writing room, how was your Summer break?
The essay will be published this summer in
The Summer Book (Mother Tongue Publishing, 2017)
24 writers capture the golden moments of summer in this treasury of warm tales, timeless memories, and meditations on nature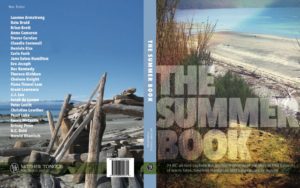 I am looking forward to reading all the other essays and to launching the book. I hope you can make it to one of the launches. I hope to make both.
SALT SPRING ISLAND
Saturday JUNE 10th, 7-9 pm,
@ Duthie Gallery: A beautiful spot near town with large sculpture garden. There will be refreshments and wine.
VANCOUVER,
Friday JUNE 23, 4-6pm,
Sylvia Hotel, in the Pendrell Room,
Free parking at hotel, happy hour, sandwiches.
Writing an essay was so much fun, I am writing another one. Hope you are writing too.