Posted by Daniela Elza on Mar 06 2023
In March I will be reading (in person) in Surrey. Here are the details below. This is their first in-person Surrey Muse gathering after the COVID Lockdown in March 2020.
MARCH 25, 2023
READING AT SURREY MUSE: An Interdisciplinary Art and Literature Presentation Group
1:00 – 4:00 PM (PT)
Room 418, City Centre branch, Surrey Libraries
10350 University Dr, Surrey, BC V3T 4B8
Free & Accessible event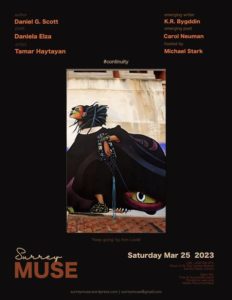 Poet Daniela Elza, Author Daniel Scott, Musician Tamar Haytayan, Emerging Poet Carol Neuman, Emerging Writer K.R. Byggdin
Host Michael Stark
Out of town artists will participate via Skype, and for that, we'll need your Skype name and
phone number.
Underground parking is available, Surrey Central
skytrain station is nearby, and the venue is wheelchair accessible.
For more information Contact:surrey.muse@gmail.com
Website: click here.