Posted by Daniela Elza on May 20 2012
I thought last year will be my first and last graduation ceremony since I missed my Masters graduation day for a good reason. It looks like I will have to attend another one this year on June 15th to receive an award.
I have been awarded a Dean of Graduate Studies Convocation Medal.
(The Medals are awarded to the student(s) who achieved the highest level of academic excellence in his/her graduate program and had one or more reviewers who deemed the project or thesis as exceptional.)
Earlier in the year I heard that my doctorate thesis was nominated for 2011 CAGS UMI Distinguished Dissertation Award Competition.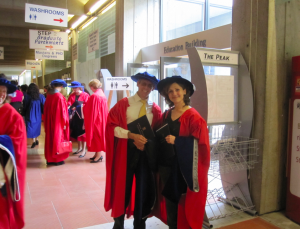 [photo from my 2011 graduation ceremony]
To get in the mood for the ceremony I watched this: Neil Gaiman's Commencement Speech about succeeding in the Arts. I love it when you can afford to say it as it is.
Thank you so much to the people who deemed my work important and put it forward.
I really appreciate the poetic community that nurtures me and my work. As well as the support I have received and keep receiving from SFU. Some days these are the things that keep us going. (Hey, did you notice there is cat is convocation.