Posted by Daniela Elza on May 28 2010
Here I will try to collect reviews/editorials/comments which I have come across regarding my work.
2015
From a reader:
"I have been reading a lot of poetry this summer by the likes of John Ashbery, Les Murray, Donald Justice, Frank Bidart, Jorie Graham, Allen Ginsberg, Jack Kerouac, Seamus Heany, James Dickey, Rae Aramantrout, T.S. Eliot, Ezra Pound, Marilyn Hacker, Adrienne Rich, Jean Valentine, Ted Kooser, Louise Glück, Anne Sexton, Mark Doty, Richard Wilbur, Jack Spicer, Robert Duncan and many, many, many others; and I got to say as a lay reader your book, "the weight of dew", continues to impress and tickle me sometimes at the same time. I hope you are finding the time to continue to develop and learn your craft. Some people try what you do with form but fail miserably so keep on keeping on e.e. elza. You have quite the voice in your writing."
Thank you, Phil Menger!
2014
April
Poetry is Dead, The Humour Issue published a review of milk tooth bane bone. Thank you Melissa Sawatsky for the review and thank you Poetry is Dead for publishing it.
---
March
Arc Magazine # 73 published a review of milk tooth bane bone by Al Rempel. It is now up on Arc Magazine website. You can read the whole review here.
Al says:

"The four titular nouns typify what I mean by gravity and gaps. Elza places these words side by side as effortlessly as setting four small stones in a row on the beach, yet they carry the weight of four silent moons around a planet. Bodies that bend space-time, bodies to gather ideas around. And in the gaps: lightning-quick and neural."

Thank you, Al, for the way your mind works, and for perceptively picking up on important threads in the book.
---
January
The Cascade published a review of milk tooth bane bone by Katie Stobbart.


In many ways, the collection recalls Wallace Stevens' "Thirteen Ways of Looking at a Blackbird," not just because the subject is the same, but due to its pure, emotive ambiguity, and because to understand it means looking deep into the eye of mystery — of feeling something rather than trying to logically justify it. Elza takes it further: she gives us hundreds of crows, murders of them. She observes their patterns, their strangeness, and their familiarity. She explores the tight weave of two narratives: the crows' and our own.

…

Perhaps it is this layering of meaning that makes each poem in milk tooth bane bone feel like part of a mythology.

…

To me, this articulates the idea of consciousness. How many moments like this do we ignore? Milk tooth bane bone is insightful, philosophical, and mindful. It is a book worth reading, but more than that, it is a book you live with, you eat with, you walk to work with, and each time you take something new from it.

Thank you, Katie.
2013
Review of the weight of dew by Hilary Turner in the Pacific Rim Review of Books (Issue 18, Vol. 9, No. 1), July, 2013.
Here are three excerpted quotes from the review.
In her second published collection, the weight of dew, she explores the BC Interior with the eyes and ears of of a traveller who is familiar with the unfamiliar, and who cannot wait to try out the sound of words in spaces where they will resonate differently, or where geography may impose a grammar of its own.
…
"…for it is word-play of a specific kind that interests Elza. As Wittgenstein famously said, "words are deeds." Elza concurs, and adds that they can be objects too, both animate and inanimate. The plainest example of her use of this complex device occurs in 'alternate grammars' where the speaker discovered 'a stylized calligraphy' in the grass of a hillside and uses this script not merely to write her name, but to become the thing she has written."
…
"As a shore is a kind of a line, and as a line (of verse) can shore up our knowledge of a place, these poems render their setting all the more palpable for their attention to the effects of language upon experience. The paradox is one that has preoccupied modern philosophy at least since Nietzsche, and Elza is a most philosophic traveller, leaving the place she has visited not untouched but illuminated."
—Dr. Hilary Turner teaches English and Rhetoric at the University of the Fraser Valley.
Thank you Hilary Turner and thank you to the editors of the Pacific Rim Review of Books. I am thrilled with this review. It is amazing to read a review in which you feel seen by the reviewer. Hopefully, I will get permission at some point to publish the whole review electronically.
---
View of milk tooth bane bone from Anatoly Molotkov (co-editor of the Inflectionist Review:May, 2013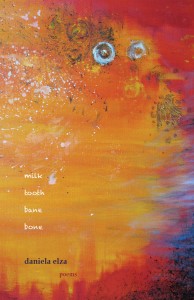 "An outstanding, deeply conceptual poetry collection by Daniela Elza – epistemology written in crows.

Open each word
as if it is a hand-
kerchief wrapped around bread.
and you are hungry.

This duality-ridden blueprint, presented in one of the final poems, is exactly the one Elza uses to build this unique book. Highly recommended for all contemporary poetry lovers."
---
---
Catherine Owen has reviewed the "crow morphologies" CD: a collaboration between myself and Soressa Gardner.


"This six track CD, recorded in a home studio, and featuring poems from Elza's book "milk tooth bane bone" (Leaf Press 2013) with Gardner's synthesized magic, is sweetly clear and resonant. The journey begins moodily, with medieval resonance, Elza's vocalization poised and water-drop luminous."

Read the whole review here.
Thank you, Catherine.
If you wish to acquire a copy of the CD let me know. They are 10 dollars + shipping.
---
A review of milk tooth bane bone by Michael Dennis.
Read the whole review here.
Here are a couple of excerpts:
"Elza's milk tooth bane bone is almost elemental in its purity. You hardly notice, at first, that these apparently fragmentary passages read with a clear narrative, insight and enlightening conclusions."
and
"A more human crow would be awfully hard to find."
---
A book view from Dr. Carl Leggo, Department of Language and Literacy Education, University of British Columbia.
"Daniela Elza's milk tooth bane bone is a lyrical testimony to the poet-philosopher's daily commitment to attentive wonder, heart-infused wisdom, and embodied courage, all devoted to the pedagogy of being and becoming in a world that is both familiar and unfamiliar. Like the crows she writes about from countless perspectives, Daniela opens up possibilities for words that startle me with new insights and hopes. When I read Daniela's poems, my mouth and heart and imagination all open up with a jaw-dropping shout of jouissance!"
---
Reader's comment: Cassie Moore (Portland):
"I gave my girlfriend Kimberly Milk Tooth Bane Bone for her birthday earlier this month. She sent me a text last night: 'Baby I love this poetry. More than I ever love poetry.' Thank you for sharing your words. It is truly incredible."
---
In a mini review of 4 poets (Mother Tongue Publishing, 2009) in Canadian Literature: A Quarterly of Criticism and Review, Reece Steinberg says:


In 4 Poets, Daniela Elza writes with space as much as with words. The Rocky Horror anticip……..ation phrase aptly describes the liquid pauses that spread throughout the page, preventing the eye from darting to the next word. It's impossible to read a rum bottle breaking next to my ear without vivid images exploding from the words.

Read the whole thing here.
---
---
Review of Force Field in The Vancouver Sun, a collection of poems from 77 British Columbia women, both long-established published poets and newcomers who have yet to put out their first volume. Edited by Susan Musgrave, published by Mother Tongue Publishing, 2013.
It is so good to see a review of an anthology which mentions more names than the well-established, safe ones. Even my name comes up in a few poetic lines.
Daniela Elza's words are also like stones across a stream. In the white space, will you pause or take a leap? Or how about picking up each stone and turning it over carefully so as to see what's underneath?
Thank you, Mary Ann Moore.
2012
"The gorgeous cover of Daniela Elza's the weight of dew (Mother Tongue Publishing), featuring a photograph by Robin Susanto, gives an indication of what you'll find between the covers. These poems are not only a treat for their language and the imagery they invoke, but also for their actual visual aspect. The emphasis on the space between words forces the reader to pause and savour what is presented, rolling the language around in mouth and mind. The words fall and sit with the lightness of dew, landing on the consciousness as a dragonfly might, but lingering much longer."
Thanks Liisa Hannus.
---
---
Second review of the weight of dew is now up on Press 1 (Volume 6, Number 1). This is also the first review from abroad. The book is reviewed by Sarah Munroe (Philadelphia, USA).


"the weight of dew is a promising debut collection that shows the beginnings of a voice that is adept at combining unconventional typography with an analytical approach to language. This is a voice that is still being refined, but already Elza has created powerful natural images that tap into a reader's deepest experiences and questions."
---
First review of the weight of dew is in. BC Bookworld Spring Issue has a review of the weight of dew by Hannah Main–van der Kamp. Click here for the pdf, It resides on page 29. Do not be startled, my photo is as big as the review.
---
"Your book sings, it hurts, it feels, it metaphors, it poets." from Melinda Cochrane, poet, writer, teacher (Montreal, Canada).
2011
THE BOOK OF IT (print)
116 pages, $11.99
THE BOOK OF IT (PDF file download)
116 pages, $2.99
ISBN 978-0-9869441-1-6
THE BOOK OF IT (eBook)
116 pages, $2.99
Published April, 2011
ISBN 978-0-9869441-0-9
What you have said about the book of it:
"the book of it speaks up for what gets left out by the obsessive concern with quantifiably measurable outcomes in education. It celebrates the spirit of adventure, play, and imagination, and the receptive openness, curiosity, and wonder at the heart of the passion for learning. It evokes the deep sources of inspiration that make possible the mind's most transformative experiences. I'm sure I will re-read it often."
—William A. Welton, Visiting Affiliate Assistant Professor, Loyola University, Maryland, co-author (with Gary Alan Scott) of Erotic Wisdom: Philosophy and Intermediacy in Plato's Symposium, SUNY Press, 2008.
"When it comes to the gap between education and learning, Daniela 'gets it'. She happily explores it with her playfulness and unique poetic forms, writing in and out of the spaces between the brick and block buildings and the playgrounds filled with the 'petals' thought,' the 'hollows of trees,' and where you might find 'a blue guitar with one string.' The Book of IT hop-scotches its way between poetry and philosophy, and invites the reader to join in it's fun."
Al Rempel, poet (understories, Caitlin Press, 2010) and alternate teacher
"The Book of It is a tribute to 'none of the above' when it comes to the search for meaning and answers—both in life and in education. In this meditative book, Daniela Elza tries to find the It between 'cash and two pieces of ID' and 'a blue guitar with one string (forgotten)', between a tree trunk that 'needs more than one person to embrace it' and a measurement of '1000 words (can be more but not less).' Without doubt, The Book of It is a pleasant surprise even to itself."
Arlene Ang, editor of The Pedestal Magazine, and author of seeing birds in church is a kind of adieu (Cinammon Press, 2010)
"This [poetic phenomenology of it] brings us closer to the experience we know: validating and true. [It pulls us.] Daniela, invites us into the image-as-experience and in her sharp, graceful, playful naming of attributes, does not make 'it' or us object. … Instead, we are free to be pulled into the truths that reverberate in it. If 'it', sometimes, comes open and leaves closed, in the experience of reading it, I come into it and leave open. I love it!"
Christi Kramer, poet, teacher, activist (Idaho)
"'It' is the friend of the inarticulate that waters and nourishes the vast world within us: oceans of feelings, mountains of thoughts, valleys of good will, rivers of memory, orchards of creativity… Daniela has befriended 'it', and now introduces us to 'it'- to your 'it' that you may have forgotten long ago. Do you recognize 'the flame that blossoms on white winter walls and like laughter fills us'? Do you remember the time 'when you enter its house you cannot leave each door opens onto another room within'? Thank you, Daniela, for taking me gently by the hand and leading me to 'it'".
Heesoon Bai, Associate Professor, Philosophy of Education, Simon Fraser University
"WOWEEEE. It is like the Tao Te Ching but more colourful. I love that part about sitting by the campfire with Plato, melting the Forms into marshmallows. The playfulness of the book dabs from a palette of delight onto the grey matter of the adult mind. I love how you get really in between things, like a child fitting between a wall and the refrigerator. So original! So refreshing! I am also really impressed by how you create a mood and an aura with so few words. Quite masterful…"
Alex Winstanley, poet
"'It' is that window, that urgent bright day which reminds us of the possibilties that call us, if only we're willing to step out from our four walls. Each page of 'It' is a dynamic meditation, a burning juxtaposition, a study in inner tension. 'It' is brave– Elza gently takes the reader's hand, and, with her trademark sense of humour asks the critical questions in a compassionate, high-spirited way. The result is the reigniting of that fundamental spark of wonder that exists within all of us. Elza is both teacher and student in this beautiful epistemological exploration."
Christina Shah, freelance writer and editor
2010
more on 4 poets at goodreads by Arlene Ang.
This is a breathtaking anthology featuring the innovative poetry of four BC poets—accompanied by images of scribbled drafts and Joe Rosenblatt's fantastic drawings. I particularly like how many of the poems also address the question of identity stemming from different roots.
---
Favorite poems for 2010 (Staff Pick):
Comments on the poem old dust made new which appeared in One Ghana One Voice in 2010:
"Daniela uses spaces to create a sparse landscape and a staccato of varied emotions in a poem that captures Harmattan in all its glory and grimness. " – Prince Mensah
"I personally haven't experienced Harmattan for a while and this piece brings back memories, particularly of when I was a kid and had little control about the damage that this season caused our hands and lips. Great work. " – Julian Adomako-Gyimah
---
Excerpt from the Editorial in The SFU Educational Review regarding my piece of non.verifiable truths and other existent.ial celebrations
Daniela Elza lives and works in a multiverse of worlds, straddling the modern and postmodern, inviting us, through her play with the words and formatting of her concrete poetry, to reconsider meaning and our relationships to it. Drawing from the works of Robert Bringhurst and Gaston Bachelard, her work explores the complex relationships between language and knowledge. Elza's poems may be said to exist in the well-established Canadian tradition of concrete and visual poetry: the works of Earle Birney, Bill Bissett, bpNichol, Judith Copithorne, and Steve McCaffery, to name but a few. But this is not the only tradition she in.habits. She is also a bud.ding philo.sopher (phila. sophia. her), and her work properly belongs alongside such Canadian luminaries such as Jan Zwicky and Tim Lilburn. Words may not be what they initially seem. We can recast them into wholly different forms and meanings with the simple placement of a period. Our benefit is that we get to think about things in a different way; sometimes we are shocked into a radical epistemic twist. What else can you do with a lines like
"I never thought as far as

the s unset"
?
Or how about this:

".reality is that ill perceived light
that has to look into my eyes for
meaning."

Elza's pauses and dashes, her interruptions and periods, jar us out of a calm and certain scholastic comfort. At the same, though, they and the words she plays with are exhilarating and liberating for those used to a beginner's mind, a beginner's eye. Her poems at time strike with a resounding "Thwack!", like a Zen koan. Her work, like Zwicky's and Lilburn's, is both lyrical and narrative, and like theirs, her words invite you along and hold you back to pause. They tease and torment.
---
2009
---
"Reclaiming language, and the sacred white space between words, spoken and written. That seems to be the unifying thread that enlivens this remarkable collection of poetry by newcomers Daniela Elza, Peter Morin, Al Rempel, and Onjana Yawnghwe. These poets recognize the integral relationship between land and language, language and perception, perception and memory. Their work is a much-needed breath of fresh air in Canadian poetry.
When I first read Daniela Elza I wrote that her poetry "sprawls out like a laconic god over a cosmic couch." Her poems free-form across the page in what at first strikes one oddly, like a cross between a concrete poem and one that actually has something to say. Being born in Bulgaria, growing up in Nigeria and educated in the US and Canada, it's natural Elza would want to remake language in her own images. "Words are such fascinating creatures—how they can mislead us and inspire us," writes Elza in an email discussion of poetics. "And it is here that I want the reader to be smart to the point where they are in control of the playing with the words rather than the words playing with them." Elza needn't worry. She has a stunning skill for crisp renderings of fleeting moments powerfully imbued with spiritual resonance: "the way trees lean in / over / the flowing / as if trying to make it / into the frame / of your memory. / they want to stay. / keep calling to you." (in the flicker of (time)"
You can read the whole review here.
2008
---
"How greatly must human language be stretched, how creative must we become in both our perceiving and our speaking, if we are to witness responsibly the human world? Daniela Elza's poem In the Eye of a Crow comes directly after [Cheryl] Lousely's essay as an exemplar of another sort of writing and subjectivity that might be more in line than that of [Farley] Mowat with sustaining our responsibilities to the living world. Among the innovative features of her poem, Elza asks that its open verse structure be read in all possible directions on the page. In requesting this of her readers, she is moving them to a more radical responsibility in regard to the words she has offered on behalf of a crow. She is also breaking open any controlling narrative structure by which the hold upon another living entity's world might be solidified."
Dr. James Hatley (Professor of Philosophy, and guest editor, 2008)
2007
---
From the Editor's Notes of Contemporary Verse 2, Vol 29, issue 3 (on the poems an introduction to semantic collapse, emergent river of meaning, and a meta eulogy
"In Daniela Elza's poems, we watch words pull apart literally to give us the visceral innuendo of spoken language collapsing, surging, the inherent space within metaphor, no matter how small."
—Clarise Foster (Managing Editor of CV2, 2007)