Posted by Daniela Elza on Mar 21 2023
I will be at this festival in the capacity of a workshop presenter, editor, performer, and co-judge of that day's haiku contest. There are nine workshops you can pick from (for both kids and adults). Everything is FREE. There is a slam performance you can register to perform at in the evening. There will also be poetry displays and video poems.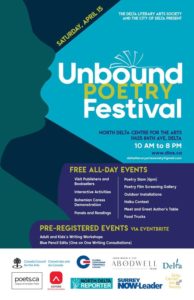 Here is the info:
SATURDAY, APRIL 15, 2023 AT 10 AM – 8 PM
Unbound Poetry Festival 2023.
11425 84 Ave, Delta, BC V4C 2L9
Do help spread the word to people you know might be interested.