Posted by Daniela Elza on Aug 05 2020 | Comment now »
The broken boat seen at the Book Warehouse right next to Leonard Cohen and above Atticus. :-) Thank you for sending me photos. I have more copies now if you would like to order: $19.95 + $3:35 for shipping in Canada.
Thank you to all who have already purchased a book. With every purchase I will send you a little gift to thank you for supporting the book at this difficult time.
Posted by Daniela Elza on Aug 05 2020 | Comment now »
Latest review of the broken boat. I love how the reviewer gets adventurous with the language. Thank you Louise Carson. And League of Canadian Poets for your book reviews program.
Read the review here.
Posted by Daniela Elza on Jul 03 2020 | Comment now »
Two more poems written in collaboration with another poet have been accepted for an anthology called Future(s) forthcoming with Collusion Books:
What Leaves, written between myself and Dutch poet Anne Van Amstel,
and teaching a machine to write poetry by feeding it my body (of work), a collaboration between myself, my son Azlen Elza & AI.

I am excited to see some more of my collaborated work finding homes in the world. After a decade, I have enough for a book that is currently looking for a publisher. If you happen to be that publisher and are interested in this project, do let me know.
Posted by Daniela Elza on Jun 24 2020 | Comment now »
Collusion Books will publish slow erosions, my collaborated work with Arlene Ang as a chapbook. It is planned to come out this October.
I am proud of this work and excited to see it find a home. It was an exhilarating experience to collaborate with Arlene and eventually to meet her face to face in Venice. The book will be in a set of three chapbooks, and I hear the design of the covers might go over the set of three to make one piece, while each book stands on its own. Perfect for collaborated work. Here is the trilogy:


slow erosions by Arlene Ang & Daniela Elza
ZZOOby MA|DE
Sprawl by Manahil Bandukwala & Conyer Clayton

Thank you Andy Verboom for loving the work and trusting in it.

Posted by Daniela Elza on Jun 04 2020 | Comment now »
Thank you to all who have ordered books from publisher, independent bookstores, or myself. I have a dozen more copies here looking at me with their big eyes. If you are in Canada I can mail to you for $ 3:35. The book is $19.95. Let me know if you were thinking of getting one, and it will be in the mail and to you within a week or so.
 If you are in Vancouver or the Mainland you might get a door delivery. And I can read you a poem or two, at the appropriate distance.
Posted by Daniela Elza on May 31 2020 | Comment now »
Readers Respond – Book View:
Carol Reid reading the broken boat in Victoria, Vancouver Island , BC, says:
***
"In the broken boat everything is in flux, as long as you are willing to allow it. And this book is about allowing as much as anything.

time sweats out of my pores like rust and

I'm afraid it will stain the wedding
gown in the closet
I have many favourite lines from the broken boat, but if I have to pick one image it will be

and how every so often I find a rock/
the ocean rolled into a heart./

… how it too was broken before/
it was rolled smooth
I will let the strength of it summarize the wisdom of this journey. Elza is brave to look, and wise to find summation in this lovely image. The healing power is in this image, and I find this a book of profound healing and self-love. Such a hard topic, especially when you are right in the vortex.
There are many beautiful images, each a rung on the ladder as you move inevitably upward to the light, until even words are abandoned:
I ask them to stop making sense
so I can grieve your loss
the way you would've wanted me to

without a sound
without a word


Thank you, Carol for adding yet another view into the many windows of this book.
Posted by Daniela Elza on May 30 2020 | Comment now »
Thank you to all who came to the virtual launch yesterday. Over 60 of you. It took a team of people to put this event on, and you made it so worthwhile. I am still sitting in the glow. Even the crows sent a representative—crow landed on the patio outside the living room just as a began to read.

Special thanks to poet Rob Taylor for being such a fun host, and to multimedia poet Natasha Boskic for taking on the challenge of technical support and managing that side of the event. Pleasure to share the "stage" with Mark Christopher Warrior and Kevin Spenst. Congratulations on your new books.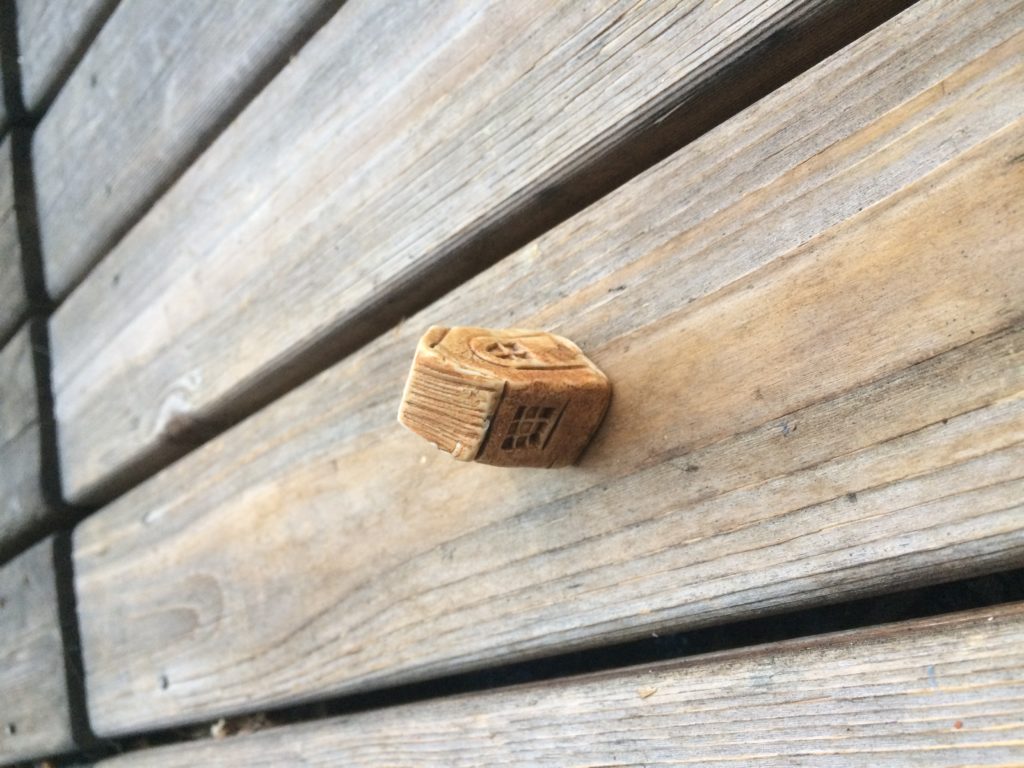 I still have some books here for sale. If you are in Vancouver I might be able to deliver to your door, or if you are elsewhere then let me know and the shipping is about $3.35 in Canada.

Right after the launch I went to the rooftop patio to sit with a glass of wine, my neighbour, who also attended the launch, and the sunset. My rooftop patio is where I wrote the majority of the poems in the broken boat. Suddenly, in the very corner between two walls, on the rock and moss was this little house (Just over an inch tall). It was not there the day before. What does this mean? Did the crows bring me this mysterious gift? Anyone recognize it? Is the universe telling me something?
Posted by Daniela Elza on May 21 2020 | Comment now »
You can now listen to this reading on youtube. Three poets read 5 min each and 10 min Q&A follows each reading.
All Lit Up's Indie Reading Room
with Sadiqa de Meijer, Daniela Elza, and Betsy Warland
The three books from last nights reading from the ALU Indie Reading Room are available for sale on All Lit Up! for 20% off until May 26th.
Promo code: READINGROOM
It comes down to $15.96 for the broken boat.
Free shipping in Canada. Click here to purchase.
Posted by Daniela Elza on May 20 2020 | Comment now »
John Vissers, reading the broken boat in Abbotsford, BC, says:

"These poems follow me through my days, sometimes prodding, sometimes pulling me from gut punch to epiphany:

"I stand on these stairs exhausted liturgical unsure—
was it up / or was it down / we were going?"

Then they sit beside me on a river bank, like Rumi might have:

"today I wrote myself / and ceased to be the writer / emerged with /
how completely the act consumes me clean /
and the light still fools me into singing"

Like the biblical Job, we too lament our losses, ecological, spiritual and relational:
"and I don't know if your arms ever were /
outstretched or intended to catch me.

This book is a four-dimensional tapestry, warp and weft of past and present. These poems hold on to each other, weave subtle unexpected threads,
stitching me back to myself and my own experiences."

Thank you John! What an honour to be places in the same space on the riverbank with Rumi.

The ALU Indie Reading Room has the book for sale (on sale) at All Lit Up! site for 20% off until May 26th. It comes down to $15.96 + free shipping.
Click here to purchase. For the discount type up the Promo Code: READINGROOM