Posted by Daniela Elza on Oct 16 2019 | Comment now »
I will be reading for, to, and among the trees tomorrow (Thursday) at the Sidney and Gertrude Zack Gallery. See poster for details. Audience members will have a chance to write as well and read at the open mic portion of the event. Maybe I will see you there.
Posted by Daniela Elza on Oct 14 2019 | Comment now »
My new book is slated to be out in April 2020. Working on the blurb right now. And below is the cover. Still in the deep waters of editing.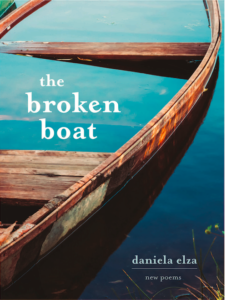 How is this for the blurb so far. It is so hard to write meaningful blurbs. If the book can summed up like that then there is no need to write it. :-)


Back cover blurb:
In her fourth book of poetry, Elza deftly builds a raft of questions to stay afloat amidst the breaking of things. A twenty-year marriage that has taken on too much water, mirrors subtler breakages and fragmentations in her city and natural world. "/her story comes    a/part w/here the poem rips." How do you survive this loss of meaning, this "wintering through"? The intricacies of light, of nature, of water buoy us through grief and begin to astonish, to lift us into making meaning again. Transforming and coupling a deeper self with the soulful eros/ions of our world.
Posted by Daniela Elza on Oct 12 2019 | Comment now »
My poem grief's workshop is forthcoming in the anthology A Journey Across New Westminster by Word: A Poetry of Place.
Thank you to the editor Alan Hill for including it.
Posted by Daniela Elza on Aug 26 2019 | Comment now »
I was browsing through my bookshelf looking for a reference and came upon this editorial comment by the guest editor James Hatley in a special issue he edited for Environmental Philosophy called Species of Thought: In the Approach of a More-than-Human World (Volume V, Issue II, 2008). I am so grateful to his perceptive reading and for his insight. It is very rewarding when what I hope to do with poems and my form comes through in thoughtful reading.
"How greatly must human language be stretched, how creative must we become in both our perceiving and our speaking, if we are to witness responsibly the living world? Daniela Elza's poem "In the Eye of the Crow" comes … as an exemplar of another sort of writing and subjectivity that might be more in line with that of Mowat with sustaining our responsibilities to the living world. Among the innovative features of her poem, Elza asks that its open verse structure be read in all possible directions on the page. In requesting this of her readers, she is moving them to a more radical responsibility in regard to the words she has offered on behalf of a crow. She is also breaking open any controlling narrative structure by which the hold upon another living entity's world might be solidified."
—James Hatley, Salisbury University
Posted by Daniela Elza on Jul 31 2019 | Comment now »
My poem Our Own Lemon Creek will be published in the Sweet Water: Poems for the Watersheds.  
The anthology's edited by Yvonne Blomer. This is the second volume in the series after Refugium: Poems for the Pacific.
Posted by Daniela Elza on Jul 09 2019 | Comment now »
A little story I wrote from a long time ago about a visit to the doctors office with my son, is up on Terrible Twosdays today. You can read it here: C.heckmate.
Yes, it was a long time ago, and originally this story got some love at OCW (One Cool Word) magazine.
Posted by Daniela Elza on Jun 26 2019 | Comment now »
My poem Our Own Lemon Creek has been accepted for inclusion in the yet to be named Poems for the Watershed anthology. This will be volume two following Refugium: Poems for the Pacific. It is due out in the Fall of 2020.
I am also currently working on my manuscript that is slated for publication in April 2020. It has been a difficult time to pull on all these poems and decide if they are ordered right, if they say what I want them to eventually amount to saying.
Ok, back to work on it now. Deadline to hand it to the publisher is at the end of this week.
Patio days have come and I just pray the fires a less this year and the air is easier to breathe.
Posted by Daniela Elza on Jun 25 2019 | Comment now »
My poem blank canvases on display is featured in this issue of Event Magazine (48.1). Thank you to the editors who did a great job with the lay out and the art that is on the page facing the poem. It goes so well with the themes of the poem.
Posted by Daniela Elza on Jun 25 2019 | Comment now »
Third year in a row I am delighted to hear that one of my students got placed in the Jessamy Stursberg Poetry Prize (The League of Canadian Poets Contest for Youth). In three years five of my students have won and been recognized at this contest for their poems.
This year Jonathan Chu won first place in the junior category with his poem All Purple.
His other poem, Jia,got an Honourable Mention.

Way to go Jonathan! The dedication you show for your writing is admirable.