Posted by Daniela Elza on Mar 16 2019 | Comment now »
I will be reading tomorrow at Poetic Justice (Poetry New West)
2pm sharp
@ The Heritage Grill, 447 Columbia Street, New Westminster
features
Michelle Barker & Daniela Elza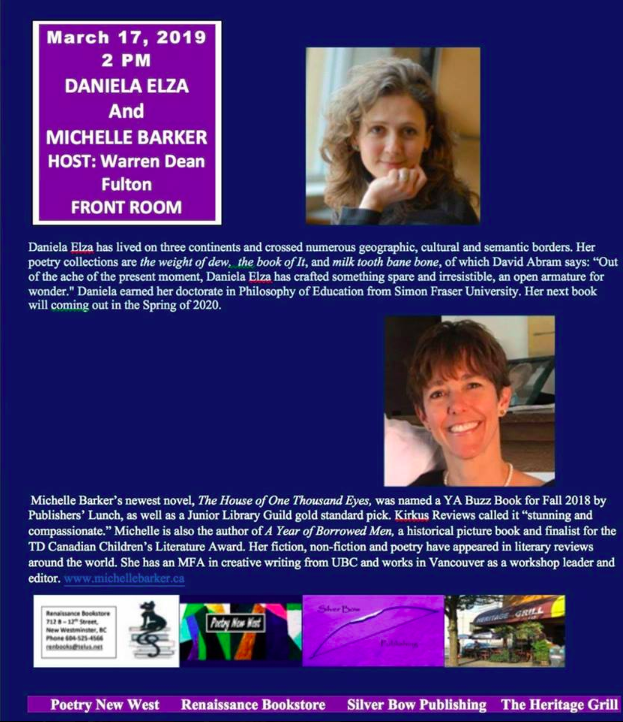 Posted by Daniela Elza on Mar 07 2019 | Comment now »
April is Poetry Month in Canada. And I am glad to begin the month with a poetry reading at the Historic Joy Kogawa House (1450 West 64th Avenue, Vancouver, British Columbia V6P 2N4). Join us Thursday April 4th, at 7pm for readings across the poetic spectrum. Featuring: Kevin Spenst, Kayla Czaga, Raoul Fernandes, Daniela Elza Also reading: Rhea Tregebov, Danny Peart, Jane Munro, Emily Davidson.
There will be food, drinks, music, laughter, bookstore… All poets, their friends, and family are welcome. (Bring food, drinks or $2 donation to the Vancouver Foodbank)
Come and celebrate with us.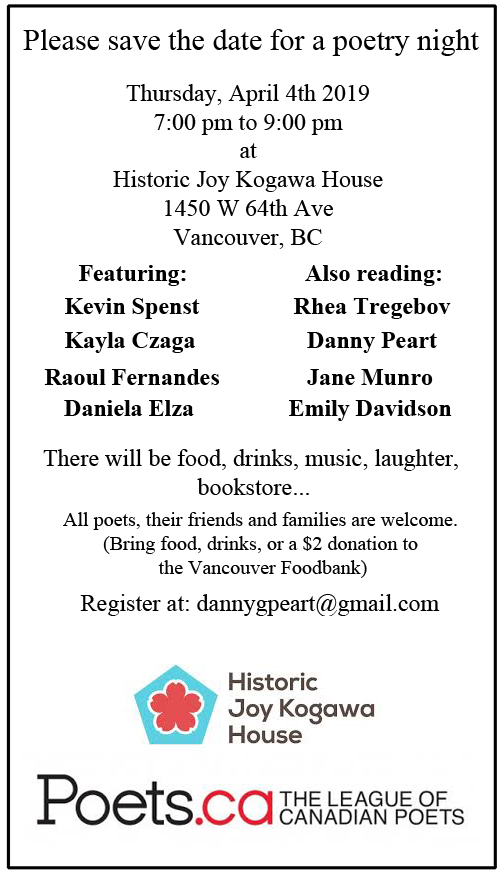 Posted by Daniela Elza on Feb 06 2019 | Comment now »
My essay it begins with our words will be published in Science-Based Vulnerability: Scientists and Poets #RESIST, by Brill in the Personal/Public Scholarship series.
Each of the pieces in this book use the seven words banned by the Trump administration in official Health and Human Service documents in December 2017. The words are:
vulnerable
entitlement
diversity
transgender
fetus
evidence-based
science-based
The call asked contributors to: tell your story in verse, creative nonfiction, and/or personal narrative. How does your story represent an act of resistance, a political commentary, part of the dialogue on the importance of art and science?
What is your story of resistance? How does the current political climate influence your work?
Posted by Daniela Elza on Dec 24 2018 | 1 Comment »
It has been such a gift and delight to hear the new 2018 re-mix of our crow morphologies CD. The CD first came out in 2013. Soressa Gardner had fun with it again and here it is now on bandcamp. Mostly because you asked for it. You can have a listen. The crows are pleased.
So for all of you who wanted to get this album online, you can find it there. It might be a sweet last minute gift for your friends and family who are crow lovers, or just poetry lovers who prefer to listen to poetry.
The crows shift-shape and shape-shift through memory, and language and life. They are the ever present and changing tricksters. There is also lots of snow so perfect for this time of the year. Soressa's voice and soundscapes weave through the landscapes and add to the mystery.
For those of you who have purchased the CD and would like the re-mix, I will send you a code for a free download. (Just let me know). Thank you for supporting this project.
I also have the final batch (from the first print run) of milk tooth bane bone books. The poems in this CD come form it.
If you would like the book and CD pair, let me know. The book with more information can also be found on the Leaf Press website.
Wishing you happy end of the year celebrations and best wishes for a year ahead that allows us all to breathe easier in all sorts of ways.
Posted by Daniela Elza on Dec 18 2018 | Comment now »
It's sweet to wake up to an acceptance.
Event Magazine will publish my poem blank canvases on display. Thank you to the editors for loving it.
This new poem left the house for the first time in August. And I was wondering how it was doing. So good to see it find a home.
Posted by Daniela Elza on Dec 04 2018 | Comment now »
Another poem of mine went up today on Poetry Pause. This one is the opening act of the weight of dew (Mother Tongue Publishing, 2102). Mother Tongue will publish my next full collection of poetry in 2020.
You can subscribe to receive a poem a day from Poetry Pause here.
Posted by Daniela Elza on Nov 30 2018 | Comment now »
The Black Earth Institute and About Place Journal have announced their nominations for the Pushcart Prize contest. My essay Bringing the Roots Home is one of six pieces nominated.
What a lovely surprise.
Thank you to the Black Earth Institute and the editors Melissa Tuckey and Lauren Camp for this selection. First essay nomination ever.
You can read the essay here.
Posted by Daniela Elza on Nov 15 2018 | Comment now »
my poem :grief: is getting some love. The editors of the Inflectionist Review have nominated it for the 2019 Pushcart Prize.
Here is the annoucement.
The Inflectionist Review is honored to nominate these fine poems for the 2019 The Pushcart Prize Contest. Please join us in celebrating these brilliant poets!

":grief:" by Daniela Elza
"Dead" by Christine A. MacKenzie
"Ring Buoy" by Jon D. Lee
"The Silverfish" by Laton Carter
"It was after the slaughter" by Lisa Bren
"Marrow" by Shenan Hahn Shenan Hahn
You can read the poem on page 34 & 35 in issue #7 here.
Posted by Daniela Elza on Nov 14 2018 | Comment now »
My poem suddenly leaves was on Poetry Pause on November 12. Poetry Pause is the poem-a-day project by the League of Canadian Poets. You can subscribe to receive each day a poem in your email box. I currently receive three poems a day and that is nice since it makes me read some poems each day and I can make little discoveries.
I wrote suddenly leaves a long time ago, it would be a teenager now if years mattered for poems.
So it's nice to see it go out on more adventures. It will also likely be in my upcoming book which is slated for publication in the Spring of 2020.