Posted by Daniela Elza on Mar 14 2020 | Comment now »
This event is currently on hold, and likely to be moved. Will update when we know for sure.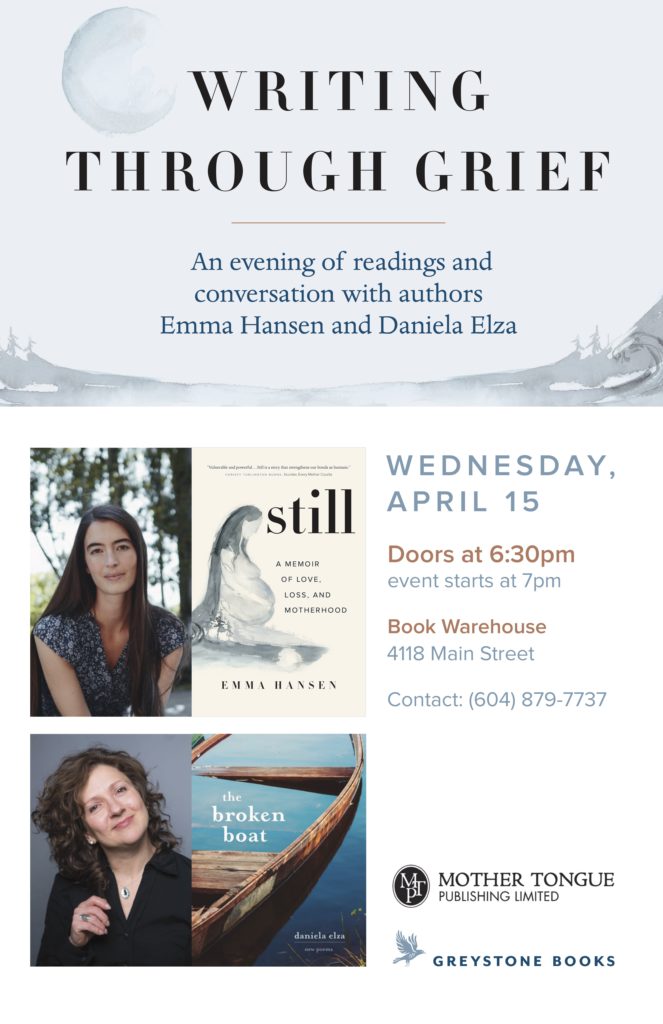 Posted by Daniela Elza on Mar 07 2020 | Comment now »
the broken boat has gone to the printer. What a journey.
For those who wish to preorder click here to go to the publishers website.

The 5$ for shipping is included in the price.
Select book by clicking on the cover where it says "Buy Now", then scroll down and you'll see the "shopping cart" with the item in it.

I will have copies on hand by April 15th. Thank you for your support, always.
Posted by Daniela Elza on Feb 29 2020 | Comment now »
My essay Is This an Illness or an Accident? has been shortlisted for the 2019 EVENT Magazine Non-Fiction Contest. Congratulation to all the people on the list. Winners will be announced in a week or two.
It was great to come home to this news after a long and intense day at work.
Posted by Daniela Elza on Feb 17 2020 | Comment now »
Here is the schedule of upcoming readings for the new book. I am looking forward to some traveling and connection with people I know and meeting some poetry fans. First reading is on an island I've never been to before. Thank you, to all the hosts who have been so kind as to apply for me for funding and securing the reading space. Looking forward to seeing you all and hanging out.
VANCOUVER
April 15, 2020, 7pm
Book Warehouse on Main Street
Daniela Elza and Emma Hansen
4118 Main St.
Vancouver, British Columbia V5V 3P7
(604) 879-7737
---
April 29, 2020, 3:30pm
HORNBY ISLAND
Poetry Hornby Island
Daniela Elza (the broken boat, poetry) and Traci Skuce (Hunger Moon, short fiction)
Location: 5365 Reicken Rd, Hornby Island, BC V0R 1Z0
Host: Cornelia Hoogland
---
April 30, 2020, 6:30pm
NANAIMO
Features Daniela Elza (the broken boat, 2020)
Location: Vancouver Island Regional Library
90 Commercial St. Nanaimo BC
250-753-1154
Host: Mary Ann Moore
---
Thursday, May 7th, 2020, 7pm
SALT SPRING ISLAND
Salt Spring Island Public Library
7:30pm Guest Poet Daniela Elza (the broken boat, 2020)
Sign up for open mic at 6:45pm, Open Mic Readings at 7pm.
Location: 129 McPhillips Ave, Salt Spring Island BC
Phone (250) 537-4666
---
Friday, May 15th, 2020, 7:15 -9pm
VICTORIA
Planet Earth Reading Series
Featured Reader: daniela elza (the broken boat, 2020). Location: Hillside Coffee and Tea, 1633 Hillside Ave
(across from Bolen Books).
Between 6:45 and 7:00, put your name in the hat to read at open mic.
---
Thursday, May 28, 2020, 7-9pm
VANCOUVER
Double Book Launch @ Twisted Poets Literary Salon
Daniela Elza (the broken boat) and M.C. Warrior (Disappearing Minglewood Blues)
Guest Reader and Host: Kate Braid
Location: Hood 29 (previously known as Cottage Bistro)
4468 Main Street, Vancouver, BC
---
June 26, 2020
PRINCE GEORGE, BC (more details to come)
---
June 27, 2020
SMITHERS, BC (more details to come)
---
June 28, 2020
TERRACE, BC (more details soon)
---
September 27, 2020
WORD, Vancouver (Vancouver Public Library, Central Branch).
---
November 18, 2020, 12 p.m.–1 p.m.
VANCOUVER
Lunch Poems
Teck Gallery at SFU Vancouver
515 West Hastings St., Main Floor
Everyone welcome. Bring your lunch!
Posted by Daniela Elza on Feb 16 2020 | Comment now »
The book is out of my hands now and with copy editors and publisher and printer. What we have so far. Back cover blurbs are in. Thank you to the three amazing poets who took the time to read and write a blurb for the book.
"In the broken boat, Daniela Elza explores the unraveling of a relationship as it is truly experienced: not a tidy narrative of good and bad, but an undulating, multifaceted journey through grief, with no real beginning or end. These poems shatter and shine like river light."—Rob Taylor, author of The News.
"This brave new collection by Daniela Elza is both lament and praise for the ending of a marriage. The poems, fractured and musical on the page, are at once stark and complex, surreal and familiar. There is a vertiginous sense of unsteady balance, of climbing, rung to rung. And yet, a delicate strength is here—a learning how to move through grief."—Miranda Pearson, author of Rail.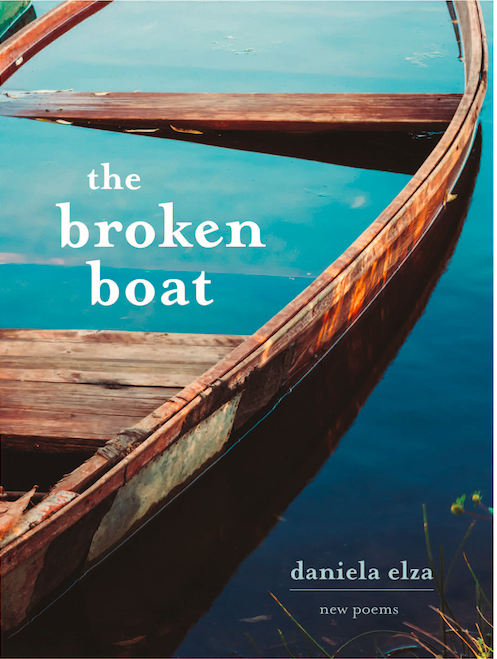 "The broken boat moves us through the psychological, social and legal ramifications of bodies coming together and coming apart, and Elza's attention to the gravitational tug of metaphors bears witness to the intensities that join us. The broken boat crystallizes the transformational heft of learning how we can be "our own questions' answers."—Kevin Spenst, author of Hearts Amok: A Memoir in Verse.
Posted by Daniela Elza on Jan 02 2020 | Comment now »
Let this be the beginning of a better and wiser decade. I hope we come to our senses, all of them, and stop being such a destructive species. Let's regain the trust we need to have in each other and our institutions.

On the personal level I hope it is a great year for both the heart and the mind. And let there be more poetry, more love, and more human connection, intimacy and kindness.
Even scientists are now showing that doing good is not only good for the world and people around you, but it's good for you. As if we needed them to tell us that, but if that is what you needed to push you over the edge then you have it now.
So do it. Help someone, lift someone up, and take good care of yourself too.
And let there be more trees. We lost so many this past decade.

Posted by Daniela Elza on Dec 31 2019 | 1 Comment »
Lovely to see this piece come out on the cusp of the new year. A few of us wrote pieces in memory of E. D. Blodgett.
I did a cento of first lines from his book Sleep~You~A Tree.
A cento of beginnings—
Here take a read. In memoriam E. D. Blodgett. I am at the end.
Posted by Daniela Elza on Dec 29 2019 | Comment now »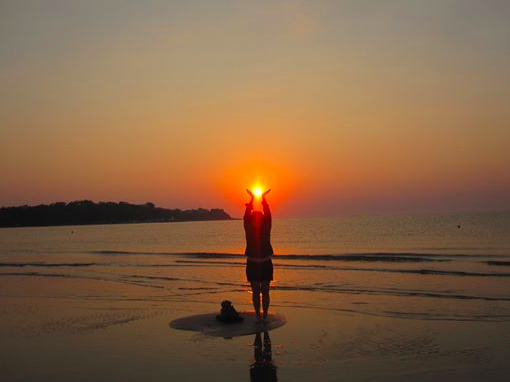 Winter solstice is something I like celebrating more than Christmas. We did not make a big deal of Christmas when I was growing up. But New Years was a big deal. This looking back, looking forward moment and stepping over the threshold of the New Year.
On the night of the 21st of December there are so many events on Granville Island with dancing and drumming and a fire show a the end of which they light up a sun on the top of the green hill. So we go, and carry a lantern or candle or something that adds to the light.
So this is me pushing the light up into the New Year.

I still prefer the New Year celebrations. Mostly because many make a big deal of Christmas and it is so commercialized that the New Year celebration seems more true and honest to me. It is less anxious and less anxiety driven.

We are at the Oregon Coast for this threshold, this stepping into the 2020. The surf is incessant and mesmerizing. Time for thinking, writing, looking back and looking forward.

I hope you have a chance to do that too in some sweet spot and set the tone for the next year.
Posted by Daniela Elza on Nov 06 2019 | 1 Comment »
The book with my essay It Begins With Our Words arrived today. This is my fourth published essay.