Posted by Daniela Elza on Jan 13 2021 | Comment now »
The inaugural Collusion Books season with live premiere of videopoetic performances in 25 minutes you can watch the premier of the three chapbooks. This will be a streaming event you can attend or one you can stream later.
First chapbook and first launch YouTube style.
Today's premier launch of slow erosions chapbook will be on YouTube, between 3 -4pm PST/6-7pmEST. Link to event today: https://youtu.be/vlS2qUYIq6c

6pm EST / 3pm PST.
"A Trip to the Zzoo"MA|DE (Mark Laliberte x Jade Wallace)
"Sprawl | the time it took us to forget"Manahil Bandukwala x Conyer Clayton
"slow erosions"Arlene Ang x Daniela Elza
Posted by Daniela Elza on Jan 03 2021 | Comment now »
The New Year is in and many are happy to see 2020 gone. It did live up to 2020 vision metaphor, where in hindsight we see how much we have mucked up the world. The crows are congregating outside my window spreading the tidings. And the sun is breaking through the clouds after days of rain and grey skies.
Here is to a new beginning. The year is still brand new, shiny, and squeaky clean. I hope we take to heart 2020 and what we have learned and plan and fight to change the world for the better. It begins with each one of us and the responsibilities we take. We can work together toward a more just, safe, and healthy future which has human wellbeing at its core, not a profit margin on the world.

On the publishing front, the harvest from last year is trickling it. That is the thing with publishing. It takes so long. Maybe that is why it feels is rewarding. It takes time and patience, in an impatient world. Here in the Riddle Fence, my name on the front cover, and, inside, an essay called "The Poem and the Carrot Went for a Walk one Day." Hope you enjoy it.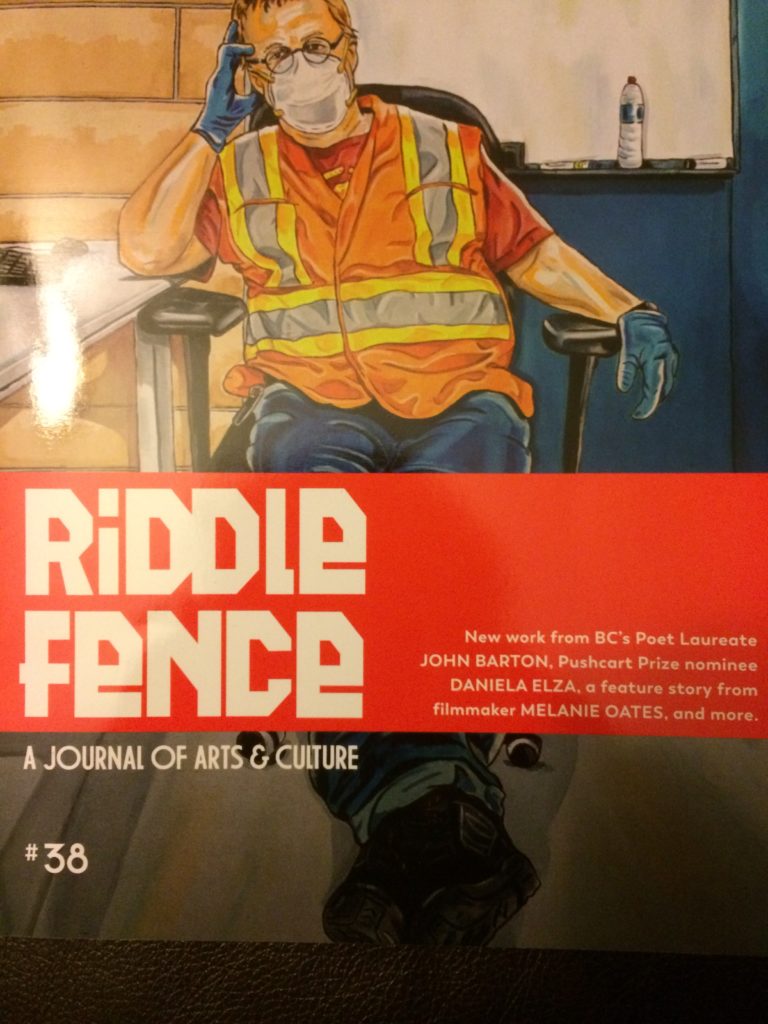 In the picture below are the publications I'm most proud of. the broken boat is a full length collection, that took its time. slow erosions is a chapbook of collaborated poems between myself and Arlene Ang (a project I began a decade ago). And two essays. The one above. And the one below in. . .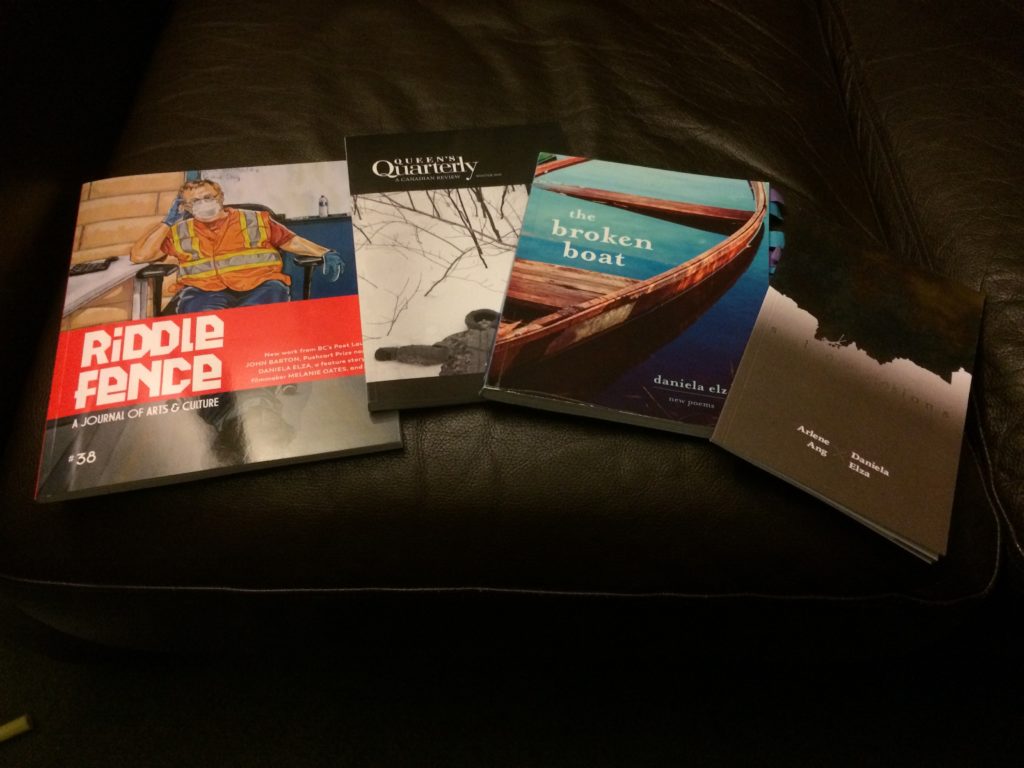 The Queen's Quarterly. I am delighted that my essay "But Where Are You Really From?" found a home in this beautiful publication. It also allowed for photos from the trip (I took with my son through Venice to Bulgaria and back through Munich) to accompany the essay.
The essay begins with my favourite photo from the trip, which also becomes a metaphor of sorts in the essay. When you get a chance to read some, or all, of these, I would love your thoughts.
In the mean time, I still have a few copies left of the broken boat. You can also get it directly from the publisher with free shipping still in effect. Sorry I cannot offer free shipping.
I have more chapbooks on order. I sold out of the first batch. You can still get them from me, before the launch on January 13th, for the sweet price of $10 + $2 for shipping in Canada. You can also get copies directly from the publisher here. slow erosions now has its own page.
Thank you for all your support in the last year, and let's make this next one count.
Posted by Daniela Elza on Dec 23 2020 | Comment now »
They arrived on Solstice day. Thank you Collusion Books.
Signed copies @ $15 dollars + free shipping in Canada.
Each book is numbered out of 100.
I have the even numbers up to 20 and all from 21 to 30.
2, 4, 6, 16, 18, & 22 are taken. Let me know if you want one.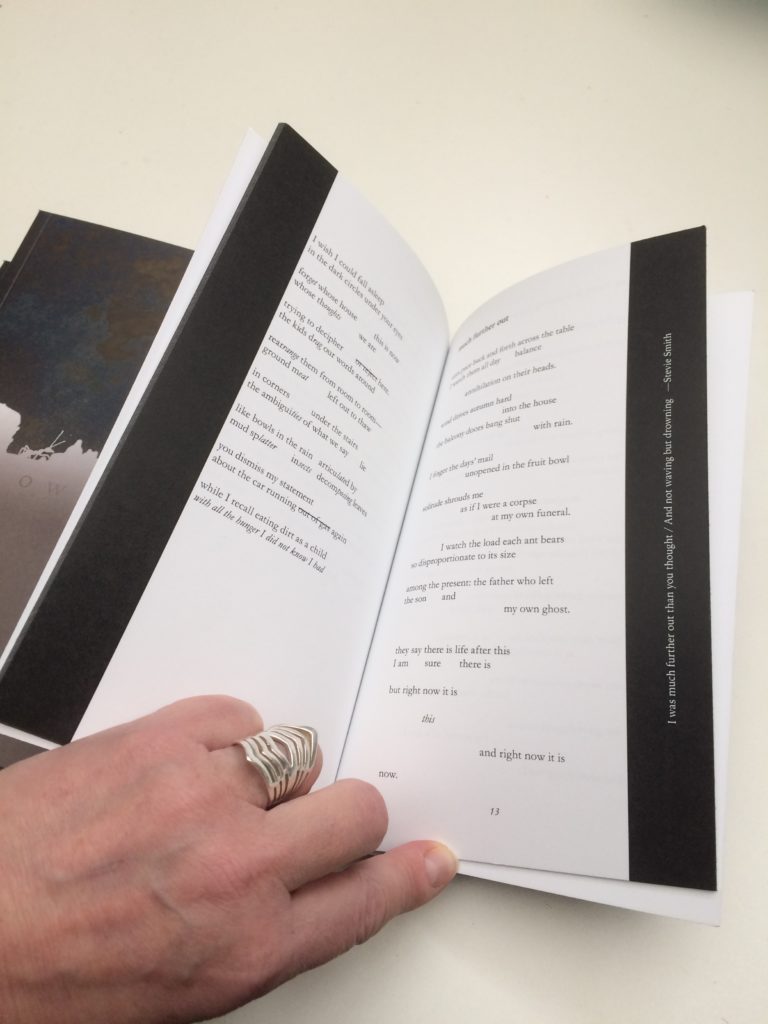 If you want higher numbers you can get it here from the publisher's website. Also free shipping before the launch on January 13.
HAPPY HOLIDAYS to all.
All the best in the Holiday Season.
Posted by Daniela Elza on Dec 14 2020 | Comment now »
We have nailed a launch for the chapbook.
January 13, 2021, 3-4pm PST / 6-7pm EST.
Virtual event.
Before Jan. 13 the publisher is offering free shipping. I am about to receive my copies in the mail and will have some here in case you wish one signed and handed to you. This is my first chapbook and first collection of collaborate poems. Many of you know I have a much longer collection of such work looking for a publisher. If you are a publisher interested in such things I would be happy to chat. This is a unique book that may not have been done this way and on this scale before.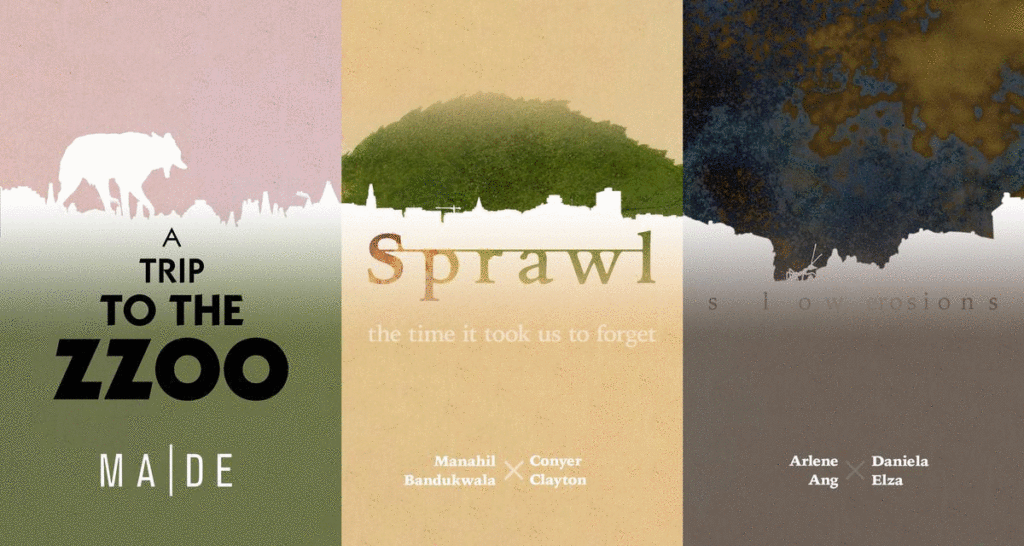 If you are on FB this is the link to the event page. https://www.facebook.com/events/230165468497974
To purchase a copy click here. Free shipping in effect up to the launch on the 13th of January .
Posted by Daniela Elza on Nov 16 2020 | Comment now »
It is always a delight to serendipitously find comments on the broken boat:
Here are two I found on Goodreads:

"I have read this book three times now. The first time all in one sitting … like a novel. The second time more slowly, and now a poem a day as a meditation.
It truly resonates with me on so many levels. The meditations help me to finally understand the loss of my own relationship so many years ago. Beyond the loss there is the beautiful language and stunning metaphor in each of these poems/meditations."
—Mary Duffy, Poet, Teacher, Librarian

"Daniela has an amazing sense of language—not only its sounds but also the shapes and textures of words. She plays with language, uses it to find more meaning, which I think is the essence of poetry.
So many of these poems made me sad. This is a book about grieving a huge loss. There is loneliness and a strong feeling of isolation, a lack of communication that she ironically communicates perfectly.
Loved this book. It is one I will reread."
—Michelle Barker, author of My Long List of Impossible Things, and The House of One Thousand Eyes

Thank you Mary and Michelle! In this lonely time of the pandemic it is nice to hear echoes and voices coming back.
Posted by Daniela Elza on Nov 11 2020 | Comment now »
It has been a week full of distractions and exhaustions. This morning I woke up to what remains up on Poetry Pause, a poem a day program from the League of Canadian Poets.
The thought that a 1000 people might be reading this poem in their inbox today is humbling. Thank you for the emails.
Posted by Daniela Elza on Nov 09 2020 | Comment now »
My poem forecasts was accepted for the digital Watch Your Head project which is an anthology of creative works devoted to climate justice and the climate crisis. You can read more on this project here.
You can read forecasts here. There will also be an audio of the poem uploaded in the coming week or so. I just need to get to recording it first. :-) Stay tuned.
Posted by Daniela Elza on Oct 19 2020 | Comment now »
Next, and likely final reading for a while from the broken boat (Mother Tongue, 2020) will be next month. You need to register online to get the virtual link to the event. Event it FREE. Below is the info.
Wednesday, November 18, 2020
Lunch Poems Reading Series
Features Daniela Elza & Danielle LaFrance
Link to register for this event 
12 p.m.–1 p.m. PT | Online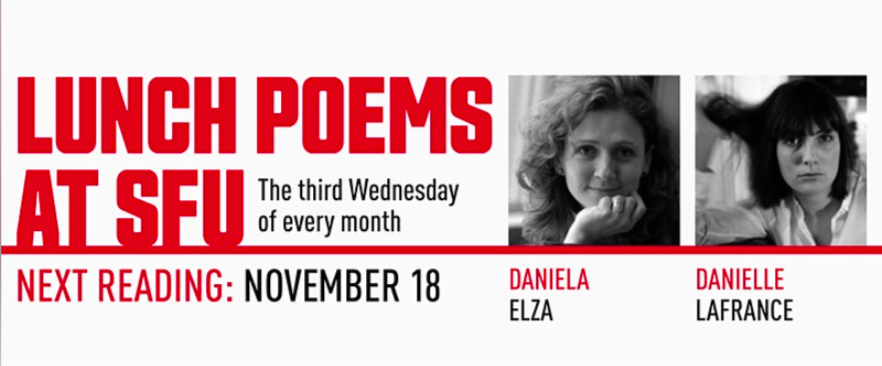 Posted by Daniela Elza on Oct 16 2020 | Comment now »
The cover is done and the chapbook is heading to the printer. You can preorder your copy now.
slow erosions is published by Collusion Books. The poems in it are written in collaboration across the miles with Arlene Ang. The image on the cover, dated 1893, is one of the first "celestographs" made by laying a photographic plate outside at night. The plate reacted to atmospheric particles and temperatures, so it turned out to be a long-exposure photograph of dust. The skyline is of Venice, where Arlene and I met after writing together for seven years. We began writing collaboratively a decade ago.

You can now preorder the chapbook, or the whole set of three, on the website. This is a set of three chapbooks all written in collaboration between two, and they are the inaugural set. So another first.

Click here to preorder.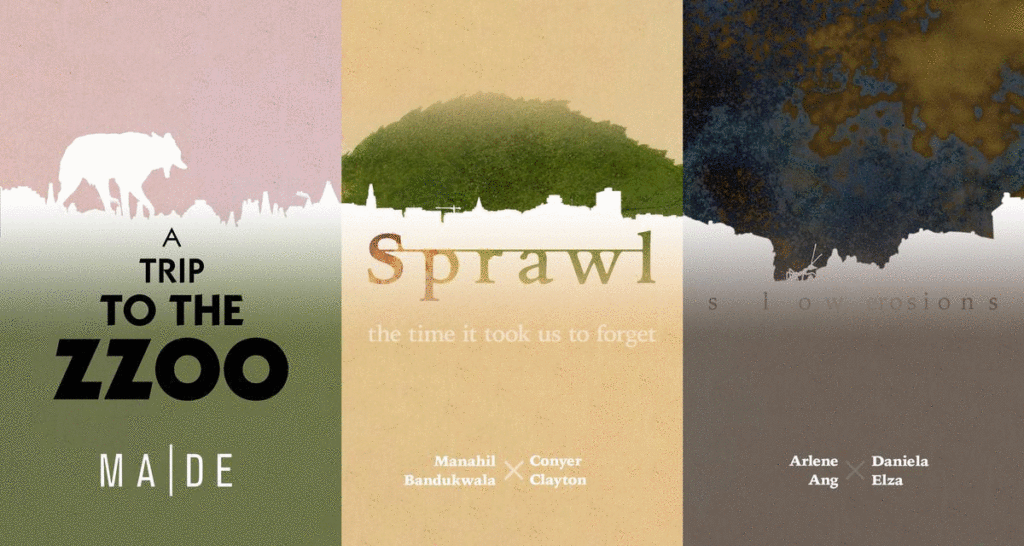 Thank you Andy Verboom for editing, design, coordinating across three chapbooks, and 7 people, and publishing this long exposure of our collaboration, this labour of love.