Posted by Daniela Elza on Jul 12 2010
Last night saw the last of the four-night reading marathon that Al Rempel and I did in honour of launching his new book understories (Caitlin Press, 2010). I loved it when Rob Taylor put up the notices under the title of rempelfest. (Thanks Rob for spreading the word and always for your humour). All the nights went well, and were very different flavours.
Thank you to the TWS Reading Series (on Friday) which always does a fabulous job at bringing us together and lining up a variety of writers whose work we sample and enjoy.
I want to thank Fiona Tinwei Lam and Christi Kramer for joining us on Saturday evening for a reading at the Wired Monk. Reading from Enter the Chrysanthemum and Intimate Distances, Fiona took us with grace into the intimate world of family. Christi gave us a flavour of her manuscript Reading the Throne which is an ethnography of Iraqi Kurds living in exile in Harrisonburg, Virginia (a semi-finalist in the Dorset Prize 2008-2009). Also a taste of some of her poems on alleys.
Last night, at Café Montmartre, was especially enjoyable for me because I had the honour to read alongside Clyde Reed who was gracious to join us and improvise as we read. It was a collaboration which was magical, fleeting, unrepeatable, and remains there on the spot for those who came. Thoroughly enjoyed. Thanks Dethe for the photos.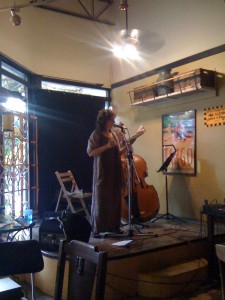 Still, the feeling I am left with today is real and sticks around. I feel recharged. Whatever energy I put out was given back by the playing we engaged in, the audience, my fellow poets Kate Braid, and Al Rempel. Kate mesmerized us with poems from Inward to the Bones and A Well-Mannered Storm and Al immersed us in a poetic cartography of and around Prince George and then further to other places of BC. See for yourself his poetic google map.
Special thanks also go out to publisher Vici Johnstone (Caitlin Press) for helping bring this event together, for (wo)manning the book table, for doing a fabulous job MC-ing and introducing the poets. For her generous presence, and of course… for publishing beautiful books.

Last but not least: an event is not an event without its audience. So a basket of gratitude goes out to each one who came out to support the events. Hope you too are left recharged, enriched and inspired.