Posted by Daniela Elza on Oct 04 2010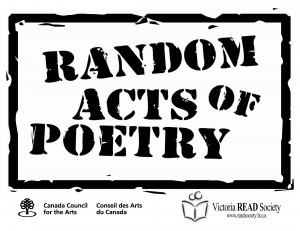 This week (Oct 4th —9th) is Random Acts of Poetry week.
30 poets across Canada have signed up to participate. The focus this year is on youth at risk.
I took on the challenge. The marathon has begun.
In its seventh year now, Random Acts of Poetry is made possible by its founder Wendy Morton and the Victoria READ Society. It is also sponsored by the Canada Council for the Arts. Thanks Wendy Morton and Victoria READ Society and sponsors for such a wonderful program. A win-win for all involved.
For more information: visit the Random Acts of Poetry website.