Posted by Daniela Elza on Mar 18 2011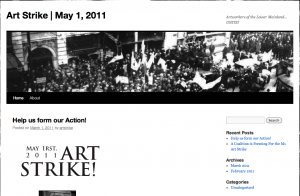 As many of you probably know the funding in the arts has been slowly eroding. Last year a lot of organizations got badly hit by huge funding cuts, some of which were later restored. I would like to think that was because we raised our voices as organizations, individuals, and communities.
Here is another opportunity. A way to bring some blood back into MayDay (metaphorically speaking, of course.) This is an event to continue voicing the detrimental effects of such cutting-funding-to-the-arts trends. It is hard to do much with ice-cream money. (That is still how I think of the money I make with my writing.) So much depends on volunteer work. Which I seem to be doing a lot of.
If you want to be part of the May Strike click here to go to their website for more info and details. And click here for the post on the event. Planning sessions will be held at 12:00 Noon on Saturdays – March 12, 19 & 26 at the Shudder Gallery (located at 433 Columbia Street in Chinatown).
And please do help spread the word.