Posted by Daniela Elza on Apr 06 2011
Things do tend to converge.
We finally gave the book of it a push and it should be available for the Kindle within 24 hours. An exciting new beginning with ebooks. Coming soon to the Apple iBookstore near you.
I thank my son for the cover. And of course Dethe for all the research into ebooks and help with editing.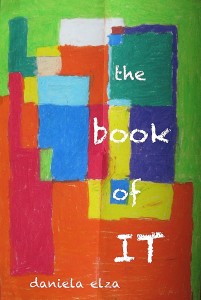 THE BOOK OF IT you ask? What is it about?
Nothing can really prepare us for what is about to be experienced. In the case of creativity and imagination nothing really should. So what is a description to do?

This book is about that which cannot be named, but can be pervasive in our lives (if we let it). It dwells in the spaces that call us to attention, to an embodied awareness of the poetry that is our lives. It is about words and the places they take us. It is about the paradox of naming. It is a metaphor. It is also about school. It is about being and becoming in the inconclusive manuscript of life. It is about creativity and the alchemy of the imagination. It is about knowing, and perhaps how we know more than we know we know. It is about the contemplative mind that wants more.
Ok, now it is your turn to tell me what it is about.