Posted by Daniela Elza on Jun 23 2011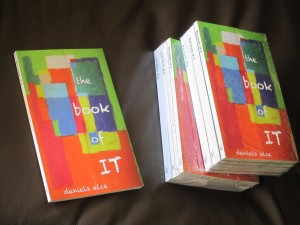 Yes, the book of It is finally here. Now in its physical shape. My treatise to creativity and imagination has a worldly form. I know the picture is not that great, but the excitement makes up for it. I had no idea when the book will arrive due to our mail delivery drought (I want the best for our mail workers, but (hey guys) for some one who depends a lot on mail to do her work, I am hurting here). Yesterday a FedEx man (lost in the little streets and dead ends of False Creek) called me, and there they were.
Tried taking photos of myself with the book but the excitement was too much for the camera to contain. (Too goofy.) So we will do without those. Suffice to say that having the physical book feels pretty good, even though the virtual one felt very good too. (Perhaps a little less on the actual feeling part.) I love the size and I am happy with how the cover turned out. For those of you who want to do your own orders here is the print-on-demand version and for those who just wanted it as simple as possible here it is as a pdf. For those of you who would like to get a copy when you see me, I hope to have some on hand.
Tonight the book of It will make a modest appearance at the Jewish Community Center. Here are the details:
Thursday, June 23, 2011, 8-10 pm
An Open Mic in connection with Vancouver Keep it Spectacular! (Mixed Media Paintings and Drawings by Joel Libin)
Location: Sidney and Gertrude Zack Gallery at the Jewish Community Centre
950 West 41st Avenue (just east of Oak Street in Vancouver)
Free Admission
Open Mic includes a diverse array of Vancouver artists: Tom Myring (Acoustic Guitar), Victor Cobian and Broken By Fire (Concert), Ryan Nadel (Short Story and Poetry), Poetry by Bonnie Nish, Daniela Elza, David Shewell and Robin Susanto, Joel Libin (Short Story and Poetry), Jeff Cunningham (Video Artist), Ryan Smith (Video Artist), Ira Cooper (Video Artist), Peter Koulouris (Video Artist)
Additional Open Mic Participation
Maybe I will see you there. Or maybe you will see me there. In any case.