Posted by Daniela Elza on Oct 02 2011
Yesterday they predicted 60% chance of rain. With such a grim prediction, I set off to be part of the 100% chance for poetry in Qulaicum Beach in front of the Old School House Arts Centre. This was to be the inaugural Roaming Poets event. It was conceived as a continuation of what the Random Acts of Poetry started seven years ago, but ran out of funding. Thank you to the League of Canadian Poets for supporting this event.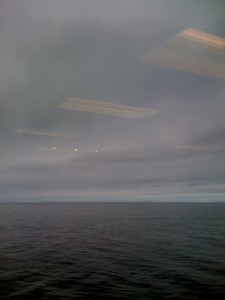 On the 8:30am ferry with raincoat, my biggest umbrella, and the hope that all of you I asked to bring some sun and a poem would take me up on it.
The ferry was pretty full and animated with the noise of the cafe and the few baseball teams of what looked like high school boys. I used my time on the ferry to read and write and think. To immerse myself in Another Gravity.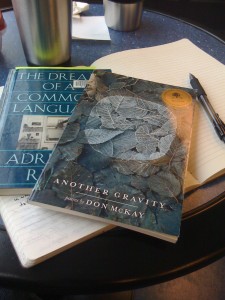 Kim Goldberg picked me up at the Departure Bay terminal in Nanaimo. We first had a visit with Joe Rosenblatt and his house full of art, his lovely wife, and… and … his very friendly cats. See, if you did not have a lap they would make one to climb into.
Then we headed out to the first location the Roaming poets were to read- the Old School House Arts Centre. Where I finally met David Fraser, the brain behind this event.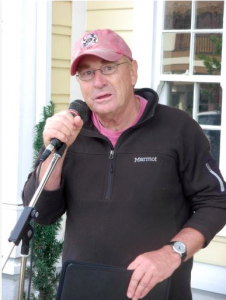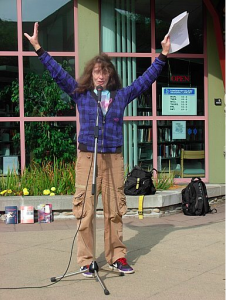 (Thank you Kim for these photos).
After an hour of the three of us taking turns reading poems with open mic volunteers we strolled down to the courtyard in front of the library, where we read for another 40 or so minutes. This time in full sun, in full view of the fountain and the Bailey's coffee house and in full view of the people coming in and out with their books in the crook of their elbows or under their arms.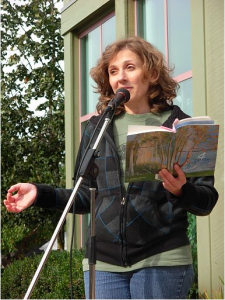 Thanks to all of you who stopped by to listen, to comment, to read, and thank you to the sun which shone against the 60%-chance-of-rain odds.
We then gathered around the table at David's house. We has to step over a passionate passion flower at his door step to get in and were swallowed by another house full of art, books, dogs and a cat, and good company. David and his wife treated us to a delicious dinner of Mediterranean chicken on rice, asparagus, tomatoes with mozzarella cheese, wine and good conversation. If I talked too much I would not know it, that is how busy I was talking. While we ate the home made lemon meringue pie we were treated to a poem about the time David worked as a baker. Well, we asked for it.
the book of It loves old buildings with clocks in them. So it asked to stay.