Posted by Daniela Elza on Mar 02 2012
Still anticipating the books to arrive. Every time I hear footsteps on the wooden stairs outside I am ready to receive them. Yes, like awaiting the return of a friend or a lover.
On Wednesday, March 7, I will be on Co-op Radio talking about the weight of dew and reading some poems. Tune in at 2pm if you can-102.7 FM. And if not you can download it soon after.
On Sunday, March 11, well, on Sunday, 11th of March, is THE Launch that knowingly and unknowingly has been anticipated for more years that I can count. (Or, was that more ears than I can count? Thank goodness for those ears.) Ok, I can count to more than that, but really, it feels like a very long time. So how does one approach something so anticipated. Something that was a dream and now is almost a reality. Or rather has been a reality waiting to happen.
Ok, Enough. Blah Blah. A friend told me she has posted my "Book Lunch". Which sounded like a good idea. (I love typos. They throw you into places of dreaming and imagining.) If this is not a lunch it could be dinner. So come.
Here is the invite. And you know if you are in the area, you are invited. If you live too far away I will either come to you one day, or you will just have to experience it vicariously.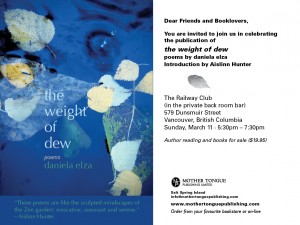 Sunday, March 11, 2012 from 5:30-7:30 pm
FIRST BOOK LAUNCH of the weight of dew
@The Railway Club (Back Room), 579 Dunsmuir Street, Vancouver, BC V6B 3K4, Vancouver.
phone: (604) 681-1625