Posted by Daniela Elza on Apr 24 2012
On April 18 I visited Elgin Park Secondary School and spoke/read to more than a 100 students over the course of three hours. Tried to give them a bit of a different perspective/flavour on poetry and what it might be. Hope I did not overdo it on the philosophy side, but, hey, sometimes these things take time. I always aim higher. They were a fun bunch and their teachers were kindly helping out with those that were having a bit too much fun. I was so proud of the students that took the writing tasks seriously, and kudos to those who braved themselves to share what they wrote.
In the evening I had the pleasure of reading alongside E. D. Blodgett. The event was to celebrate National Poetry Month with Semiahmoo Arts. The location was a beautiful room at the Ocean Park Library in Surrey. The reading was also part of the Readings by the Salish Sea.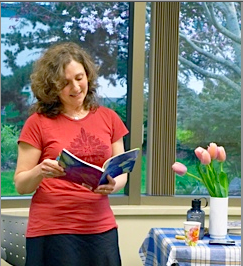 Photo Credit: Barbara Cooper
See how beautiful the view is. I found it quite appropriate to be standing before those picture windows when our reading had the theme of earth and balance.

Photo Credit: Barbara Cooper
E. D. Blodgett read from a few of his books. I really enjoyed his reading. I now have his book Sleep ' You ' a Tree and I am loving it. I felt a very congenial sensibility moving through those poems. So many poems with the trees in them and the leaves. (You can see time has passed. It is getting dark behind Ted.)
(Here is an excerpt from the poem Infinity in Sleep ' You ' a Tree)
"If we should choose/
to speak, would words, like music of the spheres, surround us so with sound/
that all inflection would be blurred? we are so young in this place/
that we might stumble and never be heard of after. The infinite,/
where we are drawn, is that hypothesis that cannot be at home//
in our tongue, a language too minute to speak of what the small/
might be, other than the almost silence of our breathing into our mouths,/
a small that has a rhythm that is carried into space, its grandeur/
all that we can give, and in the winter air the whiteness of/
it semblance of the thing we think infinity might be,…"
Thank you Barbara Cooper for being a big part of the organizing and promoting of this event, and for sending these photos along. Thank you League of Canadian Poets for sponsoring this event. Thank you Ben Nuttall-Smith for the lovely introduction. And thank you Heidi Greco for your work on this event and for hosting me between the school visit and the reading in your lovely home with a delicious dinner, and delightful company over a glass of wine.
Yes, a balancing act indeed and one of many hands. How many people come together to make these readings possible. Truly a labour of love.