Posted by Daniela Elza on May 27 2012
One more time I will be part of the Word Whip event at the Sidney and Gertrude Zack Gallery in the Jewish Community Centre. This has been a fun event to participate in and experience the transmutations from image to word. Poets/musicians (whoever is participating) write to the art exhibit in the galley and bring it on the day to read what has emerged. Audience is invited to write in the break as well and share at an open mic at the end. So if you are into that come and take part. I will be reading tow or three poems that have been stewing and brewing. I remain fascinated with the process.
The current exhibit to which we are writing is:
Celebrating Jerusalem group art exhibit
Tues May 29, 2012
7:00-9:00pm
Free Admission. Everyone is welcome!
@ Jewish Community Centre (Gallery Room), 950 41st Ave W Vancouver, BC, V5Z 2N7
Contact: Bonnie Nish at blnish@pandorascollective.com
http://www.jccgv.com/content/jcc-cultural-arts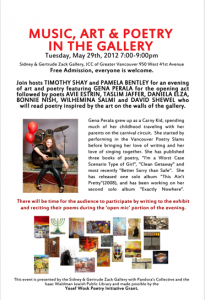 Join hosts TIMOTHY SHAY and PAMELA BENTLEY for an evening of art and poetry with musical opening feature, GENA PERLA.
Also, AVIE ESTRIN, TASLIM JAFFER, DANIELA ELZA, BONNIE NISH, WILHELMINA SALMI and DAVID SHEWEL, will read their poetry inspired by the art exhibited on the walls of the gallery. There will be time for the audience to participate by writing to the exhibit and reciting their poems during the 'open mic' portion of the evening.
Presented by the Sidney and Gertrude Zack Gallery in collaboration with Pandora's Collective, Cherie Smith JCC Jewish Book Festival and the Isaac Waldman Jewish Public Library and made possible by the Yosef Wosk Poetry Initiative Grant.
See you there.