Posted by Daniela Elza on May 11 2013
The Vancouver Sun just put out a review of Force Field, a collection of poems from 77 British Columbia women, both long-established published poets and newcomers who have yet to put out their first volume. The book is edited by Susan Musgrave and just published by Mother Tongue Publishing.
It is so good to see a review of an anthology which mentions more names than the well, established, safe ones.:-) Even my name comes up in a few poetic lines.
Daniela Elza's words are also like stones across a stream. In the white space, will you pause or take a leap? Or how about picking up each stone and turning it over carefully so as to see what's underneath?
Thank you, Mary Ann Moore.
Here is the crew who read at the Vancouver Launch on April 13 last month.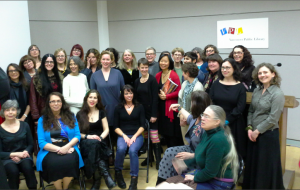 There was another beautiful launch in the Shadbolt Centre in Burnaby.
And on May 19th we will gather in an art gallery this time for another launch of the book at 2pm in
Deep Cove, Seymour Art Gallery, 4360 Gallant Ave, North Vancouver.
The line up of readers: Fran Bourassa, Shauna Paull, Miranda Pearson, Daniela Elza, Yvonne Blomer, Susan McCaslin, Susan Cormier, Aislin Hunter, Heather Haley, Cathy Stonehouse.
Here is the poster/evite:


Maybe you will make a day of it and come. Deep Cove is beautiful and feels like a getaway. Though our city is so beautiful you do not have to go far to feel like a getaway. In any case will be great to see you there.