Posted by Daniela Elza on Mar 22 2016
Happy Spring to all. I am ready for spring! Here is what is coming up in April that I am getting excited about. I will be giving a number of workshops in Penticton at the Okanagan Valley Writers' Festival. Check out the schedule if you are in the area and please help spread the word to people you know might be interested.
Here is the info on the festival and in particular on the things I am doing:
Okanagan Valley Writers' Festival, April 8-10: Bringing writers, authors, and book-lovers together in Penticton. Choose from 16 workshops presented by publishers, agents, editors and successful authors on writing, selling and marketing your fiction, creative nonfiction, poetry, songs, and screenplays.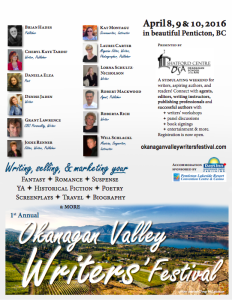 Here are the workshops/talks/readings I will be giving.
April 8, Friday, 4pm
Extra!
 
Workshop: Wading into the Swamp: Getting messy with writing
In this workshop we will generate writing through prompts. We will discuss the importance of the generative process, its messiness, shapes, forms, and its discoveries. There will be time to share. Bring your curiosity, your questions and your passion.
Friday Evening welcome and entertainment
I will be contributing to the evening performances.
April 9, Saturday, 9:30 am
A2: Poetry workshop: What's in an Image:
In this workshop we will work with images and objects. We will explore their significance in our writing and how they could help us in addressing bigger questions. Bring an object with a story, your curiosity, your questions and your passion.
.
April 9, Saturday, 11am
B2: Poetry Salon      
Where do I begin? The first line of the poem is missing. In its wake— the sense of sudden water, the stillness of an egret… What is poetry? Where does it come from? What is poetic attention? How do we cultivate and sustain the poetic consciousness? Bring your questions to this celebration.
.
April 10, Sunday, 9:15 am
D2: Selling Poetry: Publishing
We will look at the business aspects of writing from the perspective of a publishing poet. Where do you submit? How often? How wide? How do you deal with rejections? What about contests? Do you have a manuscript and are embarking on finding a publisher? Bring your questions.
.
April 10, Sunday, 1:00
Extra!
Waking through walls: Having fun with rejections
In this workshop we will play with rejections. We will look at a gamut of real rejection letters, break down barriers, examine what rejections mean in our lives and on our writerly journeys. Whether you are a rejection veteran or have not received your first rejection yet, come and help tease some wisdom out of the inevitability of rejections.


.
April 10, Sunday, 2:15-3:15pm
Paper Trails
Please join us for Paper Trails—a multi-genre reading with authors Daniela Elza, Barbara Lambert and Michelle Barker. Their respective writing paths will lead listeners down sun-drenched Tuscan roads, to childhood memories, crows and snow, and along the emotional landscape of departure. You'll meet an ageing Barbie and get the answer to that elusive question of why you only ever see one shoe by the side of the road. April 10th, 2:15-3:15pm @ the Galleria, Shatford Centre, 760 Main Street, Penticton. Free Event.
.
Extra!
20 min. One-on-one consultations
To book or sign up for the Extras!: Call 250.770.7668 to book.