Posted by Daniela Elza on Apr 24 2016
Another busy month. Spring break is gone.  The little garden plot is planted and the kale is about three inches tall already. Back at the Writers' Room doing exciting work and witnessing wonderful writing by young people. I love the work I do.
The first Okanagan Writers' Festival has come and gone. Penticton, you did it again. Thank you for making me feel so welcome.  Last I saw you was when I launched my book the weight of dew in 2012.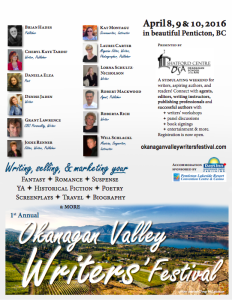 Thank you to the Writers' Festival organizers. Thank you to those who came and worked hard in the workshops. Thank you for your amazing feedback. And for coming to the final Paper Trails reading after two intense days.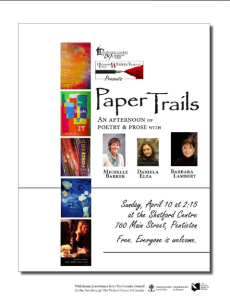 Thank you for your support and for purchasing books. I will sing for you again, Penticton!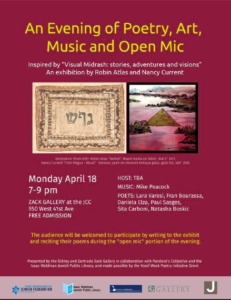 During April I also wrote to the current art exhibit at the Gertrude Zack Gallery.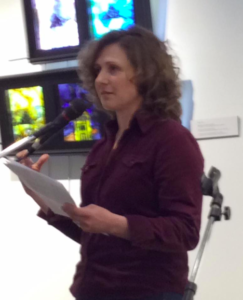 We had a night in which we featured the poetry written to the art with the artists in attendance.

[Photos above are courtesy of an audience member]

It was great to spend time with the kids as well. Listening to them play guitar and cello always delights me. Important conversations, off-screen time. They are now teaching me how to put away my computer and not to text on the cell phone when we are together. Love it. I must have done something right.
Hope everyone is having a great April.
Happy birthday to my sister and my dad who were born in April. Best wishes for a beautiful year ahead, good health, and much love to you both.