Posted by Daniela Elza on Jul 28 2016
the book of It took part in the Whistler Independent Book Awards 2016. It was super excited to come home with an Honorable Mention.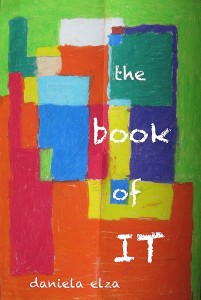 Thank you to the judges for their comments and recommendations. They loved the concept of the book. They made recommendations I can embrace and agree with. And they recommended using this book as a starting point for creative writing exercises in schools. I always delight when the book ends up in the hands of young people.

the book of it is jumping up and down with its usual joy. Today it is asking me to explain what an Honorable Mention means. It wants to know if that would change anything in its life. It is asking me a lot of questions I am not sure I can answer. Such a curious little book.