Posted by Daniela Elza on Oct 13 2017
I will be giving a whole day workshop in beautiful Hope, BC on November 11th from 9am to 5pm at UFV Hope Campus. The intention is to go through the whole process of creating to submitting a piece of work. And attend to the in between phases. Especially suitable for:
*people who fear poetry
*or think they might be poets, but are not sure where to begin
*or poets who are emerging
*or poets who need a jumpstart
*or writers who wish to poeticize their prose
So it is not limited to poetry entirely, we can also address how poetic awareness and skills help us in our writing in other genres. The submission process section of the day will mostly address poetry submission for publication. In other words it will not address finding agents.
If you have any questions please let me know. I am looking forward to this very much. Please pass the information to friends and people you know might benefit from this. For registration see info below.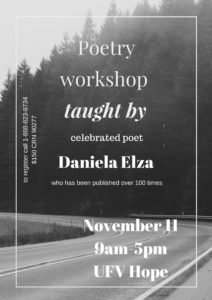 Hope Campus (1250 7th Ave Hope, BC V0X 1L4) course reference number 80277 . 1 session. Saturday Nov 11/17 . 9am – 5pm $150 (including tax) call to register 1-888-823-8734 or visit a University of the Fraser Valley Office of the Registrar location http://www.ufv.ca/admissions/contact/
Poetry Process – Writing, Editing, and Submitting

In this workshop we will go through the point of generating text through writing activities. We will consider basic techniques of editing your own and other's work. We will think about what writing means, how it finds its form and the benefits of a writing practice. We will write a cover letter for submission as well as discuss questions around publication.