Posted by Daniela Elza on Oct 14 2019
My new book is slated to be out in April 2020. Working on the blurb right now. And below is the cover. Still in the deep waters of editing.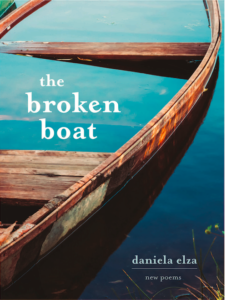 How is this for the blurb so far. It is so hard to write meaningful blurbs. If the book can summed up like that then there is no need to write it. :-)


Back cover blurb:
In her fourth book of poetry, Elza deftly builds a raft of questions to stay afloat amidst the breaking of things. A twenty-year marriage that has taken on too much water, mirrors subtler breakages and fragmentations in her city and natural world. "/her story comes    a/part w/here the poem rips." How do you survive this loss of meaning, this "wintering through"? The intricacies of light, of nature, of water buoy us through grief and begin to astonish, to lift us into making meaning again. Transforming and coupling a deeper self with the soulful eros/ions of our world.