Posted by Daniela Elza on Aug 16 2020
I had the pleasure of spending a few days on Salt Spring Island as a writing retreat. I stayed with Diana, a good poet friend. She just published her book "Labyrinths of Green" (Plumleaf Press, 2019). While I was there Diana was working on finalizing the CD "Deeper into the Forest," which she had just recorded in collaboration with a local musician, Andy Meyers. I was working on a new manuscript, and on a bunch of submissions.
During the pandemic Diana's husband built and completed a little writing studio for her. I watched it being built on FB as she posted photos in progress. So much care, love, and thought went into it. There is even a poem inside the walls of the studio on one of the panels. You cannot see the poem, or read it. But it's there between the walls whispering. Diana was gracious to let me use her studio for a few days.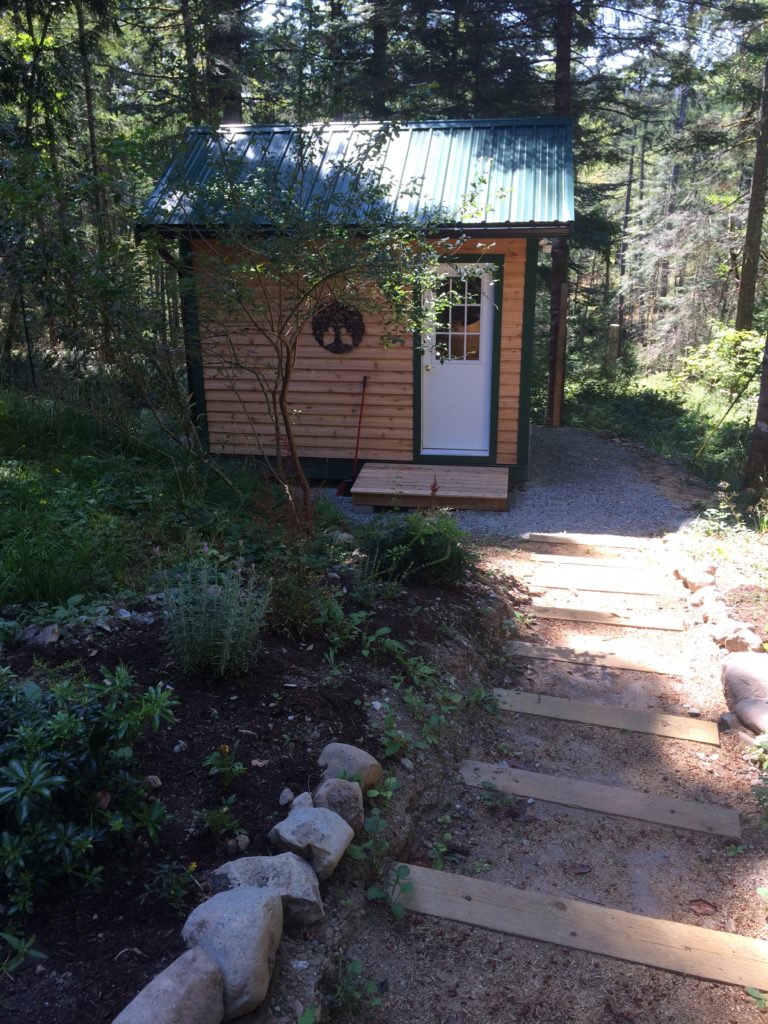 How healing to sit in the silence of the forest! The forest is never silent, but also, Oh, so silent. It is a loud silence. The quiet there is big and productive. I was startled with a raven call, and then I heard the raven call many more times. I watched small birds go about their business from wire to branch. I was mesmerized to the point where I forgot to take photos.
Inside the studio, the cabin smells exquisitely of pine. It is all pine on the inside. The smell took me back to my childhood when we had a pine chest in our room.
Diana also organized a reading in her lovely garden with fish pond. Below is a photos of the process of setting up my first in person reading in Diana's garden under the full August moon. (Two meters apart, of course).
It was magical. After a number of on-line and virtual launches this felt like a first all over again. When I paused between poems the silence was big in between and when people asked question the silence grew and built into the answers. The conversation was deep, and I am so grateful for that. Thank you to all who come to support the reading and the book.

It was also delightful the meet Mr. Ginger, who I think is a dog in a cats body. I can only aspire to the schedule Mr. Ginger had. Perfect and punctual. He almost made me want to take a nap in the morning.
When I got back to the city everything was so loud. Even the places I thought were quiet were loud. It took a few days to adjust. I am missing the quiet now and have mostly been with ear plugs in my ears to sustain a little taste of that feeling I got on the island. But to no avail. We are loud in the city. And easily get used to it, but it takes its toll on us.
Thank you Diana for your hospitality and welcome. It was a memorable visit with much needed down time after 18 weeks of online teaching.