Posted by Daniela Elza on Jun 17 2011
This is the first graduation day I have attended. Last time I graduated Dethe and I got married. We did not have much choice for the day. We knew most people we wanted to come to our wedding had to leave the day after graduation. We had to do it on graduation day. I walked down an aisle, but in a different gown.
In this sense today could be a once a lifetime experience. So I had to go.

Charles Scott and I in our regalia. Charles has been a great support and inspiration. He can pull a rabbit out of the logos hat, sometimes even at the drop of a hat.

The three musketeers. (If we did not have to line up so soon Kathryn would have organized us into a spontaneous dance performance.) So that gets postponed to the 22nd and will be performed in a glass display.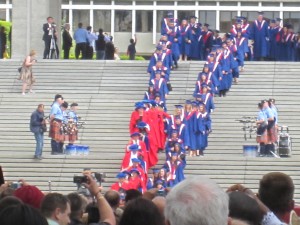 Pouring down the hill to the convocation ceremony in an orderly fashion to the sound of bagpipes. I am number four in the red strip.
Then some speeches. (I wish we had a speech like Amanda Palmer's commencement speech on The Fraud Police delivered on April 23rd to The New England Institute of Art's Class of 2011 (Boston, MA).
Now that is a message I would have liked to hear.

Then each of us takes to the stage. Your name is announced.
Take hat off.

Get hooded.

Put hat back on.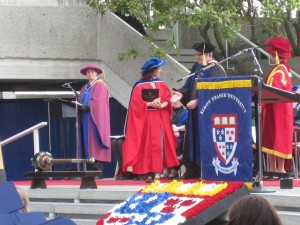 Shake hands.

Walk to you chair on stage and sit down.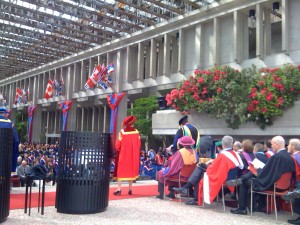 A view from where I was sitting.

Another view to my right.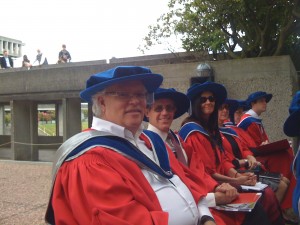 The view over my left shoulder. Some more inspiring and favourite people. First in this row is Don Nelson.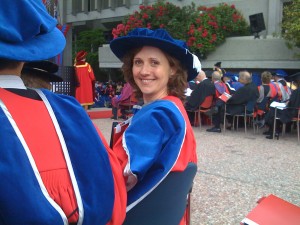 And me admiring them. (With the numerous years spend at SFU flashing before my eyes.)

After the ceremony, on our way to the reception. So glad my son came. (He was glad he had his ipod with lots of games on it to get him through the hours of ceremony.)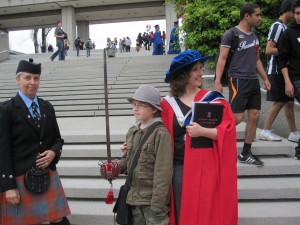 He even got to hold the "sword".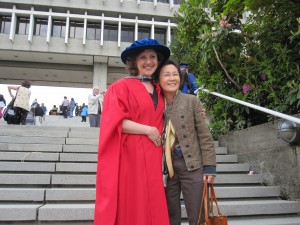 My awesome senior supervisor, Heesoon Bai, and I. She is to blame for all this red and blue garb. Without her I might not have gotten to the finishing line. She sailed the doctorate ship smoothly and with such grace that storms were barely felt. Thank you, Heesoon.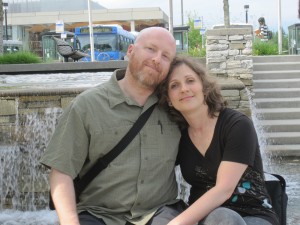 A quiet moment after the ceremony, by the waterfall, with my Dethe. Without his encouragement and support this day might not have been possible.