Posted by Daniela Elza on Apr 10 2013
We have a date, a time and a place. The Vancouver launch of milk tooth bane bone will be on May
14th. You cannot forget because it is election day. Vote for poetry. I will be launching with the two other poets Leaf Press is publishing this spring. Emilia Nielsen and Leanne McIntosh will also be reading from their new books at the event. My friend musician/guitarist Jared Burrows will accompany me on guitar. We are planning a more elaborate collaboration on April 24th at the Presentation House Studio. There will be a good number of instruments then and Jared has been at work on composition and orchestration. For other upcoming events you can go to my events/readings page or click here.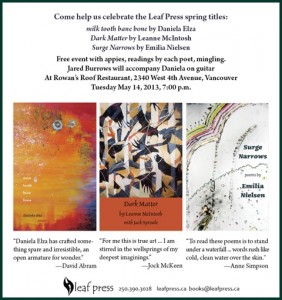 So here is the scoop.
Join us in celebrating Leaf Press Poetry Spring Titles:
MILK TOOTH BANE BONE by Daniela Elza
DARK MATTER by Leanne McIntosh
SURGE NARROWS by Emilia Nielsen
For milk tooth bane bone David Abram says:
"Daniela Elza has crafted something spare and irresistible, an open armature for wonder."
The book has an Introduction by Aislinn Hunter.
For Dark Matter, Jock McKeen says:
"For me this is true art … I am stirred in the wellsprings of my deepest imaginings."
For Surge Narrows Anne Simpson says:
"To read these poems is to stand under a waterfall … words rush like cold, clean water over the skin."
There will be readings by each poet.
Musician/guitarist Jared Burrows will accompany Daniela on guitar.
Books will be available for sale.
Free event.
Make a night of it. Rowan's Roof has a full menu and bar. There will be some free appetizers, mixing and mingling and general celebratory atmosphere. Hope to see you there.
Tuesday May 14, 2013, 7:00 p.m.
At Rowan's Roof Restaurant, 2340 West 4th Avenue, Vancouver.